Include these nutrient-dense foods in your everyday diet to keep your skin glowing from within.
Apples, Avacado & Mangoes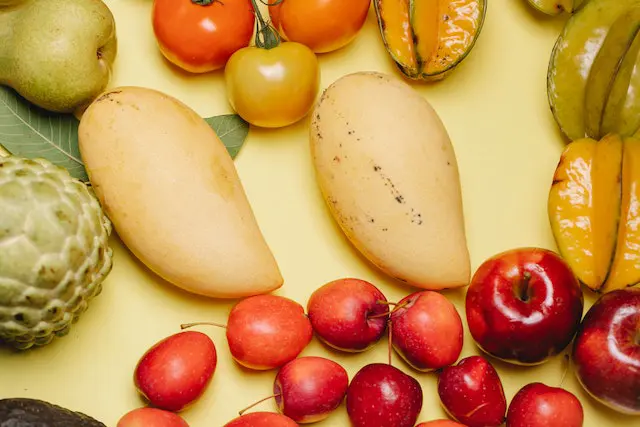 Apple, Mangos, and avocados are boon for your skin. They are incredibly refreshing and rich in fiber, Vitamins A, C, K, B3, and B6, hence great in preventing skin damage.
Regular consumption of any of these fruits helps balance out uneven skin tone while brightening your skin. The antioxidants in these fruits accelerate skin cell rejuvenation and help to get glowing skin.
Coconut Water
Coconut water contains vitamins B2, B3, and C, as well as other nutrients that may be beneficial to the skin. Consuming coconut water can help reduce wrinkles and fine lines, as well as increase skin hydration and elasticity.
Because of its antimicrobial properties, it can also aid in treating acne. Coconut water also promotes blood circulation, which helps to get glowing skin.
Fruits Rich in Vitamin C
Vitamin C is an essential vitamin for skin health, which is why it is used in so many skincare products. It helps to keep the skin moisturized and firm while also relieves in protecting the skin from UV light damage.
Having fruits loaded with Vitamin C will provide your skin with all the vitamin C it needs to keep healthy. Vitamin C is abundant in citrus fruits including oranges, grapefruit, and sweet lime.
You may acquire glowing skin quickly by incorporating these fruits into your diet regularly.
Cucumber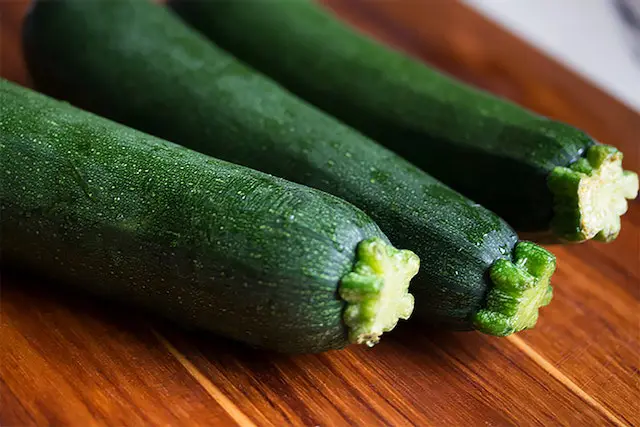 Cucumbers are rich in antioxidants, and vitamins C and K, and are essential for healthy and glowing skin. Additionally, they help to reduce the visibility of fine lines and dark circles.
Tomatoes
Tomatoes are packed with antioxidants, potassium, lycopene, and vitamin C which may help reduce the amount of cell-damaging free radicals in the body, as well as transform the dullest of skins and restore the skin's glow. Tomatoes fight cellular damage by retaining moisture and delaying signs of aging.
Nuts & Seeds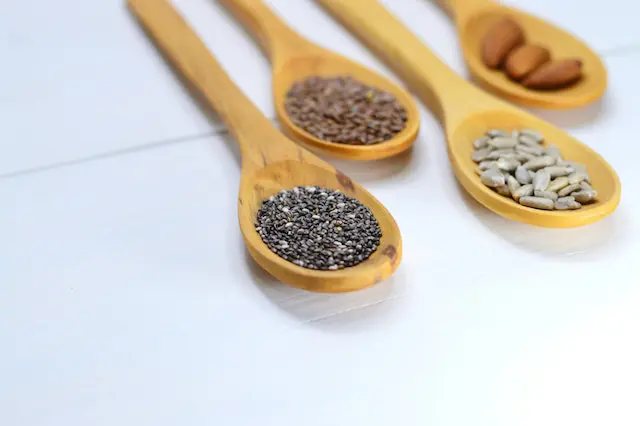 Nuts along with seeds are nutritious snacks that pack a punch even in small doses. From almonds to walnuts and sunflower seeds to chia seeds, they all have something special for your skin.
These are abundant with healthy vitamins and minerals like copper, selenium, zinc, and vitamins A, C, and E that aid in glowing, healthy, smooth-looking skin.
Dark Chocolate
Delicious glowing food for all the chocoholics! Dark chocolate contains flavanols, a specific antioxidant that helps to lessen skin roughness and serves as a natural sunscreen.
It also treats early aging of the skin. There is no more delicious way to maintain healthy and glowing skin.
Aloe Vera Juice
Almost every skin condition is known to be treated by this juicy plant, particularly skin irritation. It is rich in anti-inflammatory hormones and can treat a variety of skin conditions, including UV damage and acne issues.
Make a refreshing aloe drink for yourself to battle the heat and pave the way to beautiful radiant skin.
Green Veggies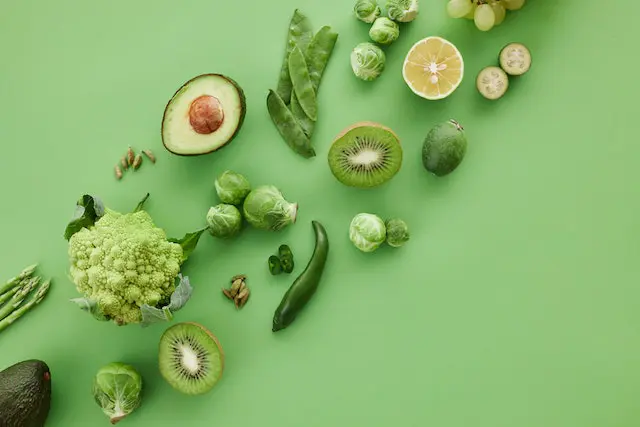 The tried and tested diet advice for glowing skin is to eat plenty of green vegetables. Leafy greens are not only great for your health, but they also enhance the natural glow of your skin.
These veggies are loaded with minerals, vitamins, and antioxidants that promote healthy skin and keep it radiant.
Dark green vegetables like spinach, kale, lettuce, cilantro, parsley, and broccoli are superfoods that help treat skin dullness.
Green Tea
According to certain reports, green tea can protect the skin from aging and environmental aggressors. This is due to the flavonoid and antioxidant content, which protect your skin, even out skin texture, reduce redness, boost moisture, and increase collagen in your skin.
Yogurt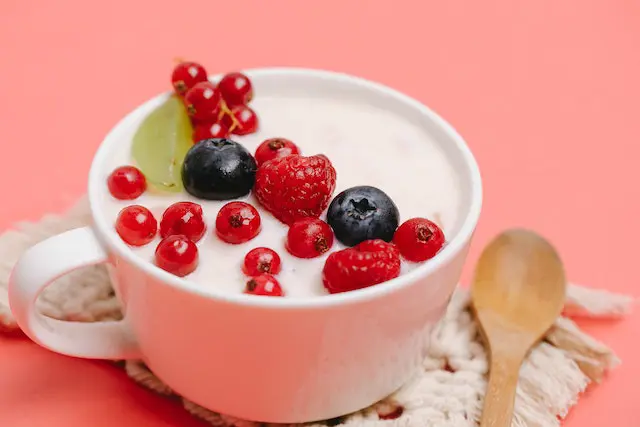 Yogurt is without a doubt the best food for glowing skin. The majority of skin conditions we experience are caused by having an unhealthy gut, bowels, and stomach.
However, yogurt is known to include probiotics that help with digestion, protecting your beautiful, flawless complexion from issues like breakouts and skin dryness.
After each meal, along with smoothies and fruit salads, have as much yogurt as you like.
Lots of Water
Water has numerous health benefits for the entire body. People who drink a lot of water have fewer scars, wrinkles, and soft lines, and they don't show as many signs of aging as those who don't drink enough water.
Water can be the most inexpensive solution for skin problems, from flushing out toxins to preventing acne. It can make your skin clear, hydrated, glowing, and nourished.
Berries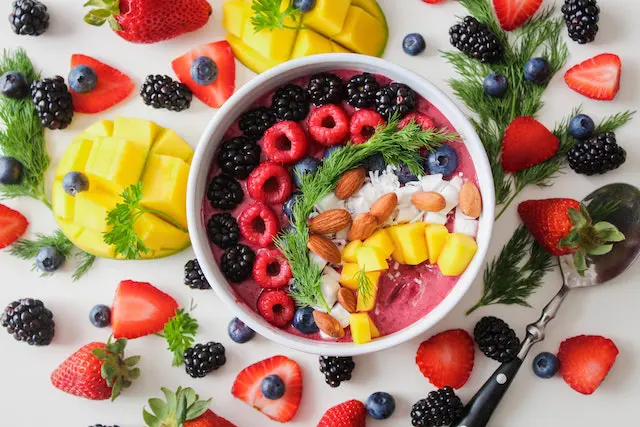 With delicious berries, say hello to a radiant, healthy glow! Berries like blueberries and strawberries are loaded with antioxidants, fiber, and vitamins A and C, which help control free radicals, hence reducing premature aging.
These nutrients are vital for your body, keeping your skin smooth and giving it a healthy glow.
Sweet Potato
Sweet potatoes are rich in vitamin A, which may protect the skin from the sun, and reduce the risk of sunburn, dryness, and wrinkles. Additionally, it helps to give your skin a nice glow! Sweet potatoes are also abundant in Vitamin C, which aids in the production of collagen.
According to the book 'Healing Foods by DK Publishing House, "Its high levels of beta-carotene means sweet potato benefits skin by fighting the free radicals that cause skin aging."
Bell Peppers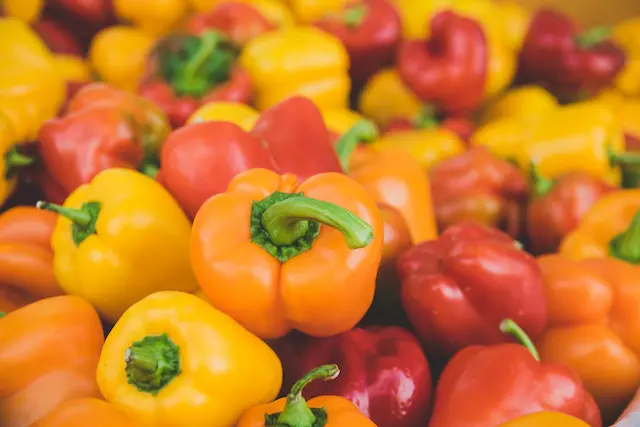 Bell peppers are packed with nutrients and antioxidants, particularly vitamins C, A, and carotenoids. When it comes to anti-aging, these crunchy veggies reign supreme because it reverses photoaging signs such as pigmentation, dull skin, and dark spots.
Antioxidants found in yellow and red bell peppers help to reduce inflammation and protect the skin from UVA and UVB damage.
Furthermore, eating bell peppers promotes natural moisturizing, speeds up healing, and prevents breakouts.