Yeh, it's fall! My favorite time of year! Want to know why? Because these last several months of the year are the perfect opportunity to flaunt your fall outfits style and indulge in the season's most sophisticated trends.
These fall fashion trends are not too complex or cranky, all about adaptability. Whether you are hitting the vacation bash circuit or intend to put yourself between your couch cushions firmly, these pieces can do both.
Today, I will be revealing the most popular fashion trends for fall and winter that frame your look graceful yet comfy this season. Here is what we'll continue to wear in the winter and fall of 2023.
1. Fringe Style clothing
This trend has been going strong for several seasons now and will undoubtedly be the prevailing fashion trend in 2023. Fringe adds a funky style to everything from jackets and skirts to bags and shoes.
Want a shortcut to looking stunning in 2023? All it requires is a dress embellished with flippy fringing and styled with some killer heels.
2. Cowboy Boots
As the current fashion trends stand now, cowboy boots are the pair of shoes you need right now. Your favorite pair of cowboy boots will not only keep your feet warm, but you'll also stick to your style.
Not just a fashion icon, did you know boots grip and support your ankle for better walking posture? Cowboy boots are versatile for either day or nighttime looks.
You can style your chic cowboy boots with a bit of black dress or skirt or leggings and more. However, you should not wear some things with cowboy boots.
3. Sweater Dress
Sweater dresses have become one of the biggest fall fashion trends. It looks super flattering whether it's oversized, zipped, split, or pocketed. The sweater dress is an effortless trend that is smooth in finish and soft to the touch. In addition to being incredibly comfortable, they are versatile and look inversely chic with sneakers, heels, and boots.
4. Puffer Jacket/Vest
Are you feeling the chill? A puffer jacket is the essential winter fashion staple you need in your life, featuring a padded design that's perfect for the colder months. Warm but lightweight, this style features a ribbed waistband, matching cuffs, and a zip front, and we're obsessed.
Pair with your favorite split-hem jeans and box-fresh trainers and your go-to street style is sorted if it's extra cold, layer on your favorite loungewear for all the cozy vibes.
5. Teddy Coat
Engineered for the presence and warmth of animal fur, warm up in style and instantly elevate your look with the mega glam finish in Teddy Coat.
A winter staple that's a warm, cozy, and glamorous addition to your winter wardrobe, be chic in a cropped fit and brushed finish, or take it full length with a long faux fur coat. A fur coat is essential in your jacket collection this season, whatever your vibe.
6. Faux Leather Pants
Get your new wide pants with the season's hottest style, faux leather pants. Mix, and match it with stylish separates that make the fall outfit building a breeze. Team with a tucked-in slogan tee and trainers for sporty vibes or style perfectly with a luxe blazer and statement heels.
7. Long Coat
Long coats are in the run these days. There are numerous styles in these coats, including wrap coats, military-inspired versions, 1970s suede basics, trench- coats, fur-collar designs, shearling aviator styles, and more.
Whether it's black, brown, or camel, a long coat is a great piece to invest in because a high-quality one will survive for a long time. Moreover, you can use long coats to style various winter outfits.
8. Baseball Jacket
Keep things casual but always on-trend with a one-piece baseball jacket of outerwear perfection. A baseball jacket is versatile, timeless, and the perfect addition to your everyday wear.
Wear your varsity jacket with a shirt and striped joggers for the hottest look of the moment, or layer it over a T-shirt dress for a fresh look for the new season.
9. Lug Sole Boots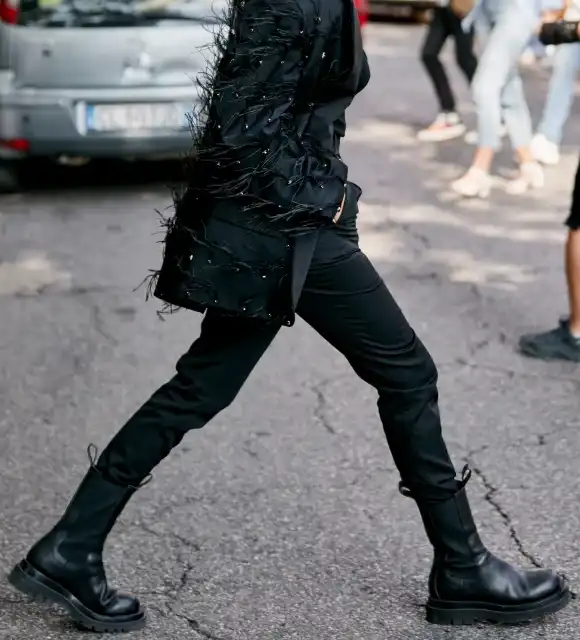 Who says you want heels to be the center of attention? Look beautiful and feel cozy in Chunky Lug Sole Boots. Lug sole boots are a huge fashion trend and are simple to style for an overall new look. They're known as ugly trainers or dad shoes, but that is what adds to the charm and uniqueness of your outfit.
10. High Waist Work Pants
High-waisted work pants are an excellent option for an elegant fall look. They are classic and look chic at the office or a party with tucked-in, slim-fitting tops and cropped jackets or tailored blazers. Go for neutral colors like black, navy, or even white, as they are more practical and versatile than bold-colored pants.
11. Faux Shearling Coat
A faux shearling coat is the perfect fusion of style and sophistication. It'll look on-trend for the coming season and still look majestic times latterly. The thick wool fabric is ideal for the fall's chillier weather, so this blend of warmth and style is impeccably practical for your fall outfits.
12. Fringe Scarf
The fringed scarf is the perfect layering that will go out winter fashion trend. A fringe-style scarf can be a lovely fresh element to your look, depending on what you wear. You can wear a new scarf over your old winter outfit, which will transform the old sense into a unique style.
13. Preppy Sweater
Fashion's all about the finishing touches, and sweaters are the easiest way to fix up your look. Basic and cozy, the preppy style sexy sweater is a forever winter closet essential Styled with high-rise bottom denim, skinnies, over-the-knee boots, and a chic crossbody bag for a fashionable fall look. Preppy sweaters also look perfect with a solid skirt, sneakers, and a faux leather backpack.
14. Star Cardigan
The cardigan has become a timeless and classic piece of outerwear that is especially popular during transitional months such as spring and fall.
They serve as a chic and practical layering piece, offering endless styling possibilities. An oversized cardigan with long sleeves, pockets, and a statement star became a fashion-girl favorite.
15. Straight Relaxed Jeans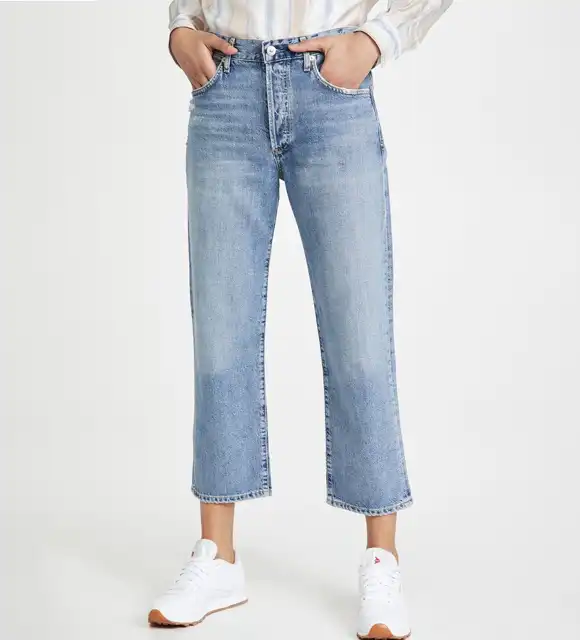 Straight relaxed jeans have recently been added to the essential fall/winter wardrobe staple as a versatile option for a casual, daytime, and evening fit. Style it with a tuck-in cardigan, or wear a classy blazer over it for a perfect winter look.
16. Bold Neon Colors outfits
From scarlet orange to soft pink and yellow, neon colors have become the most significant. A neon duster, blazer dress, or sweater set is perfect for chilling vibes. These bold and trendy outfits make a grabby statement while maintaining functionality and royal grace.
17. Oversized Blazer
An oversized blazer is the perfect layering piece for this fall. It's a simple choice to dress up a comfy outfit. Layer it over your go-to jeans and t-shirt for an easy weekend look.
With long sleeves and a tailored finish, an oversize blazer is our new season obsession to wear with matching trousers and statement heels. Whether you wear an iconic black blazer or go with a printed style, you will look trendy and swish both ways.
18. Cargo Style Trousers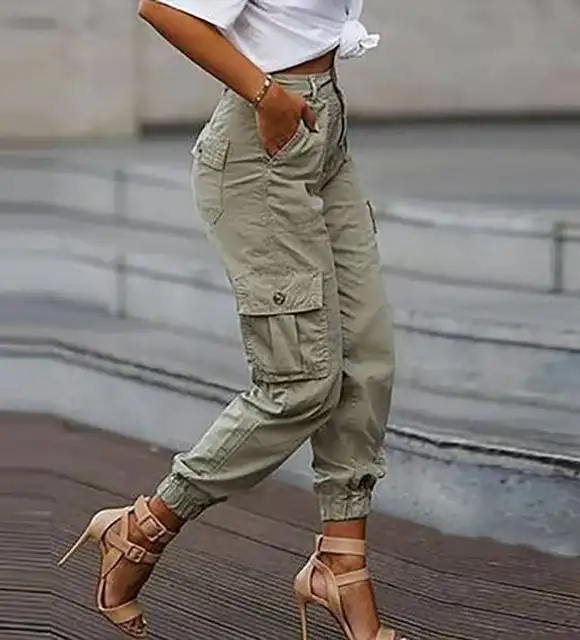 Want a look that's comfy yet flattering with a great waistline? Be on trend this season and invest in a pair of cargo trousers. Cargo trousers bring new energy to your wardrobe and bridge the gap between comfortable and relaxed.
FAQ's
Are skinny jeans will style in winter 2023?

Skinny jeans are officially out! Instead, you can wear straight jeans. It has been the apparent replacement for thin for years.
They're nothing different than usual but are more flattering on the body and give off an effortless, cool-girl vibe, especially with a distressed hem.
Along with straight jeans, barrel leg, bootleg, asymmetric and baggy jeans are also in the women's jeans trend, as seen in Victoria Beckham, Celine, and Gucci.

What colors are in the 2023 fall fashion trends?

Bold colors like yellow, orange, and pink will be the three-runway shades for 2023 Fall and winter. Apart from this, Olive, Royal Blue, Fire Red, Pale Peach, Powder Blue, and Creamy Coconut are the other trending colors for Fall.

Are leggings still in style for fall?

Yes! Leggings and stirrup leggings are back in fashion for fall. You can style them with some of the chicest fall pieces like an oversize white button-down shirt, relaxed blazer, trench coat, or sweatshirt.

Are cowboy boots in style for winter?

The Fall/Winter shows prove that cowboy boots are back on the front lines of fashion. They continue to shine in the form of new colors, prints, and fabrics. Tuck your jeans into boots and layer a standout blouse on top.