A surprise is an excellent way to keep the relationship active and remind both of you not to take each other for granted. For any relationship to survive the test of time, it becomes super important to remember that actions always speak louder than words in the eyes of that special someone. So today we have brought some such unique birthday gifts for her, which she will love very much.
1. Luxurious Strawberry Bath Kit
Do you plan some unique gifts for her? Then, it is time to skip the chocolates and teddy bear and encourage your partner to soak away this wonderful day with one of the best bathtub gift set for a complete home spa experience.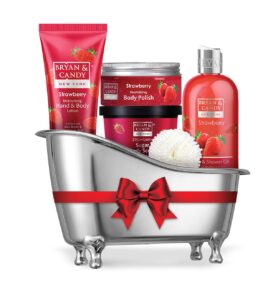 Glamorweb recommends that this Strawberry Bathtub Kit from Bryan & Candy be a perfect gift for her. Each self-care and hygiene product in this gift kit is infused with strawberry extracts and essential oils. The gift kit includes bath and shower gel, hand and body lotion, strawberry body polish, sugar body scrub, and a plush loofah.
2. Elegant Jewelry
Every woman loves jewelry as jewelry has the power to make them feel pretty again, so buying beautiful jewelry is a good gift for your wife or girlfriend. Jewelry is a very personal gift and something best kept for serious relationships. Trust me; she will appreciate this valuable gift.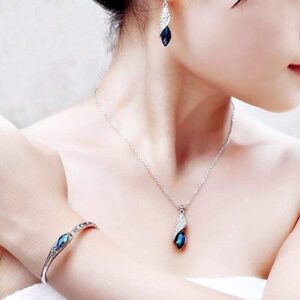 Glamorweb suggests this high-quality Austrian crystal jewelry set. This jewelry gift set includes a pendant necklace, a pair of earrings, and a gorgeous bracelet. It will make her look stunning and can go with various attires.
Why does Glamorweb suggest you this jewelry? We recommend this because it is the product of Shining Diva and Shining Diva is a well-known brand across the fashion jewelry sector. So, don't waste your time. Purchase it and gift this to your loved ones to see a broad smile on their faces.
3. Birthday Silver Coin
Silver gifts are more memorable than cash gifts because, after some time, the cash gifts get used, but you tend to keep the silver gift forever.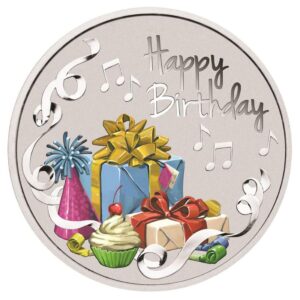 Keeping this in mind, Glamorweb suggests this beautiful coin specially designed for the birthday. This coin is made using Japanese Technology. Seriously, it is a meaningful gift that she can remember and cherish forever in her life.
4. What I Love About You and Our Memories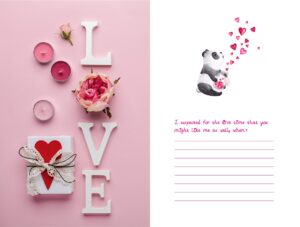 Want to express your feelings and thoughts to your love, then this book is the perfect gift for her.
It is a fill-in-the-blank gift book that helps you express your deep inner connection and the memories you share with your partner.
It takes you down memory lane in the most attractive manner and expresses your hidden love towards your partner in the form of a book.
This gift book contains creative, funny, and sweet questions to answer to express your feelings. Ideally, it reflects your love and the intense basement for the future.
5. Cute Miniature
There is an ongoing trend of romantic gifts, couple miniatures which are cute romantic couple dolls, which You can gift to your loved one on special occasions. Such gifts are not only thoughtful, but they ooze with cuteness. Miniature reflect a more profound and more loving gesture.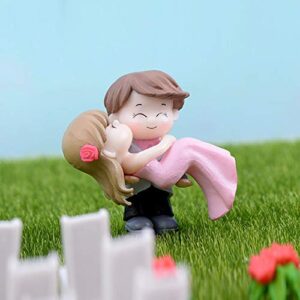 Glamorweb suggested this cute Chocozone couple hug resin miniature gift. The realistic details make this a beautiful gift and one where you can truly sense the love this romantic couple feels for each other on their special day. This couple's dolls express the love, closeness, healing, courage, hope, and emotions of a life well-lived.
6. Birthday Gift Set For Her
Do you want to give such a gift to your girlfriend that she does not have to hide from her family? Then, the birthday print gift set combo is perfect for you.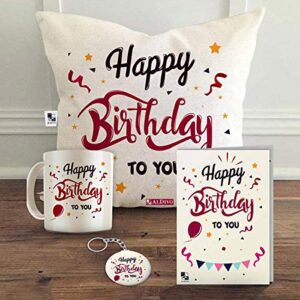 Glamorweb suggests Aldivo's birthday gifts for her. A complete gift set for the special day of your love. This gift set consists of a cushion cover with fillers, a printed coffee mug, a greeting card, and a printed keychain. This gift set is perfect to light up the day of your girl. You can write your personalized love or cute flirty messages on the card to make it more special and unique.
7. Salon Gift Voucher
Go beyond flowers and wrapped gifts. Give something relaxing with these birthday gifts to her. Glamorweb suggests giving her salon gift cards for soothing facials and spa and makes her feel special as she wants to look more beautiful on her special day.
It will be great to give her some quality time grooming herself and break from the hectic busy schedule.