Have you ever heard the benefits of tempting chocolate facial for your skin? Yes! Its genuine guy's, chocolates have so many benefits that you can't imagine. Chocolates are rich in antioxidants that work a miracle for your skin. When eating chocolates makes your mood garden-garden, the chocolate facial will transform your skin. Chocolate helps to protect skin from aging sunburn, repair skin elasticity, and keep skin healthy and hydrated. So are you ready to get naturally glowing skin? Let's begin with the luxurious chocolate facial treatment at home.
Why chocolate facial is good for the skin?
The dark chocolate facial helps reduce dark spots and pigmentation as it contains cocoa that is beneficial for your overall health. Cocoa is one of the best sources of antioxidants. You can use it to maintain skin health. It helps soften, clear, and detoxify your skin. Raw cocoa powder can also increase your skin's elasticity and improve and boost circulation, which helps to reduce fine lines and wrinkles. Overall, inside or out, cocoa is beneficial for the skin.
Benefits of Chocolate facial for your skin
1. Anti-aging Treatment
Dark chocolate facial contains cocoa that boosts elasticity and prevents skin from premature aging. It provides an ample supply of antioxidants that helps in reducing fine lines and wrinkles. If you want to look ten years younger-looking skin, start eating 30-60 gms of dark chocolate containing 80-90% cocoa daily.
2. A Good Skin Detox
 Dark chocolate has antioxidants that make it an excellent skin detoxifier when combined with caffeine. A chocolate scrub helps remove dead skin cells and makes your skin soft and shiny. Eating dark chocolates increases cell healing as it is enriched with minerals. It is a natural way to detox your body.
3. Moisturizes Skin
Cocoa beans are rich in essential vitamins, iron, calcium, and fatty acid, nourishing and boosting your skin's moisture. If your skin is dry, consuming dark chocolate (which contains at least 75 to 80% cocoa) leaves your skin feeling soft and pampered.
4. Protects skin from UV rays
Dark chocolate contains cocoa rich in vitamins, flavonoids, catechins, and polyphenols. That's why it protects the skin from harmful UV rays and free radicals. In addition, it also removes wrinkles and keeps your skin hydrated for a more extended period.
5. Soothes skin irritation
Chocolate has anti-inflammatory properties that can help to soothe any skin allergy. It is suitable for every skin type, including sensitive skin. So what's the delay? Quickly make dark chocolate a part of your daily life.
6. Stress reliever
Cocoa present in dark chocolate helps in reducing the levels of stress hormones. Stress makes your body produce hormones like cortisol, which increases oil production in your skin. That results in clogged pores and acne breakouts. It also reduces the elasticity of your skin that can contribute to wrinkling formation. So stress out and eat chocolates.
Instant brightening chocolate facial at home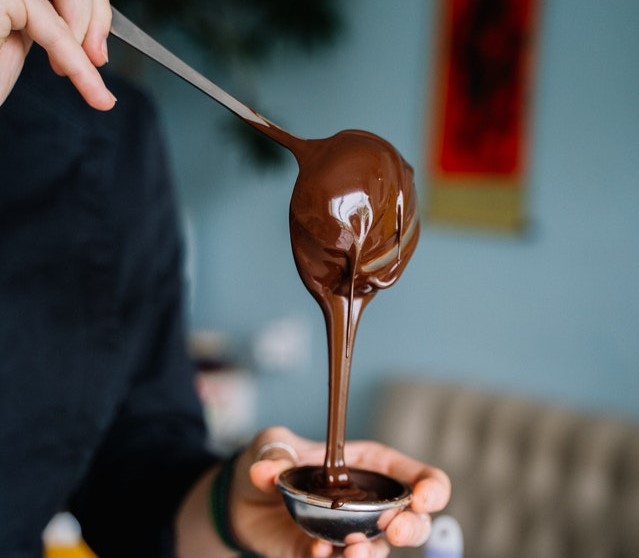 Step 1: Cleanse well
To do a chocolate facial, begin by cleansing your skin. For this, take 1 tbsp milk and 1 tbsp of rose water in a bowl. Then, dip a cotton ball in this solution and cleanse your face.
Step 2: Exfoliate
After cleansing, the next step is to exfoliate the skin to remove dead skin cells. To make the DIY chocolate scrub, mix 1 tsp of cocoa powder and 1/2 tsp of cinnamon powder with 2 tsp honey. Add 2 tsp crushed sugar and 2 tsp of raw milk to this. Mix all the ingredients well. Then scrub your face and neck with this mix gently in circular motions for 5 minutes. Please wait for a minute and wash it off with lukewarm water.
Step 3: Time for a massage
Face massage is an essential step in any facial as face massage helps in improving blood circulation and makes your skin healthy and glowing. To make a DIY face massage cream at home, mix 1/2 tsp of cocoa powder with 2 tsp of curd. Then add 10-15 drops of your favorite essential oil to it. Then, apply this face massage cream all over your skin. Now massage your face and neck for 10-15 minutes and wash off your face with normal water.
Step: 4 Take steam
Taking steam helps the pores open and makes your skin relaxed and moist. If you have oily and acne-prone skin, then this step gives you the most beautiful effects on your skin. Now, boil water in a pot and take it off the stove. Then, add 5-10 drops of your favorite essential oil. Lean over it and take steam for 5-10 minutes. Cover your head with a towel and ensure that your skin gets the steam. Take the towel off now and then if you need air.
Step: 5 Apply a face mask
Face masks allow ingredients to penetrate better into your skin in less time. Chocolate facial masks improve your skin's texture and appearance and give you healthy and glowing skin. It also helps get rid of pigmentation, dark spots, and acne scars. To make the DIY chocolate face mask, take 2 tbsp cocoa powder,1 tbsp fuller earth (Multani mitti),2 tbsp honey, and 1 tbsp cream. Mix all the ingredients. Now add some raw milk or rose water to make a good paste. Apply this mask all over your face and neck and let it dry. Then, wash it with normal water and pat dry. Now apply your favorite moisturizer.