It is imperative to regularly use sunscreen to maintain naturally healthy skin. However, it is essential to understand how sunscreen protects the skin and how to choose the appropriate sunscreen.
Sunscreen has two primary modes of action. Firstly, it can utilize chemical filters to absorb harmful ultraviolet (UV) rays and prevent them from reaching the skin.
The second one is Physical sunscreen, which sits on top of your skin, almost like a layer of armor—and your skin loves it.
While most sunscreens tend to burn or cause allergies, physical sunscreens can be a blessing.
They are relatively non-irritating and safe when used in the proper formulation.
Here you'll find the best physical sunscreen for your face and body to keep your skin protected, healthy, and youthful.
1. La Roche-Posay Anthelios Mineral Ultra Light Fluid Face Sunscreen with Zinc Oxide and SPF 50
Best Physical Sunscreen For Face
Pros
Non-Comedogenic
Oil-free, paraben-free, oxybenzone free, and octinoxate free
Lightweight
Water-resistant for 40 minutes
Cons
The bottle needs to be shaken before use for correct mixing
Moisturizer needed for dry skin
Appears white when you apply it but blends in easily
This 100% mineral face sunscreen features a combination of zinc oxide and titanium dioxide, which delivers broad-spectrum SPF 50 protection without leaving a white cast on the skin.
It also contains Cell-Ox Shield technology, which offers broad-spectrum UVA/UVB protection while providing antioxidant benefits to help protect skin from free radical damage caused by UV rays.
It is allergy-tested and dermatologist-tested for safety, ensuring it meets the strictest formulation standards.
2. Blue Lizard Australian Sunscreen Sensitive SPF 30+
Best For Sensitive Skin
Pros
Doesn't leave a white cast
Oxybenzone or Octinoxate free
Paraben and fragrance-free
Water-resistant for 80 minutes
Cost-effective
Cons
This mineral sunscreen feels too thick to penetrate the skin so it won't irritate, and the smart bottle changes color in the presence of harmful UV rays so you have a reminder when you need to apply.
The sunscreen should be shaken well before use and applied liberally to dry skin 15 minutes before sun exposure.
Reapplication is necessary after 80 minutes of swimming or sweating, immediately after towel drying, and at least every two hours.
One downside of this sunscreen is that it can be slightly greasy, which may not be ideal for those with oily skin.
3. Drunk Elephant Umbra Sheer Physical Daily Defense SPF 30
Allure 2015 Best of Beauty Award Winner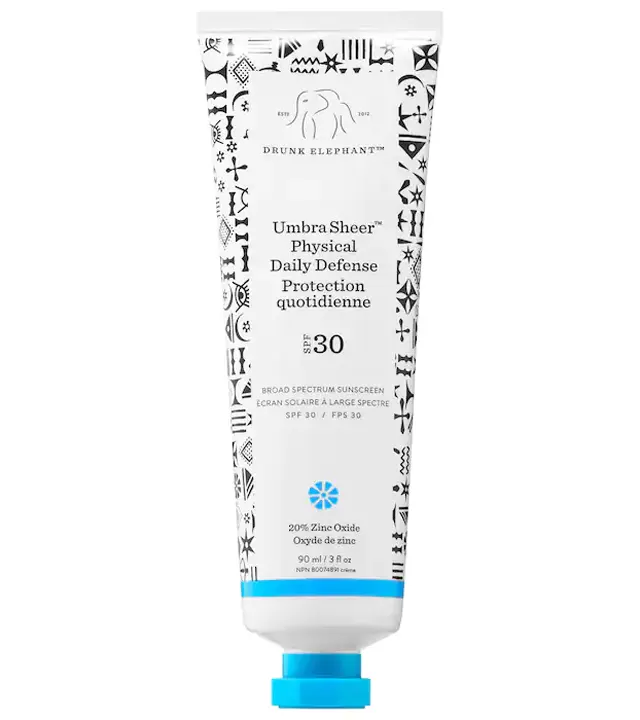 Pros
Moisturizes skin with botanical extracts
Non-comedogenic
Gives the skin a healthy glow
Cons
May leave a white cast
Feels heavy
Stinks a bit
With an impressive 20% concentration of zinc oxide, it never leaves your complexion dry or chalky.
While there is a slight white cast, taking your time to blend this one in helps it to melt into the skin.
The sunscreen is formulated with key ingredients such as Sunflower Shoot Extract, Astaxanthin-Rich Algae Extract, and Raspberry Seed Oil.
Overall, this sunscreen helps to protect the skin from the sun's harmful rays while also providing antioxidant protection to help prevent signs of aging and improve the skin's overall health and appearance.
4. EltaMD UV Physical Broad Spectrum SPF 41, Lightly Tinted
Best Tinted Sunscreen
Pros
UVA/UVB sun protection
Lightly-tinted, mineral formula
Prevent signs of premature aging
Water-resistant (40 minutes)
Cons
Light tint does nothing for darker complexion people
The scent is so strong
Wash off quickly in water
EltaMD UV Physical Broad-Spectrum SPF 41 is a lightly tinted, mineral-based sunscreen that is suitable for extra-sensitive and post-procedure skin types.
It protects from both UVA and UVB rays with active ingredients including 9.0% zinc oxide and 7.0% titanium dioxide.
The formula also contains antioxidants like linoleic acid, quercetin, and thioctic acid, which help reduce the visible signs of aging by neutralizing free radicals.
5. Sun Bum Mineral SPF 50 Sunscreen Roll-On Lotion
Best Sunscreen SPF 50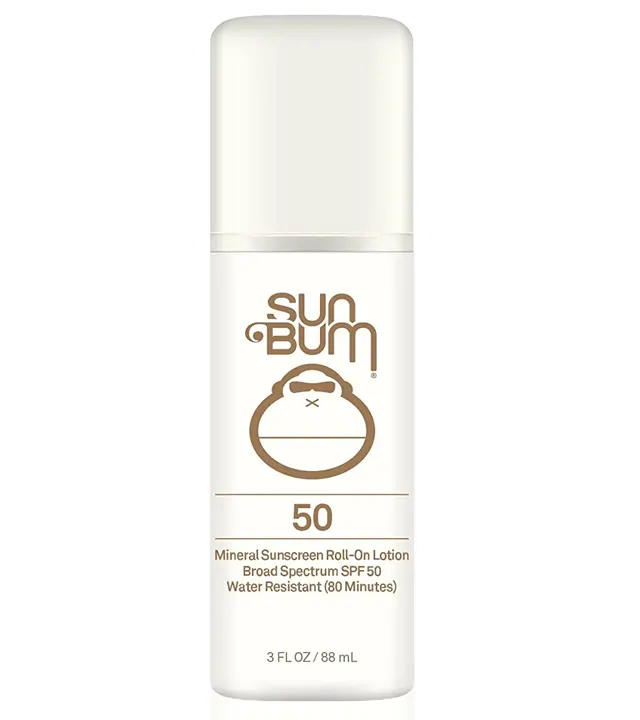 Pros
Moisturizing zinc-based mineral formula
Vegan, Cruelty-Free, Fragrance-Free, Hypoallergenic
Oxybenzone & Octinoxate Free
Cons
The scented formula may not be suitable for everyone
Strong fragrance
The roll-on applicator makes it easy to apply sunscreen evenly and quickly, and it is suitable for use on the face and body.
This sunscreen is non-comedogenic, meaning it won't clog pores, making it a good option for those with acne-prone skin.
6. Colorescience Sunforgettable Brush-On Sunscreen Spf 50
Award Winner Powder Formula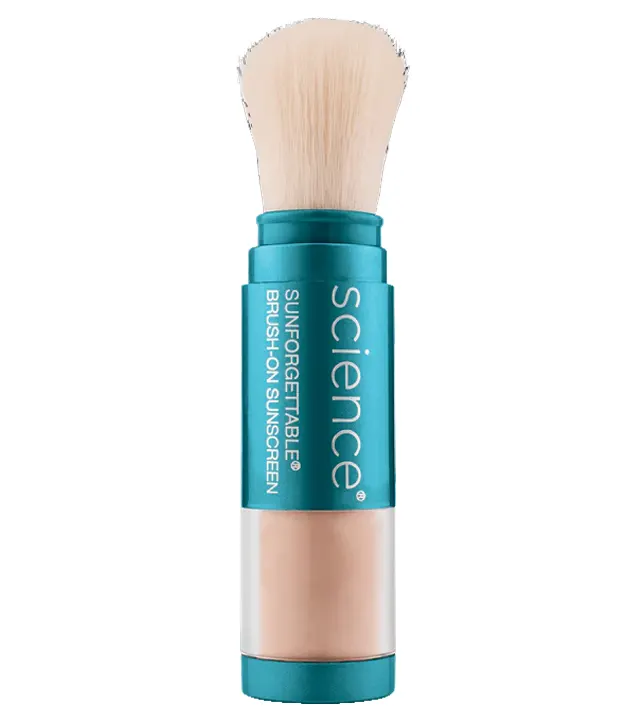 Pros
Pigment formula helps with an even complexion
Contains vitamins, minerals, and amino acids for healthy skin
Water-resistant (80 minutes)
Cons
Not apt for the primary form of sun protection
Colorescience powder sunscreen is a lifesaver for makeup wearers. It's water-resistant and comes in four shades, so you can find the one that best suits your skin tone.
To use, remove the brush cap, tap the brush on a hard surface 3-5 times, and run your finger through the bristles to ensure powder flow.
Then, apply using small circular motions directly onto dry bare skin, moisturized skin, or over makeup.
Apply generously across your face for at least 60 seconds while making multiple passes.
Reload more powder into bristles as necessary during application.
7. Supergoop Mineral Mattescreen SPF 40
Best Matte Sunscreen
Pros
Matte Finish
Bamboo Extract, Wild Butterfly Ginger
Titanium Dioxide 1.33%, Zinc Oxide 17.42%
Cons
It is not apt for the dry skin type
Does not work for all skin tones
Supergoop sunscreen formula is designed to smooth your skin's appearance and minimize the look of pores.
It is packed with powerful ingredients, including Wild Butterfly Ginger, which helps filter blue light, and Bamboo Extract, which provides powerful antioxidant properties to help reduce the visible effects of free radicals.
To use this sunscreen, apply it generously and evenly as the last step in your skincare routine and before makeup.
8. Dr. Denniss Gross Lightweight Wrinkle Defense Broad Spectrum SPF 30
Best For Antiaging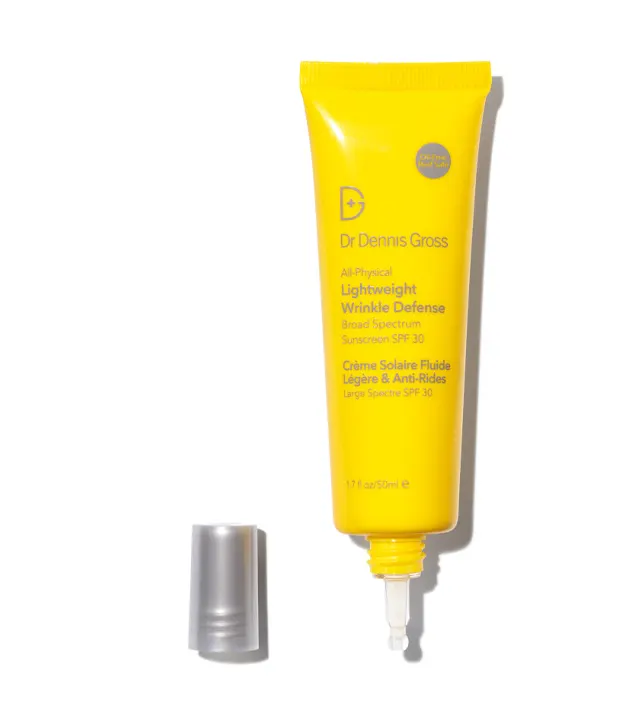 Pros
Oil-free, non-greasy formula
Reduces fine lines and wrinkles
Cons
This weightless sunscreen helps stave off the signs of aging and prevents future sun damage.
Plus it contains lingonberries and sea buckthorn which are rich in antioxidants, and vitamins C and E to heal the signs of aging while preventing environmental damage.
The lightweight and non-greasy formula also doubles as a makeup primer, making it a convenient choice for those looking for an all-in-one solution for their skincare and makeup needs.
9. Neutrogena Sheer Zinc Oxide Dry-Touch Face SPF 50
Best For Oily Skin
Pros
Budget-friendly
Dry-Touch technology
Free of fragrance, parabens, phthalates, dyes
Hypoallergenic
Cons
Hard to rub in
May leave a white film on darker skin tones
Neutrogena's SheerZinc sunscreen features the brand's Dry-Touch technology, which is great for oily and acne-prone skin.
It prevents your face from looking and feeling greasy. It's non-comedogenic, water-resistant, fragrance-free, and also has a lightweight finish.
This sunscreen is also hypoallergenic, making it a great option for those with allergies or sensitivities to certain ingredients.
10. Isdin Eryfotona Actinica Ultralight Emulsion Sunscreen SPF 50+
Best Overall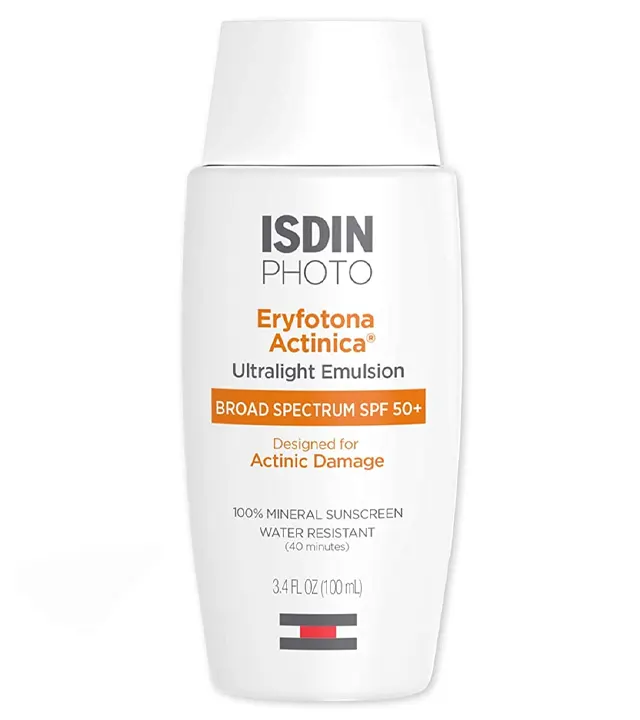 Pros
Repair existing sun damage
Does not leave a white cast even on darker skin tones
Hydrating formula with vitamin E
Cons
This fast-absorbing, lightweight sunscreen lotion with SPF rubs in easily and won't leave any white cast behind.
It contains Vitamin E and DNA repair ingredients to reduce hyperpigmentation and wrinkles for naturally healthy skin.
The inclusion of photolyase enzymes which helps repair existing sun damage is a unique feature that sets this sunscreen apart from others on the market.