For brides looking for something different from the norm, then a gradient dress is for you. Gradient dresses are a great way to stand out on your big day. They are not only beautiful but also elegant and modern styles that will make any bride feel like she is walking down the aisle in her fairy tale. If you want a more unconventional wedding, then go for darker gradient colors such as black, purple, and blue. Otherwise, go for lighter colors for a softer look.
Take a look at these 14 beautiful Gradient Dresses, and find the one that best suits your style!
1. Ombre chiffon gown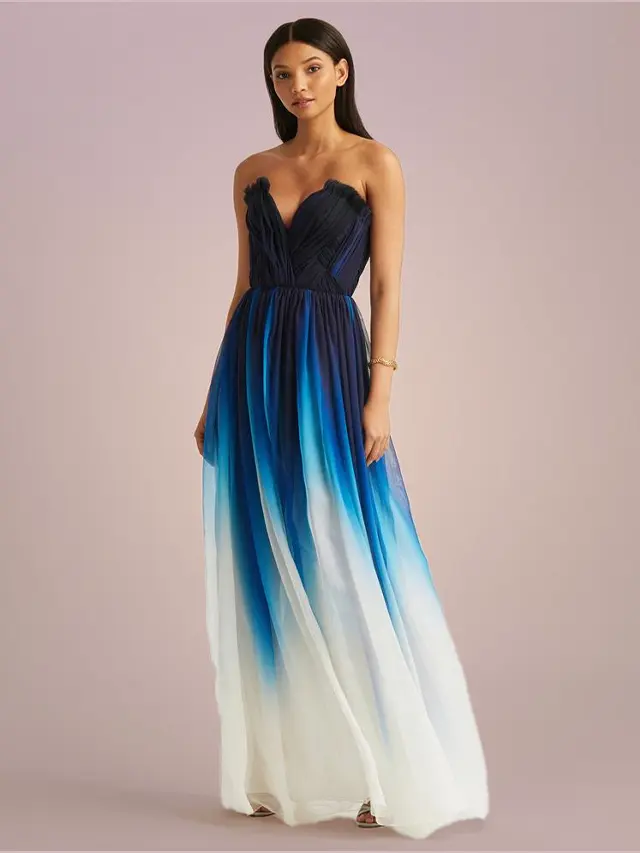 Embrace modern elegance in this exaggerated dip-dyed, ombre sapphire gown. The plunging sweetheart neckline and the blue gradient that turns to white at the hemline give a contemporary elegance to this dress.
2. Red and Black Hand Painted Dress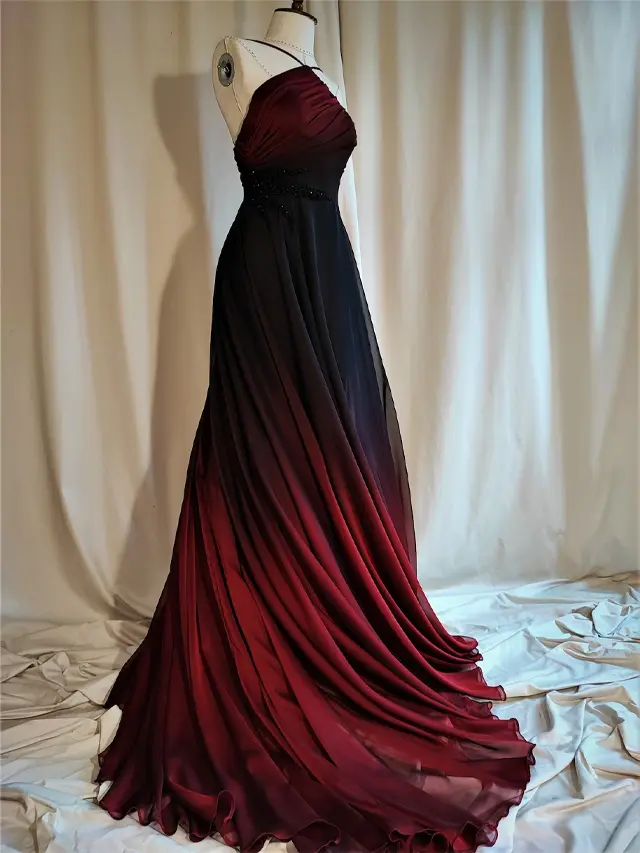 The beauty of this dress is really beyond words! This is meticulously hand-painted in black and red. This is a one-of-a-kind and artistic Bridal Gown. It will make you feel like a princess bride because it is loaded with Classy Deep Tone.
3. V-Neck Tulle Gradient Wedding Dress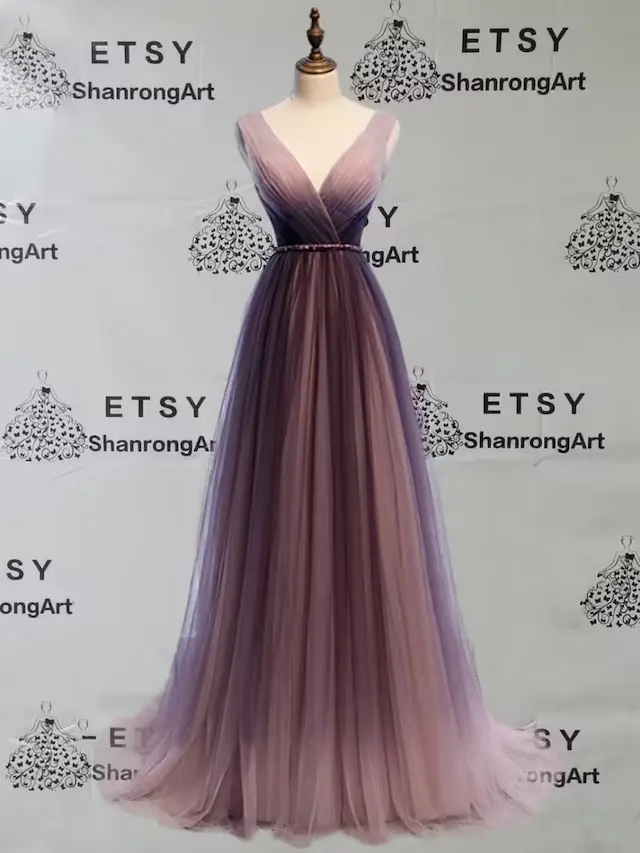 With lace-up details & beautiful tulle fabric, this dress will surely make you a bride to remember. This A-line style gradient gown features a deep V-neck that makes this dress the perfect combination of elegance and contemporary fashion.
4. Off-Shoulder Sparkle Prom Dress
This elegant, sexy and slinky burgundy gown will be the perfect choice for balls, prom, or for any formal evening event. The off-shoulder dress with a swan neck and open back looks so elegant. The high-quality fabric is sheer enough to maintain a sense of modesty, but with a bit of stretch for comfort.
5. Sexy Side Slit Gradient Prom Dress
Classic and elegant, this A-line dress features an open Side Slit that shows just a little skin. The Backless Criss Cross Strap Bodice is daring and playful. This dress is ideal for sexy bridesmaid and prom looks, as well as any formal or semi-formal evening event.
6. Purple gradient tulle ball gown
Unleash an incredibly feminine flair in this Ieena Duggal creation. Draped in mesh layers with soft pleats, this gown showcases a plunging V-neckline with a sheer inset. Crafted with a deep V-neckline and a shirred waistband, the two-toned ombre adorns her fluttery A-line skirt as it falls to the floor with a train.
7. Ombre Fairy Tulle Wedding Dress
A dress that captures elegance, sophistication, fashion, and something you can feel comfortable in! This ombre tulle wedding dress will have your friends gasping as they watch you walk down the aisle. The handmade tulle dress comes in a variety of colors and is made of soft and high-quality European tulle. It features a beautiful train and detachable skirt so you can wear it as one or two pieces. You look gorgeous with this dress on.
8. Blue Glitter Wedding Dress
This blue glitter wedding dress is both classy and gorgeous, making it the ideal touch to your special day This A-line dress has a high illusion neckline with a lace-up back for an alluring touch. Its 3/4 sleeves, floor-length, and rhinestone and tulle detail offer an extra touch of glitz, making it ideal for any wedding.
9. Champagne Tulle Tiered Wedding Dress
Create your modern fairy tale in this champagne tulle wedding dress. This multilayered flounce tulle dress with a corset-style bodice is made in a combination of 3 colors: champagne, beige and tan. It's such a dreamy number that will have everyone looking at you.
10. Emily Charming Gradient Spaghetti Strap Dress
Channel your inner fashionista with this black ombre strap dress. The dress features a deep V-neck, pleated skirt, and a lace-up back to show off your beautiful backline. It is the perfect mix of edgy and feminine looks for your wedding day.
11. Boho Gradient Wedding dress
Complete your boho wardrobe with this chic Sunset gradient Dress. This dress, with a deep v-neckline with outward pleated detail, open back with tassels, and long flowy sleeves, is the perfect transitional piece for any season. Blend in soft shades of blue, violet, pink, orange, and brown, this is the dress you've been dreaming of.
12. Sweetheart Colorful Gradient Gown
Opt for classic elegance and modern detailing with this gradient Off-Shoulder Gown. It features a sweetheart neckline and pleated detailing for a glamorous finish. Team it with heels and fine jewelry and you are all set!
13. Forest Temperament High-end Prom Dress
Be the belle of your ball in this green tulle gown! Light and airy, it adds dimension as well as a floaty feminine feel, and this green gown does just that. With its frill design top and a flattering fitted waist, this dress can give you a luxurious look.
14. Sunset Ombre Wedding Dress
Dreamy, hand-pleated silk chiffon, a gorgeous flattering fit, and a built-in bustier make this gown a show-stopper. The dress is certainly one of a kind thanks to the gorgeous, sunset-inspired ombre that flies across the skirt. This gown can be worn in a variety of ways, including strapless, with long silk chiffon straps swirling around the body, halter neck, or over-the-shoulder straps.