"Acids" are often associated with thoughts of scary flammable and burning chemicals. But do you know that skin acid, when used at the proper concentrations, does wonders to improve skin texture? Different "Skin Acids" have unique properties like exfoliating, anti-aging, hydrating, and antioxidation.
A 2016 study in the Journal of Drugs in Dermatology looked at a product containing a cocktail of skin brighteners, including retinol, the antioxidant resveratrol, and Niacinamide. The researchers concluded that smoothing it on for four weeks lessened hyperpigmentation, improved skin texture, and crystal clear spotless skin.
In a 2011 study, researchers found that the use of a 0.1 percent hyaluronic acid topical cream produced significant improvements in skin hydration and elasticity in 30- to 60-year-old women. Many skin acids on the market have many benefits, but do you know which is perfect for you? Today, we help you determine the best acids to improve skin texture.
Top Acids That Help Smooth Textured Skin
1. Glycolic Acid -Best For Textured skin
Glycolic acid is the best water-soluble alpha hydroxy acid (AHA) derived from sugar cane, widely used in the skincare industry. It is one of the miracle ingredients for bumpy or textured skin.
What is glycolic acid?
Glycolic acid is the simplest in structure and the smallest of all alpha-hydroxy acids; it has the lowest molecular weight," says Kenneth Howe, M.D., a dermatologist at Wexler Dermatology in New York City.
That small molecular weight means "it's easy for it to penetrate your skin and be super effective," says Alix Shapiro, skin therapist at Heyday in NYC
How does it work?
Glycolic acid works to break the bonds between the outer layer of skin cells, including dead skin cells, and the next skin cell layer.
It creates a peeling effect that improves skin texture and appears smoother. Glycolic acid stimulates fibroblasts in the dermis to produce increased amounts of collagen," says Dr. Howe.
And by stimulating collagen production, helps skin feel firmer and minimizes fine lines and wrinkles.
What does it treat?
Glycolic acid treats the following skin concerns-
Improve Skin Texture
Acne
Anti-Aging
Brightening
Dryness
Fine Lines and Wrinkles
Hyperpigmentation.
When to use it?
Use glycolic acid products at night-time only. It is imperative because glycolic acid is an exfoliant that makes your skin more sensitive to UV rays.
Don't forget to apply sunscreen to protect your newly exfoliated soft skin in the morning.
Side effects and precaution
Glycolic acid is best for normal, combination, and oily skin types. But it is not for everyone. "People with dry, susceptible skin often react to it with irritation, swelling, itching, and burning sensations.
The use of glycolic acid increases sun sensitivity even when it's not on the skin, so you need to use sunscreen as well to prevent extra sun damage.
Best Products For Textured Skin
Glycolic acid works as a natural antioxidant to soothe and smooth skin. So try one of these products and enjoy all the benefits of glycolic acid.
Botanic Tree – Glycolic Acid Face Wash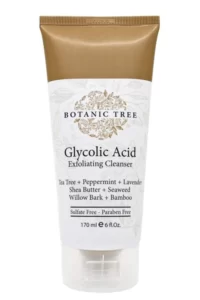 Get noticeable results with our AHA exfoliant, which penetrates deep into the skin to exfoliate and brighten while dramatically reducing sun damage and improving skin texture.
This fantastic facial exfoliator contains tiny, gentle microbeads, which slough off dead skin to reveal a glowing complexion when it comes to exfoliating cleansers.
Bliss That's Incredi-peel Glycolic Resurfacing Pads
These Glycolic Resurfacing pads are a spa-quality facial peel that works with your skin's natural repair cycle to help reduce the visible signs of premature aging.
Inspired by the world-famous treatments in our spas, this advanced formula gradually releases glycolic acid into your skin while you sleep, targeting fine lines, discoloration, and other imperfections.
Paula's Choice -SKIN PERFECTING 8% AHA Gel Exfoliant
This 8% AHA Gel Exfoliant with antioxidants from green tea and other natural ingredients, the soothing power of chamomile, plus the exfoliating benefits of glycolic acid, this unique lightweight gel soothes as it revitalizes your skin, leaving it soft, smooth, and radiant.
2. Salicylic Acid -best for acne-prone skin
Salicylic acid is one of the best acids for pimples. It's famous for reducing acne by exfoliating the skin and unclogging blocked pores. Salicylic acid also reduces the skin's sebum production, resulting in fewer breakouts.
What is salicylic acid?
Salicylic acid is a lipophilic mono hydroxybenzoic acid. It is a type of phenolic acid and beta hydroxy acid. This acid works best for blackheads and whiteheads, sloughs off dead skin cells, improving skin texture and dullness.
How does it work?
Salicylic acid penetrates your skin and works to dissolve the dead skin cells clogging your pores. It can take several weeks of use for you to see its full effect.
What does it treat?
When applied to the skin, salicylic acid works well in treating the following skin problems-
Acne
Acne scars
Age spots
Melasma
When to use it?
Experts recommend that when you first start using salicylic acid in your skincare regimen, take a small test for 2-3 days.
For this, apply a small amount of serum to one or two small acne areas. If you have an allergic reaction, stop using this product and consult the doctor.
Or, if you don't have an allergic reaction, you can use this without any tension. Or, if you are using cleansers containing salicylic acid, wet the affected area. Gently rub the cleanser into the skin for a few seconds, rinse thoroughly, and then pat dry.
Side effects and precaution
These are the following side effects that may occur mainly at the start of treatment and automatically cure in a few days.
But if any of these effects persist or worsen, consult your doctor or pharmacist promptly.
Skin stinging
Itching
Peeling skin
Skin redness
Don't use salicylic acid with any other acid at the same time. Extreme skin irritation may occur when mixed.
Best products with salicylic acid
For exfoliating dead skin cells, while clearing pores for a more even tone, plus visibly reducing fine lines & wrinkles, we recommend these salicylic acid products-
Paulas Choice -Skin Perfecting 2% BHA Liquid Exfoliant with Salicylic Acid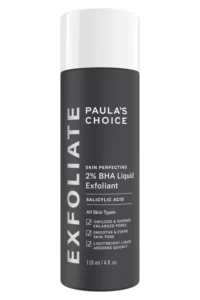 This Paula's Choice BHA leave-on exfoliator delivers hydration & can exfoliate directly inside the pore & improve how the pore works.
Beta hydroxy acid (BHA, also known as salicylic acid) mimics the natural exfoliation process of younger skin by helping it shed extra layers while unclogging and clearing pores.
The Ordinary 2% Salicylic Acid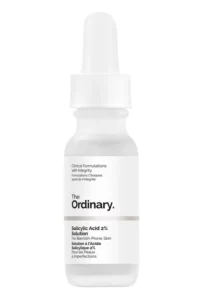 This salicylic Acid 2% Masque from The Ordinary enhances the appearance of a smooth and clear complexion while leaving the skin feeling refreshed.
Charcoal and clays are ingredients renowned for their deep cleansing abilities.
Neutrogena Oil-Free Acne Wash Cleanser Pump Salicylic Acid Acne Treatment
This Neutrogena Oil-Free Acne Wash Facial Cleanser is an alcohol-free cleanser that provides deep cleansing without over-drying your skin.
This face wash penetrates deep to clean pores to help prevent pimples by removing excess oil and surface buildup.
Unique ingredients soothe and condition skin, leaving it clean, residue-free, and never oily.
3. Retinol -Best Anti-ageing Treatment
Retinol is a synthetic derivative of vitamin A, particularly for reducing wrinkles, improving collagen production, and treating acne, among other functions.
It is a gold-standard beauty ingredient that improves skin texture, enhances skin radiance, and treats aging.
What is Retinol?
Retinol is a molecule that can become stronger and stronger when changed," says Dr. Colbert. It is a form of vitamin A found in food and used as a dietary supplement.
It is ingested as a supplement to treat and prevent the appearance of wrinkles, fine lines, and age spots for firmer, smoother, and more evenly-toned skin.
How does it work?
Retinol reduces fine lines and wrinkles by increasing the production of collagen. They also stimulate the production of new blood vessels in the skin, which improves skin texture and color.
Additional benefits include fading age spots and softening rough patches of skin. However, it takes three to six months of regular use before improvements in wrinkles are apparent—and the best results take six to 12 months.
What does it treat?
Retinol treats the following skin problems –
Acne
Fine lines
Wrinkles
Sun damage
Uneven skin texture
Melasma and other types of hyperpigmentation
Minimize breakoutsBrighten dull skin
When to use it?
The early '30s is the perfect age for using retinol as this product works well for all signs of aging.
At night-time only, apply a pea-sized amount of retinol to clean and dry skin, avoiding the eye area. Wait at least 30 minutes before applying other skincare products for optimal results.
Side effects and precaution
Retinol is a highly reactive molecule, meaning it can break down and lose its potency when exposed to sunlight or air. So, it is highly required to use sunscreen every day.
Remember that it can cause the skin to redden or peel and flakiness, dryness, and even some breakouts when first added to a routine.
So, begin slowly by adding it into a nightly routine one to two times per week for the first week and increasing it gradually from there, depending on how the skin reacts.
Best products with retinol
Whether you're looking for a solution for deep wrinkles, fine lines, dark circles, crow's feet, uneven skin tone, or dry skin, we have some anti-aging formulas that are right for you.
Neutrogena -Rapid Wrinkle Repair Face Oil Retinol Serum
This exclusive super concentrated, lightweight 0.3% retinol facial oil features a powerful formula that deeply penetrates and helps replenish dry skin for radiant,younger-looking skin.
It helps minimize signs of aging by reducing the appearance of stubborn fine lines and wrinkles, with visible results in just one week.
RoC -Retinol Correxion Line Smoothing Night Serum
Improve the look of collagen-depleted skin with this encapsulated night serum. This lightweight fluid drenches skin & dries to a silky finish.
In a clinical study, 97% had smoother skin after one night. The skin was 63% more hydrated after one week & visibly firmer by 30% after four weeks.
LilyAna Naturals -Retinol Cream for Face
This retinol cream absorbs immediately to leave skin feeling hydrated and refreshed with improved lightweight skin texture and zero residues.
It helps combat the five visible signs of aging: wrinkles, fine lines, uneven skin tone, rough texture, and loss of firmness while revealing your complexion's radiant. And the best thing is that it is gentle enough for sensitive skin.
4. Citric Acid -Best Antioxidant
When applied to the skin, citric acid can slough off dead skin cells and speed up new cell turnover.
The latter promotes new skin growth that can help decline the appearance of age spots, acne scars, small wrinkles, and uneven tone and texture.
What is citric acid?
Citric acid is a weak organic acid naturally found within citrus fruits, especially from citrus fruits such as lemons, limes, and oranges.
First isolated in 1893 by chemist Carl Wilhelm Scheele who crystallized it from lemon juice, The food industry first used it.
Apart from being used as a flavoring for food and drink, citric acid is also a ubiquitous ingredient in cosmetics.
One million tonnes of it are produced each year and formulated in over 10,000 different beauty products.
How does it work?
Citric Acid works by exfoliating the upper layer of dead skin cells to help clean pores, even skin tone, and soften and smooth the skin.
What does it treat?
Much like other alpha hydroxy acids, citric acid provides a selection of benefits and treating skin problems such as:
Exfoliate
Stimulate collagen production
Minimize fine lines and wrinkles
Lighten and brighten the skin
Prevent acne scars and reduce pigmentation
Moisturize and brighten the skin
Diminish age spots
When to use it?
Use citric acid 2-3 times a week at night time only. And don't forget to use sunscreen the next day after using it.
Side effects and precaution
While citric acid is considered gentler and milder than others, it is still an acid, which means there are always some chances for irritation.
It holds especially true for those with sensitive skin. However, it can be particularly beneficial for those with oily skin.
Citric acid use on the skin includes slight burning, tingling, and temporary redness. Citric acid will also make your skin more sun-sensitive.
So all you have to do is make sure you're wearing sunscreen every day. Avoid using citric acid simultaneously with any retinoid, leading to irritation and redness.
Best products with citric acid
We recommend the following citric acid products that your skin loves for the perfect radiant skin.
ELEMIS Dynamic Resurfacing Facial Wash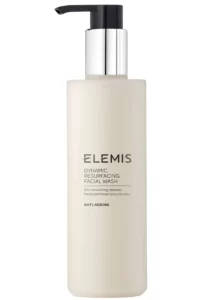 The skin-refining formula is infused with patented Tri-Enzyme Technology, antioxidant-rich Moringa, and hydrating White Truffle to resurface the skin while supporting its natural microflora effectively.
This face wash effectively removes dulling pollutants, dirt, and impurities from the skin and reveals a more even and radiant complexion.
Murad Environmental Shield Essential-C Toner
Regarding citric acid being a choice ingredient for those with oily skin, this face toner is ideal for treating and preventing pigmentation and damage, restoring balance, rejuvenating environmentally stressed skin, and replenishing moisture while restoring suppleness.
5. Hyaluronic Acid -For Super Hydration
The word acid, when used in skincare, must feel that it is something that would make your skin peel or double up as an exfoliant, much like salicylic acid or glycolic acid.
But hyaluronic acid is the exact opposite! It helps to moisturize the skin. It is pretty good that hyaluronic acid works well with other acid skincare products, including retinol, vitamin C, alpha hydroxy acids (AHAs), and beta hydroxy acids (BHAs).
So, this acid. So hyaluronic acid can prove to be the best for you.
What is hyaluronic acid?
As a refresher, our body produces hyaluronic acid naturally, but it decreases over time because of which skin gets dry and dull.
That's why we need topical products enriched with hyaluronic acid to increase skin moisture and reduce the appearance of fine lines and wrinkles.
Technically, it's a group of sugar molecules called polysaccharides, according to a study published in Acta Biomaterialia.
How does it work?
Hyaluronic acid attracts and binds to water molecules and increases the water content of the skin," says Shari Marchbein, MD, a board-certified dermatologist with Downtown Dermatology in New York City. It can absorb more than 1,000 times its weight in water, Dr. Marchbein says.
What does it treat?
According to some research, skin aging is associated with loss of skin moisture, and hyaluronic acid is the key ingredient for combating it. Some other skin benefits from hyaluronic acid are:
Anti-aging
Moisturizing soft skin
Wound healing
Anti-wrinkle
Increases skin elasticity
When to use it?
If you are using a moisturizer infused with hyaluronic acid, apply it twice a day and always after cleansing, exfoliating, or applying serums.
Or if you're using a hyaluronic acid serum then, use this serum twice a day after cleansing, and don't forget to apply a moisturizer immediately afterward to seal in all that hydration.
Side effects and precaution
Overall, hyaluronic acid is safe and suitable for all skin types. However, like other skin acids, hyaluronic acid side effects exist.
Used as a topical skincare ingredient, hyaluronic acid is also well tolerated but if you have sensitive skin you will notice some allergic reactions.
Used as an oral supplement, hyaluronic acid has a totally satisfying result. Studies show that long-term use is safe, with no reported negative side effects from hyaluronic acid supplementation.
Used as a dermal filler, hyaluronic acid has a slightly longer list of potential side effects. After getting injections, some people notice pain, itching, and swelling.
It's also possible to experience a rash on and around the injection site.
Best products with hyaluronic acid
We recommend the absolute best hyaluronic acid serums that instantly plump skin and deliver a glow while fighting the formation of fine lines and wrinkles in the future.
CeraVe Skin Renewing Vitamin C Serum with Hyaluronic Acid
Developed with dermatologists, CeraVe Vitamin C Serum visibly brightens & helps to restore the protective skin barrier.
This serum is formulated with hyaluronic acid. This serum helps improve skin texture, tone, and hydration for a healthy-looking, radiant complexion.
L'Oreal Paris Skincare Revitalift Derm Intensives 1.5% Pure Hyaluronic Acid Face Serum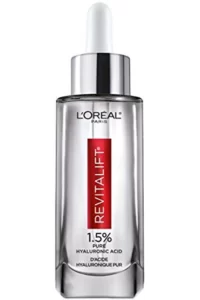 This hyaluronic acid moisturizer for the face profoundly hydrates the skin and immediately visibly plumps for younger-looking skin that feels firmer and more elastic.
Amazing lightweight gel serum absorbs fast with no tacky feel or leftover residue and looks and feels dewy instantly.
La Roche-Posay Hyalu B5 Pure Hyaluronic Acid Serum
This Hyaluronic Acid serum is an allergy-tested fragrance formula containing Madecassoside and La Roche-Posay Thermal Spring Water.
This anti-aging serum is suitable for sensitive skin and dermatologist-tested and has a rich serum texture that leaves skin feeling supple and hydrated to the touch.
6. Niacinamide -As mild as sunscreen
Niacinamide is a water-soluble vitamin that reduces wrinkles, fine lines, and dullness of your skin and makes it tighten, brighten, and even tone.
It helps build cells in the skin while protecting them from environmental stresses, such as sunlight, pollution, and toxins.
What is niacinamide?
Niacinamide, also known as nicotinamide, is a form of vitamin B3. "This is also called niacin, which is an essential nutrient for the development and function of the cells in your body," says Annie Gonzalez, M.D., a board-certified dermatologist at Riverchase Dermatology in Miami.
How does it work?
"In specific concentrations, niacinamide is thought to be able to block the enzyme responsible for producing pigmentation, or melanin, and improve skin tone," says Dr. Gonzalez.
What does it treat?
"When used in conjunction with common moisturizing ingredients, like glycerin and hyaluronic acid, it can boost the product's hydrating ability," says Dr. Gonzalez. Some other benefits of using Niacinamide are:
Improved skin texture
Treats acne
Brighten skin
Prevents signs of aging
When to use it?
Ideally, it would be best if you used it twice a day, both morning and evening, as it is non-acidic so you can apply it underneath your hydrating serum, moisturizer, or sunscreen.
Side effects and precaution
The good news is that Niacinamide is a very, very gentle and safe ingredient.
I haven't found patients who can't tolerate it," says Angela Lamb, MD, an associate professor in the department of dermatology at Mount Sinai in New York City.
Even people with sensitive skin, like those who struggle with rosacea, can use Niacinamide for its anti-inflammatory properties.
Best products with niacinamide
Niacinamide is a proven ingredient that reduces acne marks and the appearance of skin blemishes.
As an active form of Vitamin B3+, Niacinamide limits the overproduction of sebum and alleviates the symptoms of acne. We recommend you the best niacinamide products below.
Minimalist 10% Niacinamide Face Serum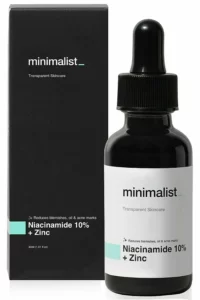 It gives you a much-needed clear matt look throughout the day by balancing oil, controlling sebum activity & reducing pore congestion.
This serum improves skin texture by reducing visible pores, redness, and inflammation. Along with Aloe Vera, it acts as an anti-inflammatory and soothes your skin.
High-grade pure Vitamin B3(Niacinamide) added in this serum is clinically proven to reduce acne marks & dark spots in 2 weeks, resulting in an even complexion or tone.
Mamaearth Skin Correct Face Serum Acne Scars removal cream with Niacinamide
Exposure to the sun or excess sebum production can enlarge skin pores. With Niacinamide as an active ingredient, the serum helps reduce pore size, increases skin's elasticity, and works like magic on wrinkles and fine lines.
Ginger Extract has anti-irritant, stimulating, and anti-inflammatory properties that soothe and calm the skin.
Paula's Choice CLEAR Oil-Free Moisturizer
Infused with moisture barrier-repairing ceramides & peptides, pore-minimizing Niacinamide, & soothing blueberry & pumpkin, this face moisturizer hydrates dry, flaky patches while visibly reducing redness without clogging pores.
7. Lactic Acid -Best For Oily Skin
Lactic acid is an antiwrinkle and pigmentation-fighting ingredient found in milk, beer, soy, cheese, etc.
It explicitly treats hyperpigmentation, age spots, and other factors contributing to a dull and uneven complexion.
What is lactic acid?
Lactic acid is a light peeling agent, depending on strength," says MacGregor. She also notes that it "can smooth out the skin, making it glow."
Lactic acid is a hydrating alpha hydroxy acid (AHA) found in over-the-counter (OTC) and professional-grade skincare products.
How does it work?
Lactic acid exfoliates by loosening the bonds between dead skin cells to reveal a more radiant complexion.
What does it treat?
These are the following skin benefits you get from Lactic acid-
Brightens skin
Smooths and toned skin
Reduce the appearance of fine lines and wrinkles
Reduce dark spots.
When to use it?
We recommend using lactic acid only at night-time, limited to two or three times per week as tolerated if you use higher-strength lactic acids.
Otherwise, you can use this acid in your daily night routine.
Side effects and precaution
Sunscreen is a must when using lactic acid because sloughing off dead skin cells can make your skin more susceptible to sun damage. Some other side effects of lactic acid are-
Dryness
Skin redness
Burning
Peeling
Itchiness.
Best products with lactic acid
To gently resurface the skin to promote a bright, even tone and a smooth, soft texture, we recommend the following lactic acid products-
The Ordinary Lactic Acid 10% + Ha 2% peel
Lactic acid is an alpha hydroxyl acid that exfoliates the skin. This mild 10% formulation offers very gentle exfoliation and is supported by a purified Tasmanian pepperberry known to reduce signs of inflammation and sensitivity.
Sunday Riley Good Genes All-in-One Lactic Acid Treatment
Good Genes All-In-One Lactic Acid Treatment is formulated with high potency, purified grade lactic acid that immediately exfoliates dull, pore-clogging dead skin cells, revealing smoother, fresher, younger-looking skin.
All the fine lines appear visually plumped, while the skin looks more radiant with continued use.
Perfect Image Lactic 50% Gel Peel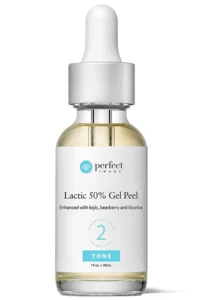 Perfect Image offers a Lactic acid peeling solution that promotes collagen and elastin fibroblast production.
Using it regularly increases your skin's elasticity, making you look younger. It effectively removes dead skin cells and dirt from the surface of your skin and traps moisture under your skin while making the absorption of topically applied creams and serums easier.
FAQ's
Does salicylic acid improve skin texture?

Of course, salicylic acid is a beta hydroxy acid that deeply penetrates the skin and promotes the sloughing away of dead skin cells, improving skin tone and texture and acne-free skin.

what acid is good for textured skin?

All the acids work by helping you get new baby skin. You can start with glycolic acid as compared to other acids. It's gentle and has proven anti-aging properties.

Is it OK to use glycolic acid every day?

Absolutely no, glycolic acid acts as an exfoliator, which we do not recommend for everyday use.
But, you can use it daily if you use glycolic acid in a rinse-off product like a cleanser.

Can salicylic acid cause more acne?

Salicylic acid and other acne treatments are commonly valuable for curing breakouts, but sometimes, our acne becomes worse than before when we start using them. It's either when we are using the wrong product or using it too much.
If this happens to you, you should stop using this immediately and consult your dermatologist.

Does lactic acid help wrinkles?

Yes, lactic acid works as a mild chemical peel that helps in reducing the appearance of fine lines, wrinkles, and dark spots.

Can I mix AHA/BHA With Hyaluronic Acid?

Yes, hyaluronic acid is not an "acid" but rather a powerful humectant.
Hyaluronic acid works well with any skin acids, including retinol, vitamin C, alpha hydroxy acids (AHAs), and beta hydroxy acids (BHAs).
As AHAs and BHAs are a little strong and can be harsh on the skin, using them with hyaluronic acid is a great way to hydrate the skin at the same time.

Can We Mix Retinol With Other Skin Acids?

Do not mix retinol with vitamin C, benzoyl peroxide, and any AHA/BHA acids except hyaluronic acid.
Because all these acids can dry out the skin, they should overdry the skin with retinol, leading to irritation and making the situation worse.

Can niacinamide be used with AHA BHA?

Well, you can use Niacinamide with AHA BHA, and almost every ingredient in your skincare routine except vitamin C.
But by doing so, Niacinamide can make your acid less effective. Sometimes it causes redness on your skin when mixed with acids.

Which Is The Best Acid For Sensitive Skin?

Niacinamide is the best skin acid for sensitive skin. Even people who struggle with rosacea can use Niacinamide for its anti-inflammatory properties.