Halloween is just around the corner! Get inspired for your costume with these stunning Halloween costumes red dress ideas. Channel your inner diva as the iconic Cruella de Vil or Jessica Rabbit. Their glamorous gowns and dramatic style are perfect for making a scene. For a cute and flirty look, try a short ruffled Little Red Riding Hood dress or sassy devil costume. Or embrace your dark side in scary Halloween costumes like Lydia Deetz from Beetlejuice or La Catrina.
10 Red Dress Halloween Costume Ideas
1. La Catrina red dress for Halloween costume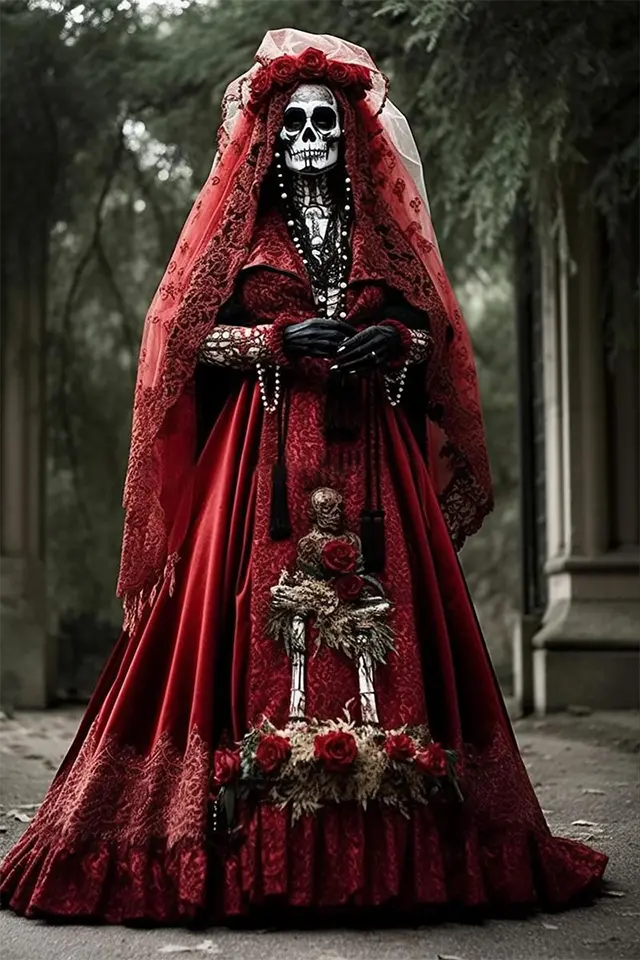 La Catrina is an iconic skeleton figure in Mexican culture representing the Day of the Dead. Her elegant skull makeup and extravagant hat make her a unique and dramatic costume choice.
What You Need:
Long red dress – Look for a floor-length gown in a bright, bold red. Choose a dress with ruffles, off-the-shoulder sleeves, or other embellishments.
Skeleton makeup – Paint your face like a skull with dramatic eyes and nose holes. Use black and white face paint to create the skeletal look.
Flower crown – Make or buy a crown of marigolds or other orange and yellow flowers to wear in your hair.
Wide-brimmed hat – La Catrina wears an oversized hat decorated with flowers and feathers. Find a large black or red hat to pile on the embellishments.
Jewelry – Deck yourself out in rings, bracelets, necklaces, and earrings, the more extravagant the better. Gold and gems look great with this costume.
Lace gloves – Long lace or fishnet gloves add elegance.
Lace parasol – Carry a lace parasol or fan to complete La Catrina's high fashion look.
2. Sexy Dragon Ninja Halloween costumes red dress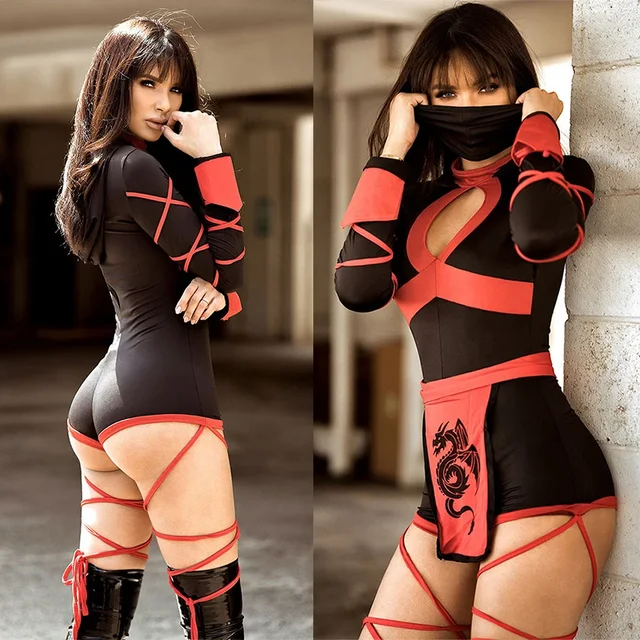 Women Disguise Adult Cosplay Anime Halloween Costume
The Sexy Dragon Ninja Costume is a fun and bold Halloween costume option for women. This sexy yet badass costume allows you to embrace your inner kunoichi assassin this Halloween! It's bold, powerful, and mysterious – everything you want in a ninja costume.
3. Cruella De Vil red dress Halloween costume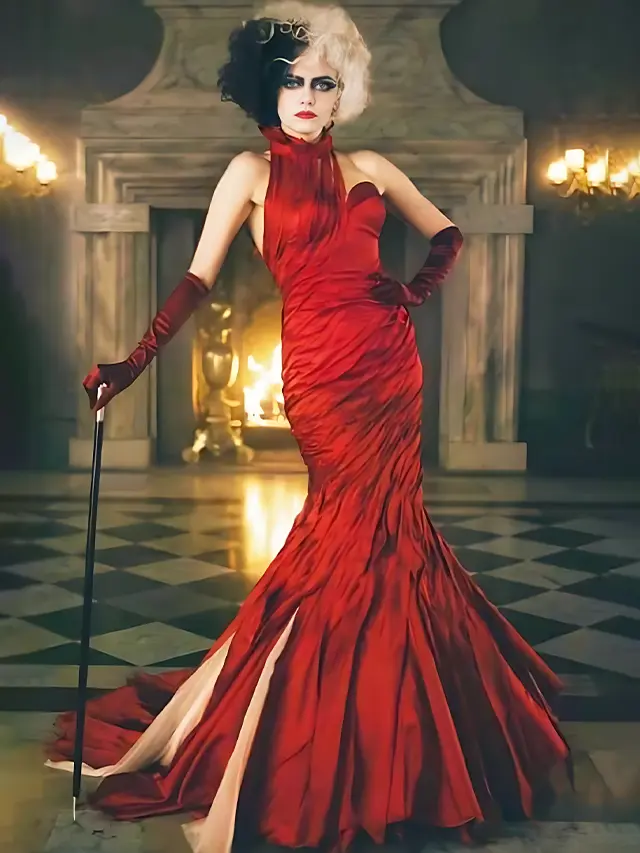 Cruella is a must when a Halloween party calls for a little drama. Get the craziest Cruella look by pairing a red gown with a glam eye mask, statement hair wig, and elbow-length gloves.
4. Cute cupid or sassy devil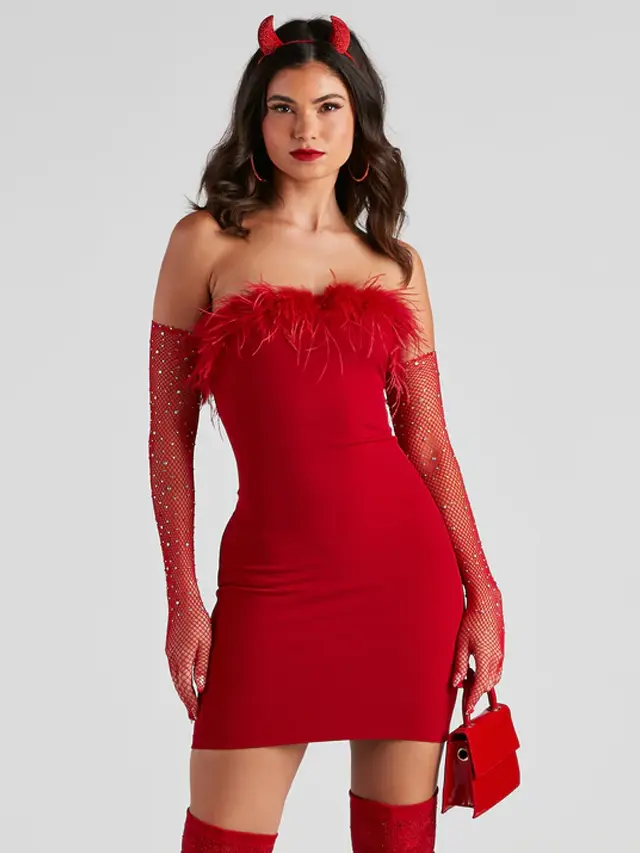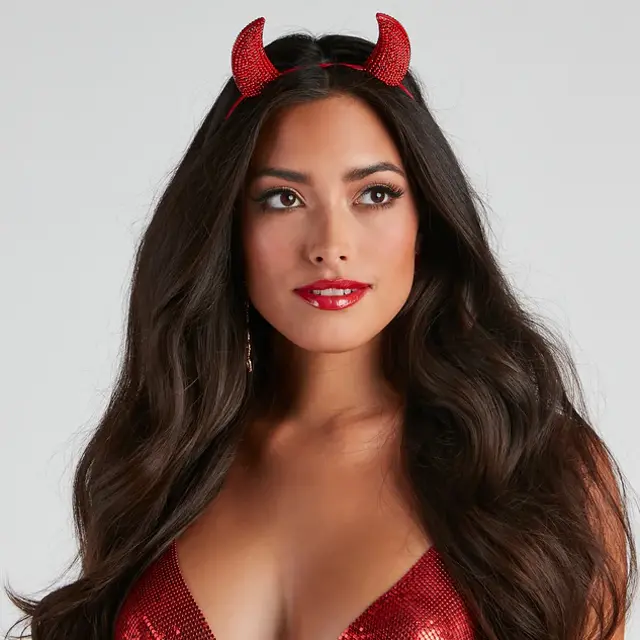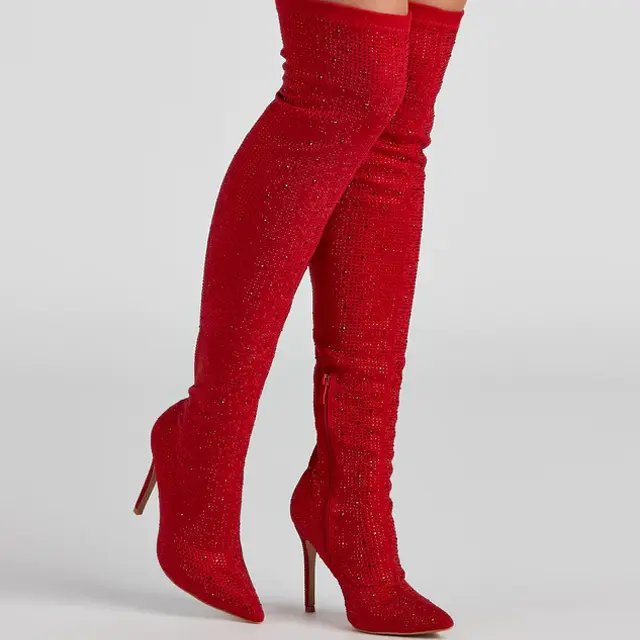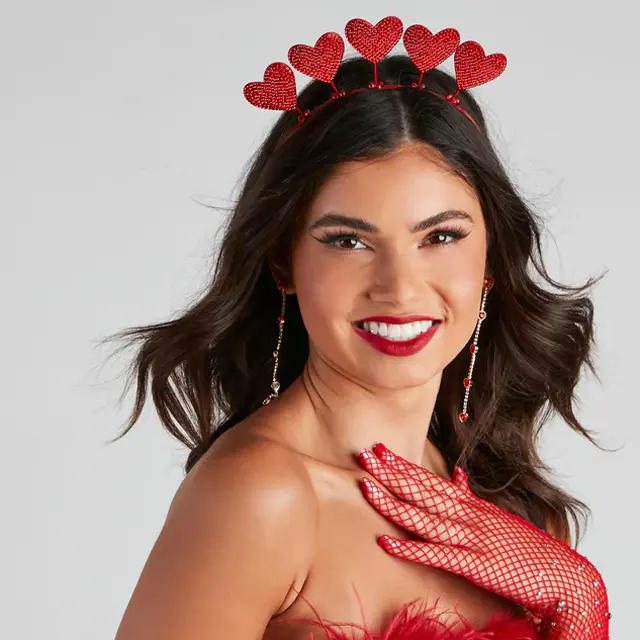 Go bold as you play matchmaker and shoot your love arrows at a Halloween party or channel your devious side as a sassy devil. Complete your cupid costume this Halloween with a bow and arrow and more matching accessories!
5. Wanda Maximoff from Wandavision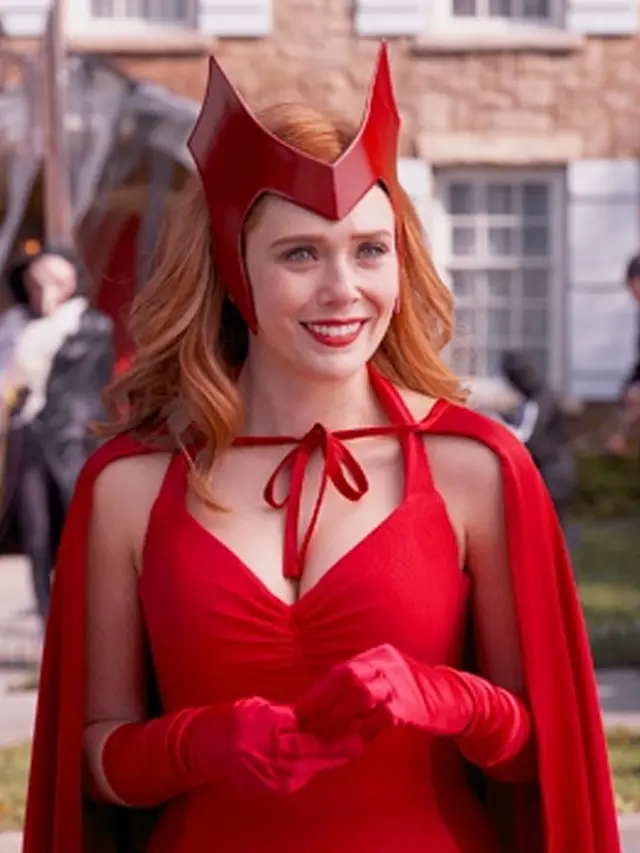 Get ready as Wanda Maximoff's charming Scarlet Witch looks this year. Not only will you look ravishing in this red vinyl look, but you will step into every room this dreadful season.
6. Lydia Deetz from Tim Burton's 1988 Beetlejuice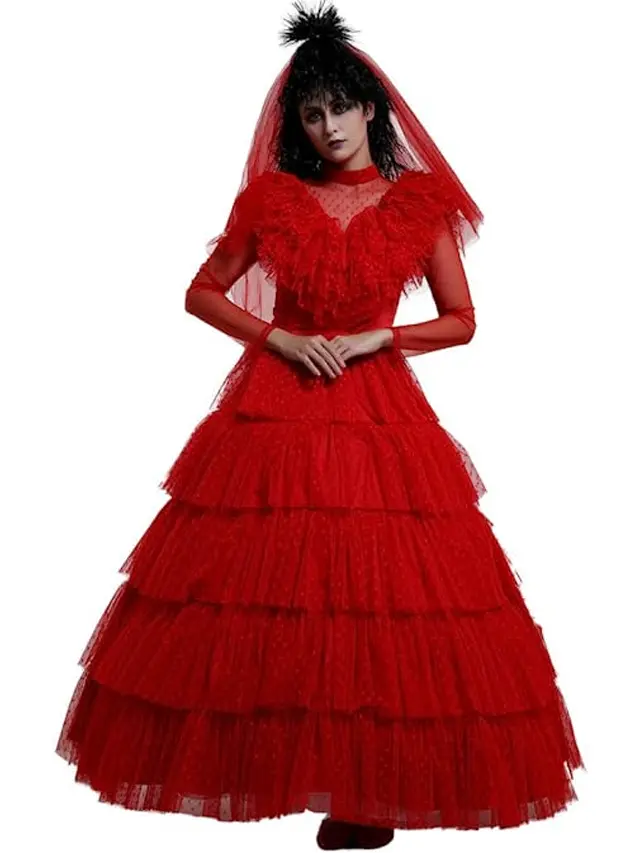 Go as a gothic bride this Halloween like Lydia Deetz, with a frothy blood-red tulle gown over a sheer blouse. Amp your look by adding a hair wig and bouquet of dead red roses. You can also go for a short dress for a more trendy look.
7. Jessica Rabbit from Who Framed Roger Rabbit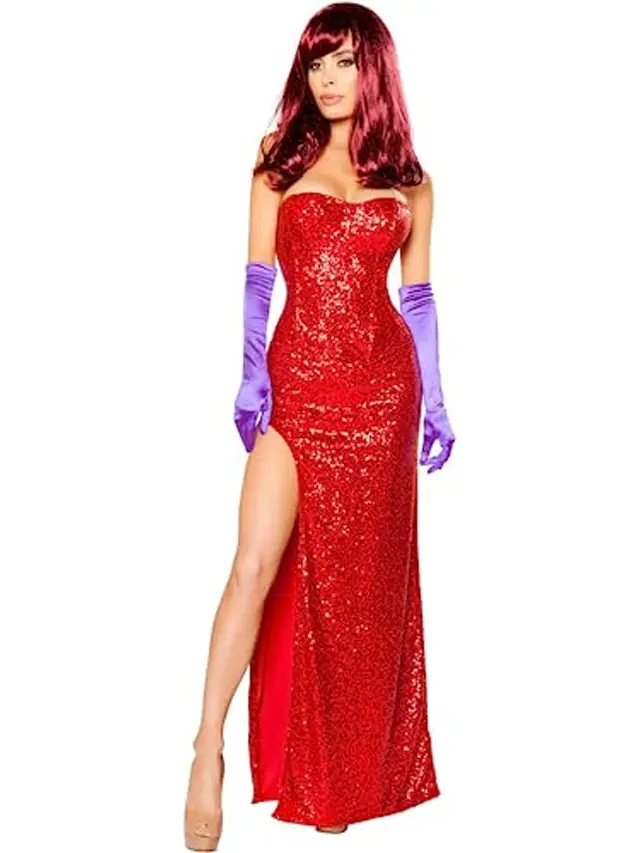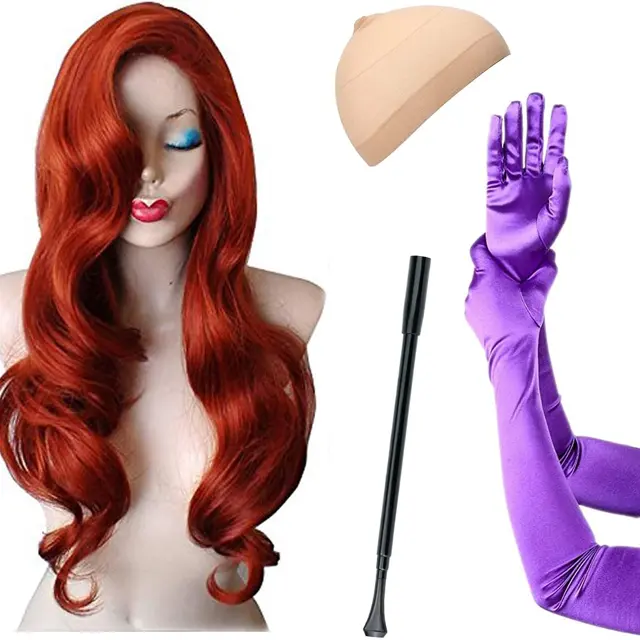 Be the most beautiful and sexy 'toon lady', Jessica Rabbit, at your Halloween party. Throw on your red slit gown, red hair, purple gloves, and a killer pair of red heels and you're ready to spark endless sexual awakenings.
8. Little Red Riding Hood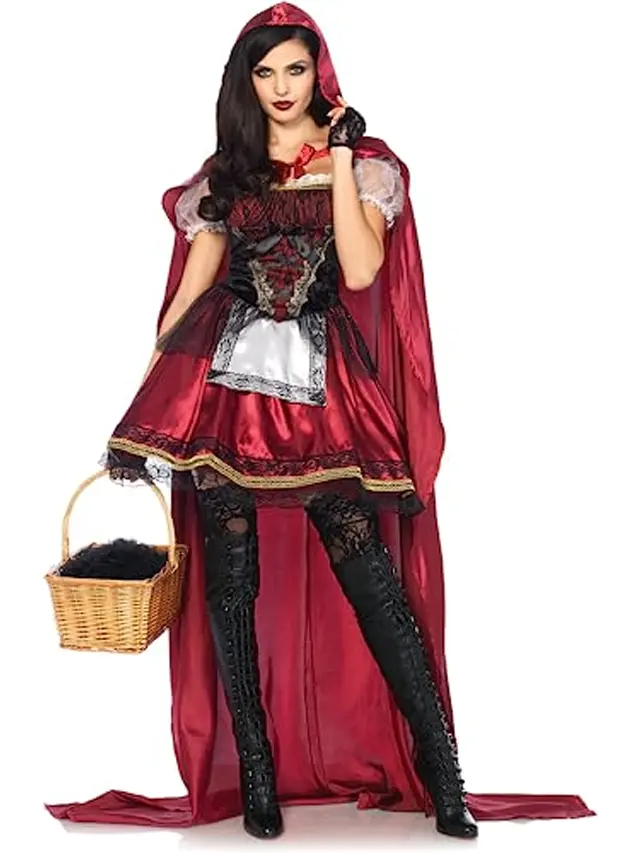 Beware the big, bad wolf when you decide to become Little Red Riding Hood. This look is very cute and easy to achieve with a short ruffled dress and a red hooded cape.
9. Selena Quintanilla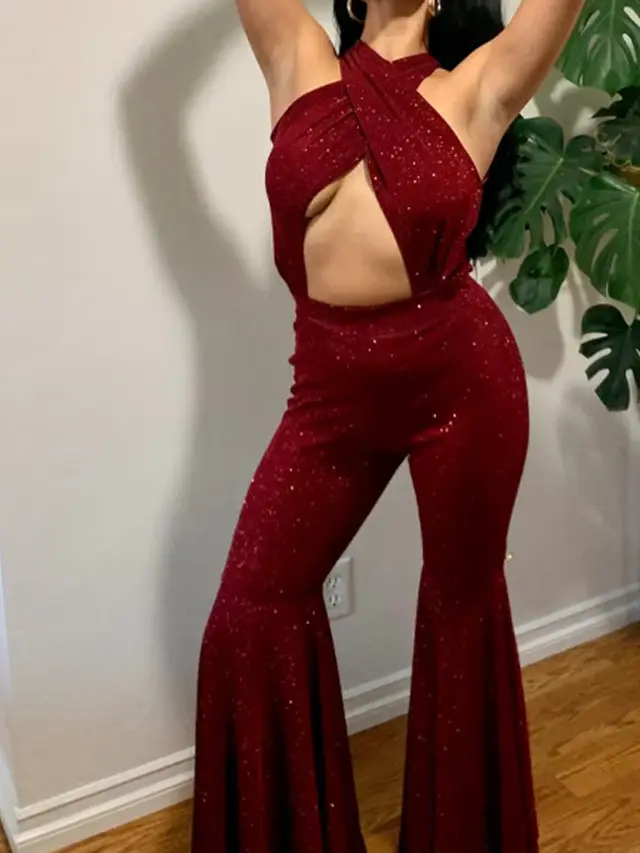 You'll be the talk of the town in the most loved Mexican singer Selena Quintanilla's stunning studded ensemble. Accessorize your look with gold and silver hoop earrings or killer heels for a daring look.
10. Smiffy Medieval Queen
Rule your Halloween party in a medieval queen look. The stunning deep red dress Halloween costume is both flattering and elegant. Complete your look with a belt and headpiece.
FAQ's
How to turn a red dress into a Halloween costume?
Accessories like a witch's hat, Little Red Riding Hood's cape and basket, or a vampire's high-collared cape and fake blood will transform a red dress for Halloween. Also consider a Poppy flower crown and braids, granny glasses and curlers for Red Riding Hood's grandmother, or fishnets and heels for a femme fatale look.
What Halloween costume can I make with a red dress?
Little Red Riding Hood: Add a hooded cape and basket.
Devil: Style hair up and add horns.
Vampire: Dark makeup and fangs.
Jessica Rabbit: Red gloves, bow in hair.
Flapper: Headband, boa, beads.
Goddess: Laurel crown, gold belt.
Karaoke Singer: Microphone, sunglasses.
Rose: Green stem headdress and leaves.