Want a wedding guest outfit that's relaxed, comfortable, and still looks stunning?
Palazzo pants are a comfortable and stylish option for the upcoming wedding season.
Not only are they comfortable, but they also offer a wide range of style options to choose from.
But what about the top? Don't worry, we've got you covered!
In this blog, we have compiled a list of 12 stunning tops to wear with palazzo pants for a wedding.
Whether you're attending a summer wedding or a formal event, we have something for every occasion.
So, get ready to be inspired and find the perfect top that expresses your unique style.
1. Crop Top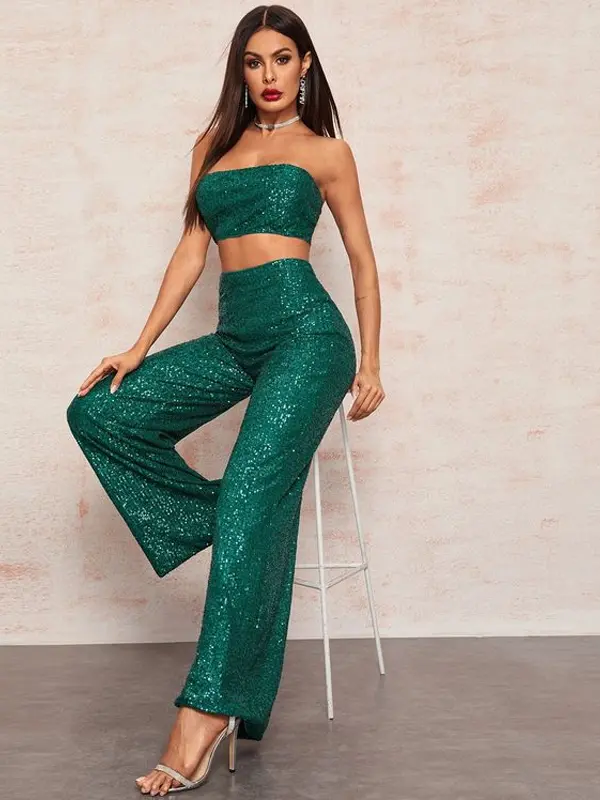 Crop tops can look trendy when paired with palazzo pants for a wedding.
This combination is ideal for a summer or destination wedding as it is comfy, stylish, and on-trend.
You can dress it up with heels and statement jewelry or down with flat sandals and minimal accessories.
2. Blazers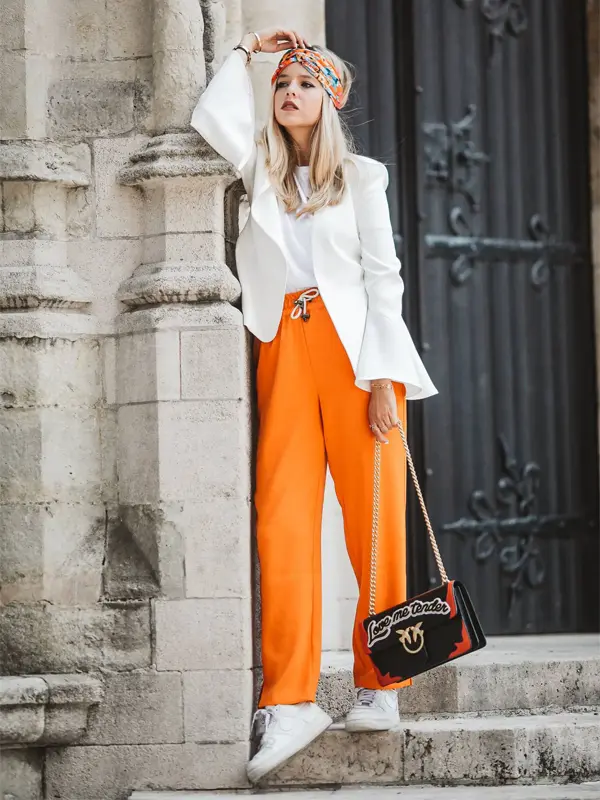 A blazer can add a touch of elegance and formality to any outfit.
This combination is ideal for a semi-formal or garden wedding because it strikes a balance between dressy and casual.
3. Silk Blouse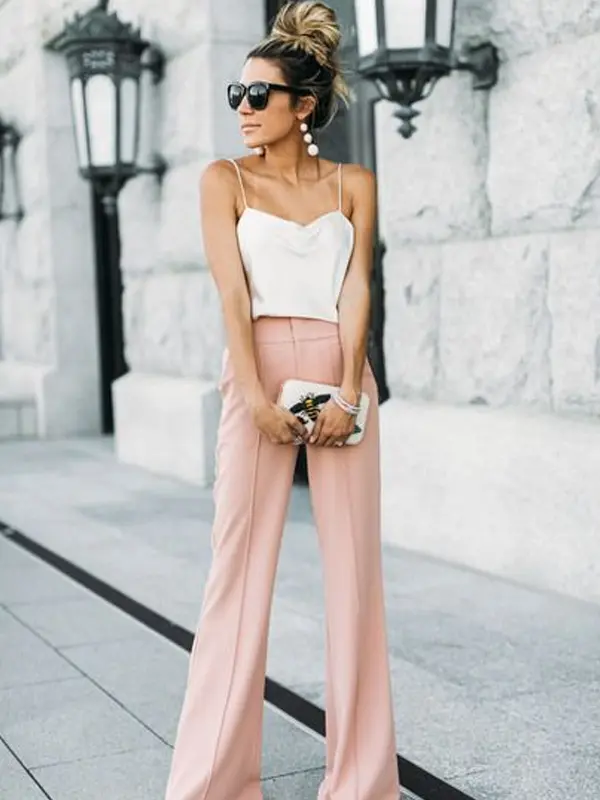 A plush silk top adds elegance and sophistication to the outfit.
For a chic wedding guest outfit, team it up with a pair of heels and bold earrings.
4. Lace bralette top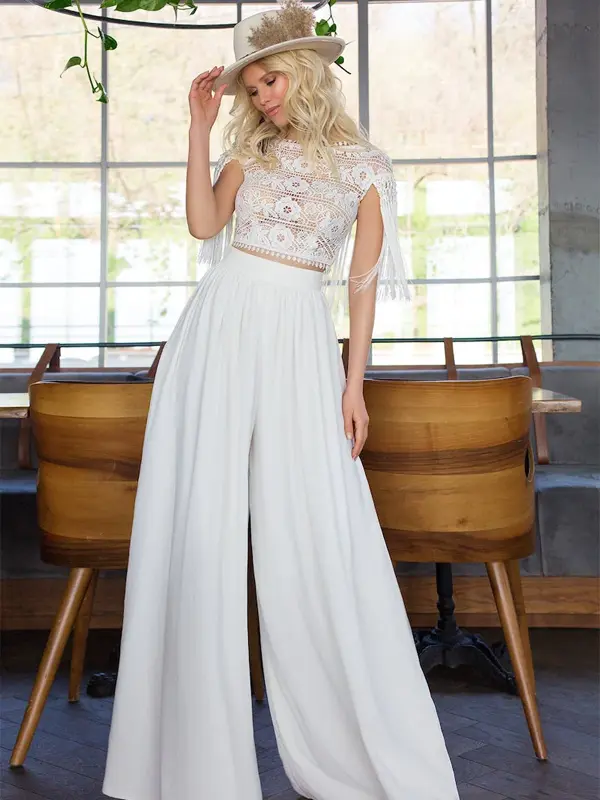 For a wedding, a lace bralette top with palazzo pants can be an incredible choice.
The lace bralette gives the outfit a feminine, romantic touch, while the palazzo pants are comfortable and flowy, making them ideal for a bohemian or outdoor wedding.
Accessorize with some modest jewelry and heels for an effortless look.
5. Off-shoulder top
Off-shoulder top with palazzo pants makes for a modern wedding guest outfit.
This combination is perfect for a summer wedding.
To complete the look, you can pair it with a pair of high heels or strappy sandals and accessorize with statement jewelry.
6. halter top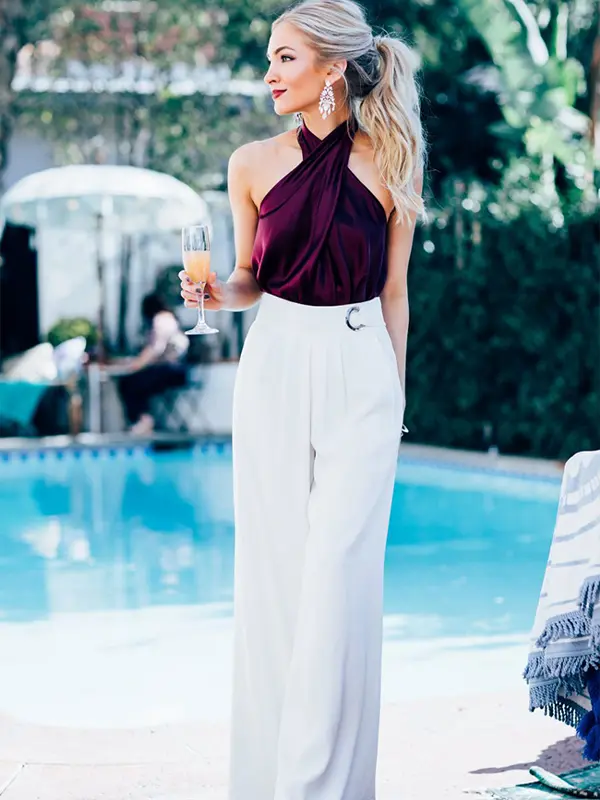 Halter tops can look great on palazzo pants when appropriately styled.
A halter top draws attention to the neck and shoulders, adding femininity and elegance to the overall look.
Add statement earrings, a clutch, and strappy heels to complete the look.
7. corset top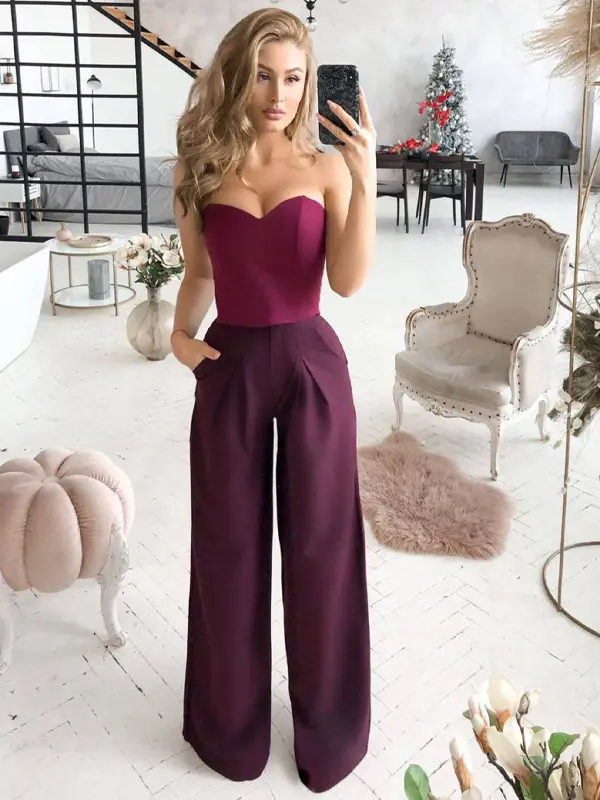 This sexy, celeb-approved staple looks effortlessly sexy and polished when paired with palazzo pants.
Just put your hair up or down, grab a pair of heels, and you're ready to go.
8. Button-down shirt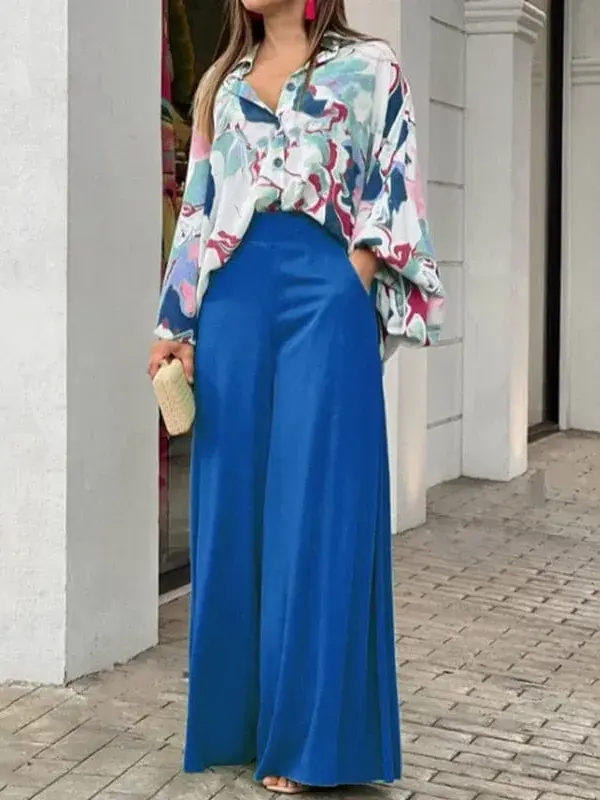 Pair a crisp, tailored button-down shirt with palazzo pants for a chic and sophisticated look.
For a fun twist, choose a bright color or a bold print.
9. Bustier top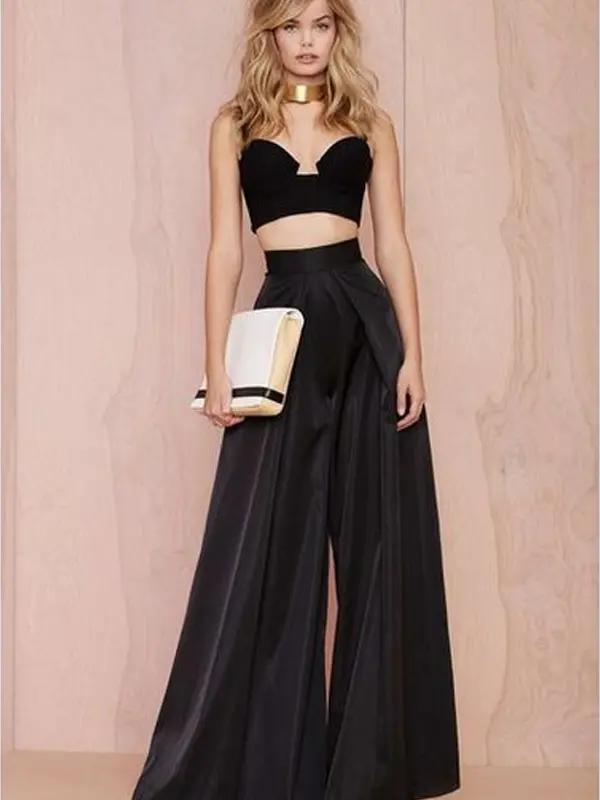 Bustier tops are another fantastic choice that looks so glamorous at wedding parties.
They come in various styles, so pick the one that complements your palazzo pants and the event's overall theme.
Finish off the look with a pair of heels and you're ready to go.
10. bodysuit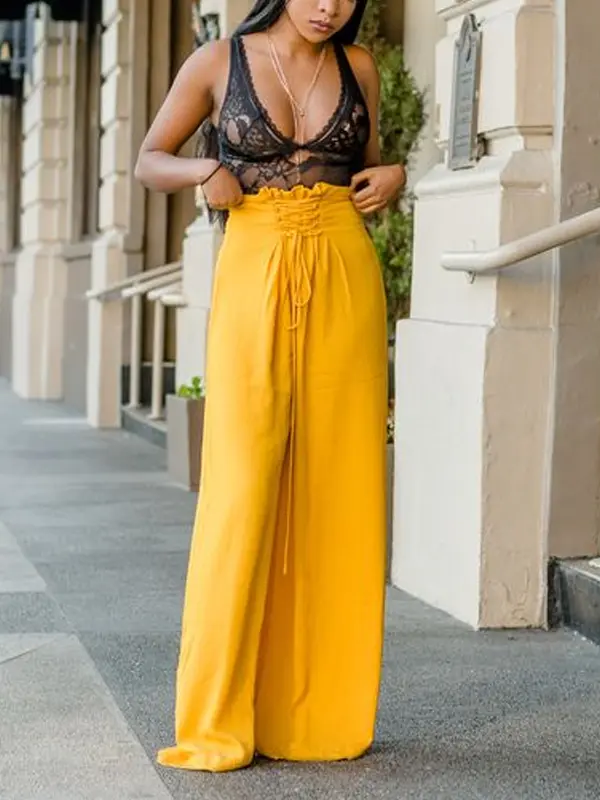 Bodysuits are the most versatile, easiest, and most comfortable to wear.
The flowy silhouette of the pants combined with a skintight top gives you a more defined look.
Choose a bodysuit with sequins, lace, or beading for added interest.
11. Peplum top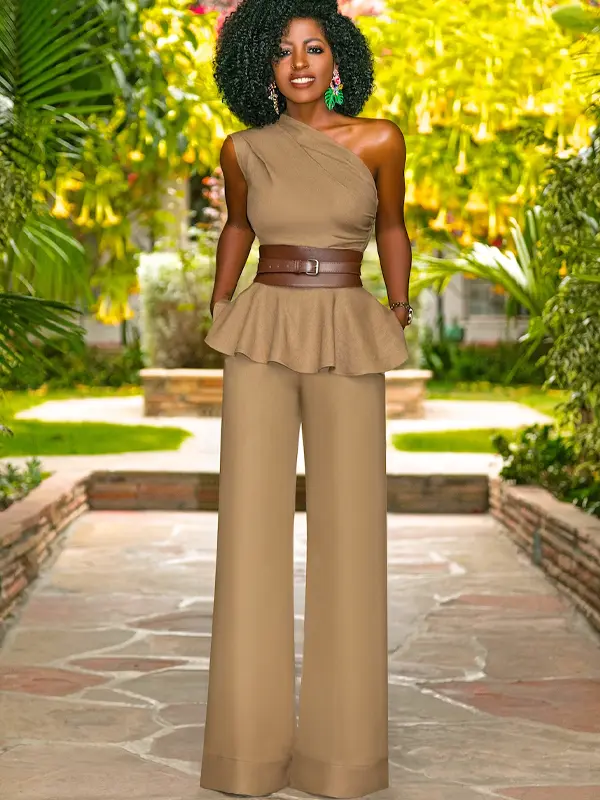 The combination of peplum tops and palazzo pants strikes the perfect balance between traditional and modern fashion.
To add some bling to your outfit, add some statement earrings, a cuff bracelet, or a pendant.
12. Ruffles Top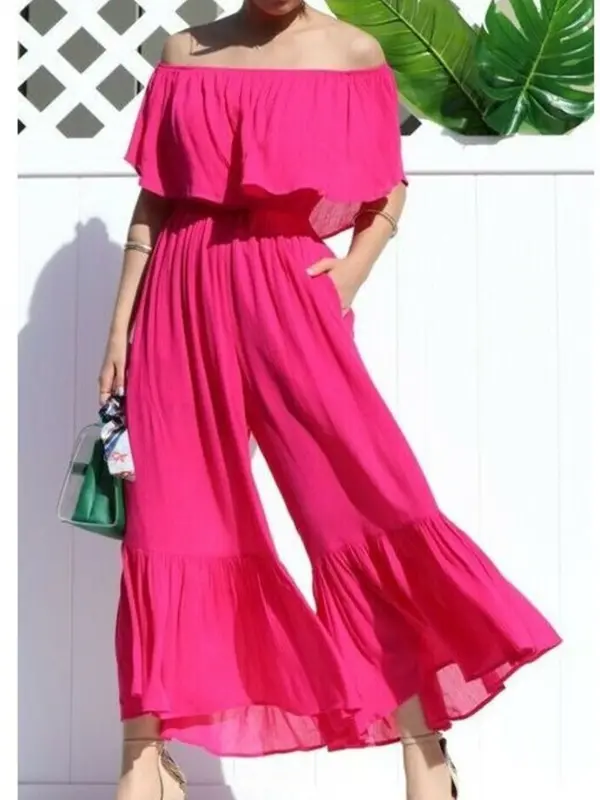 Look adorable by wearing a ruffle top with palazzo pants.
The ruffled top brings a sense of playfulness and femininity to the outfit, while the flowy palazzo pant gives it a chic appearance.