No matter the forecast, sunscreen is one step you should never skip before heading out for the day. Applying a great sunscreen according to your skin type, can protect your skin from harmful UV rays and prevent painful sunburns, skin cancer, and signs of premature aging, such as dark spots and wrinkles.
We discover the best sunscreens without scary chemicals like oxybenzone, octinoxate, and retinyl palmitate, as recommended by board-certified dermatologists.
1. La Roche-Posay Anthelios Melt-In Milk Sunscreen SPF 60
Best Overall
"This is one of my favorite broad spectrum, cosmetically best sunscreens for face and body," says Dr. Marchbein.
No white cast or greasy mess! This milky sunscreen has a velvety texture that absorbs quickly in order to hydrate, smooth, and protect the skin.
Its Cell-Ox Shield technology, which contains a powerful antioxidant complex, helps protect the skin from free radicals that can cause damage to the skin.
it is dermatologist tested, allergy tested, and rigorously tested for skin tolerance on sensitive skin.
Pros
Non-Greasy, Water-Resistant
Paraben and fragrance-free
Formulated with Cell-Ox Shield technology
2. Neutrogena Ultra sheer Dry-Touch Sunscreen SPF 55
Best Drugstore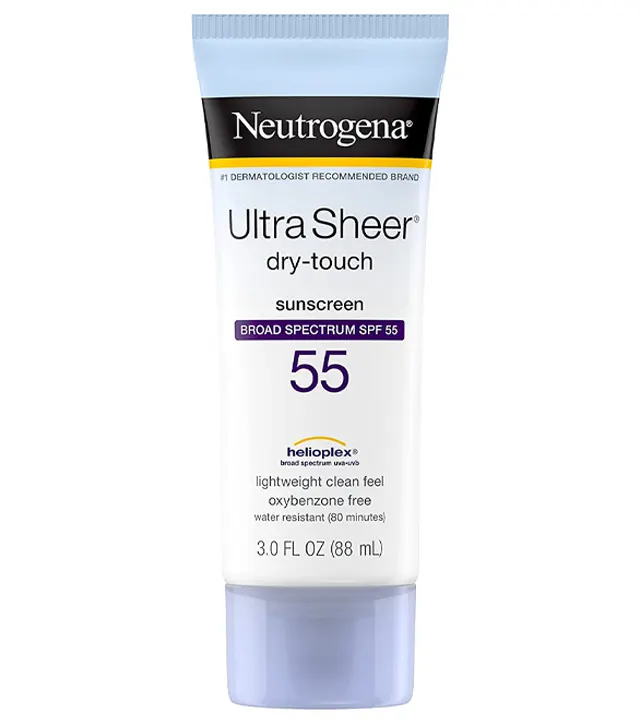 This lightweight and sheer sunscreen from Neutrogena absorbs rapidly with Dry-Touch technology for a non-greasy, matte finish and is formulated with Helioplex for superior sun protection for your skin.
Pros
High SPF sunscreen for face and body
Lightweight
Water-resistant
Cons
3. Aveeno Protect + Hydrate Lotion Sunscreen With SPF 60
Best Sunscreen For Sensitive Skin
This non-comedogenic sunscreen lotion from Aveeno leaves your skin soft without feeling greasy. This sunscreen is enriched with colloidal oatmeal, which helps hydrate and protects the skin. Dr. Zeichner said it can be used by anyone, including people with eczema.
Pros
Contains soothing colloidal oatmeal
Noncomedogenic
Oil, oxybenzone & dye-free
Cons
Some users say it has a bad fragrance
4. Tula Protect + Glow Daily Sunscreen Gel SPF 30
Best Glowy Sunscreen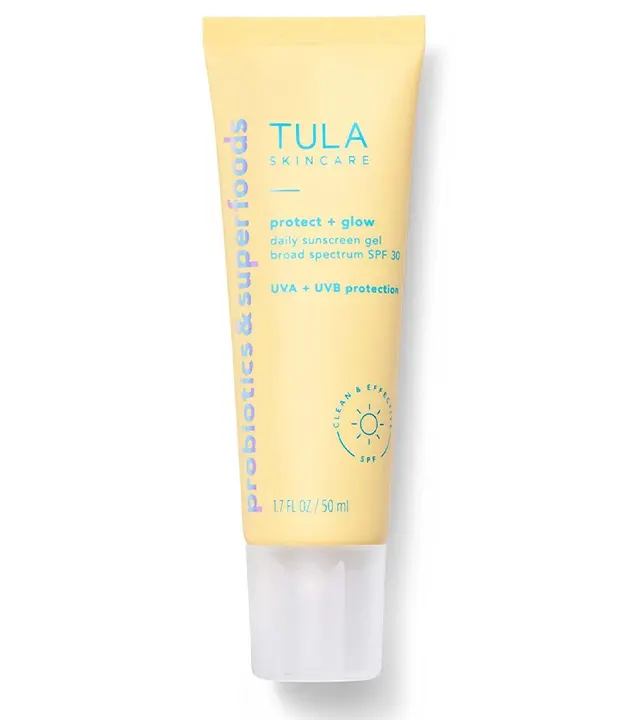 Give your skin a glowing finish with this pick from TULA. A broad-spectrum daily sunscreen with SPF 30 also helps protect the skin from the harmful effects of pollution and blue light. It is non-greasy and has a natural pineapple smell and it won't clog pores or leave behind a white cast.
Pros
Glossy finish
Helps promote even skin tone & strengthen the skin barrier
Wears well with or without makeup
Cons
It might not be suitable for acne-prone skin
5. Elta MD UV Clear Facial Sunscreen SPF 46
Best Sunscreen For Acne-Prone Skin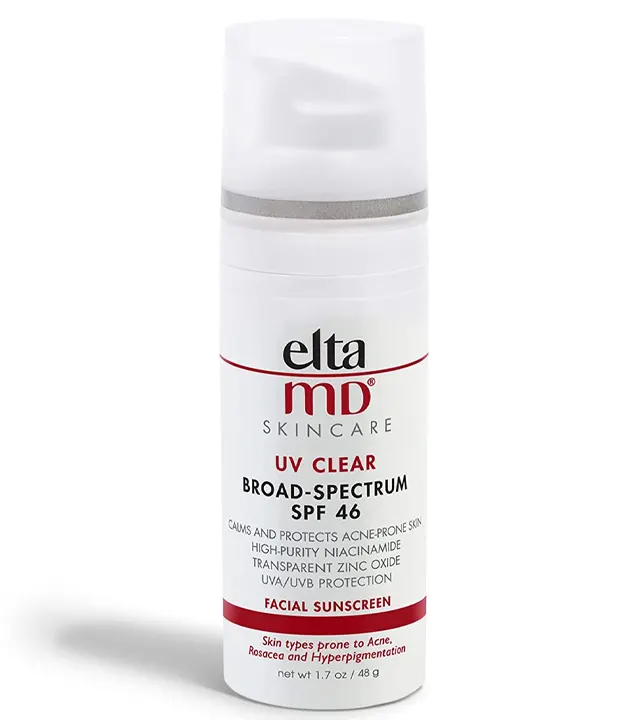 EltaMD UV Clear Facial Sunscreen is a non-comedogenic, fragrance- and paraben-free lotion, so it won't cause breakouts or acne, and contains niacinamide to soothe sensitive skin. It also contains hyaluronic acid and lactic acid, promoting a healthy-looking skin appearance.
Pros
Mineral sunscreen
Lightweight formula
Non-comedogenic and paraben free
Cons
Some users report pilling
6. CeraVe Hydrating Mineral Sunscreen SPF 50
Best Hypoallergenic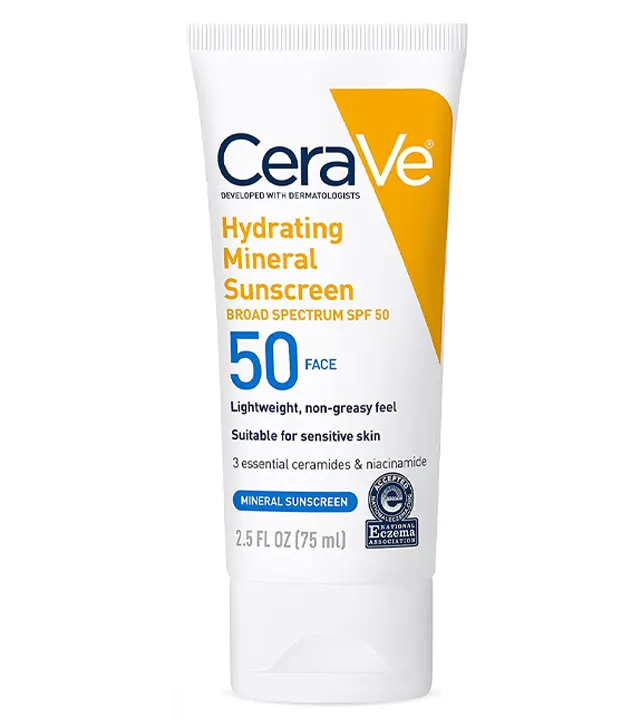 This oil-free, paraben-free, non-comedogenic sunscreen contains three essential ceramides to help restore the skin's barrier and provide long-lasting hydration, as well as niacinamide to help soothe your skin. It's a great choice for both your body and face, as it doesn't feel heavy and offers the highest broad spectrum protection.
Pros
100% mineral sunscreen
Contains Niacinamide
Hydrating formula
Cons
It Can Leave a White Cast
7. Coola Classic Face Organic Sunscreen Lotion SPF 30
Best Sunscreen For Dry Skin
For those with dry skin, this sunscreen lotion from Coola is the best to hydrate and protect your skin. This sunscreen contains lots of antioxidants—including aloe juice, grape seed oil, and other plant-based moisturizers—that help the skin repair itself.
Pros
Contains antioxidants for healthy skin
40-minute water resistance
Cons
It is not apt for the oily skin type
8. Paula's Choice RESIST Super-Light Daily Wrinkle Defense SPF 30
Best For Antiaging
This unique formula contains a lightly tinted moisturizer with sunscreen and nourishing antioxidants that helps stave off the signs of aging and prevent future sun damage. Plus this sunblock is ideal for oily, normal, and combination skin.
Pros
The silky texture leaves a soft matte finish without a white cast behind
Prevents premature aging of the skin
Evens out skin tone
Cons
9. Supergoop! Unseen Sunscreen SPF 40 PA+++
Best For Darker Skin Tone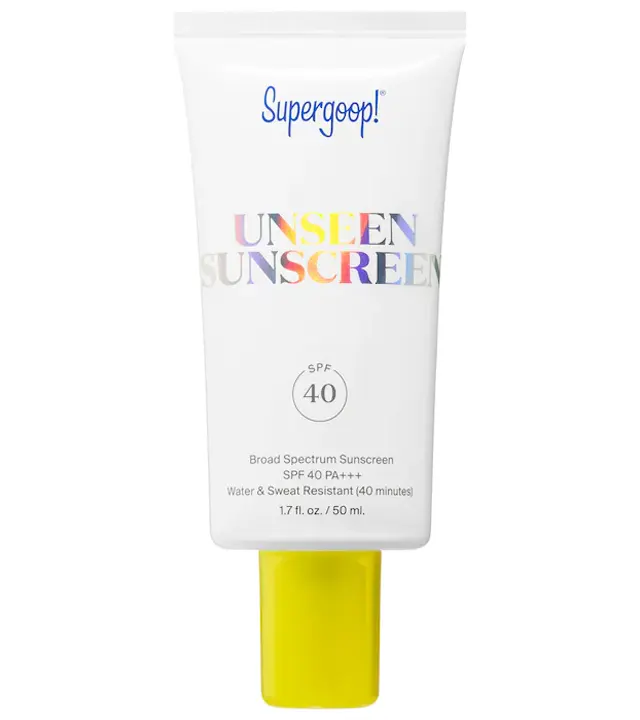 This sunscreen from Supergoop is a completely invisible, weightless, scentless, and makeup-gripping daily primer with SPF 40. It doesn't leave white behind, so great for darker skin tones. And the best part is that this sunscreen is for all skin types.
Pros
Oil-free, non-greasy formula
Fragrance-Free
No White Cast
Cons
10. Shiseido Ultimate Sun Protection Lotion WetForce Broad Spectrum Sunscreen SPF 50+
Best For Swimming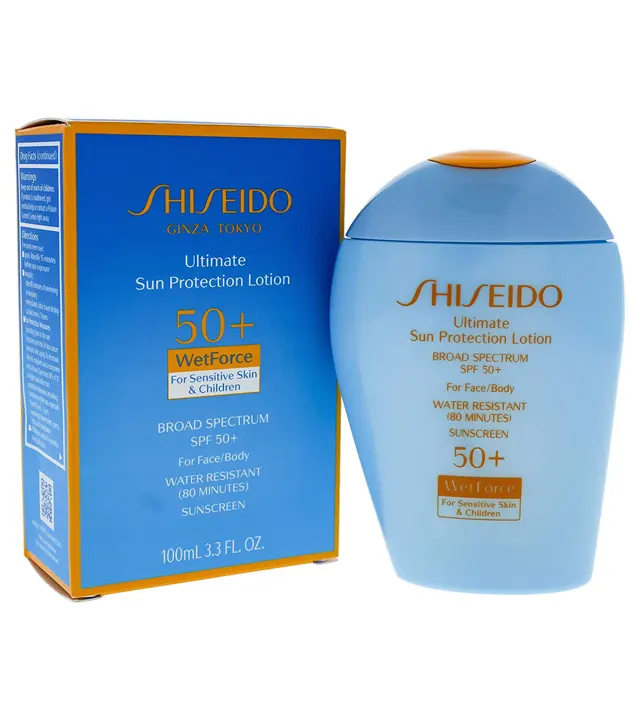 This sunscreen from Shiseido is an invisible, broad-spectrum SPF 50+ sunscreen with a protective veil that can be more effective in water, sweat, and heat. This sunscreen lotion goes on clear and forms an even layer that provides protection from UV rays, pollutants, and dryness.
Pros
Does not leave a white cast
Water and sweat-resistant for up to 80 minutes
Cons
Some users say it felt a little greasy