Get Women's scary Halloween Costume ideas and makeup tips for creating coordinated mom and son costumes, scary couples look, and edgy "baddie" outfits. Learn how to put a spooky twist on popular costumes with makeup and props for a thrilling and unique Halloween look.
Best Scary Women's Halloween Costumes
1. Nun Halloween Costume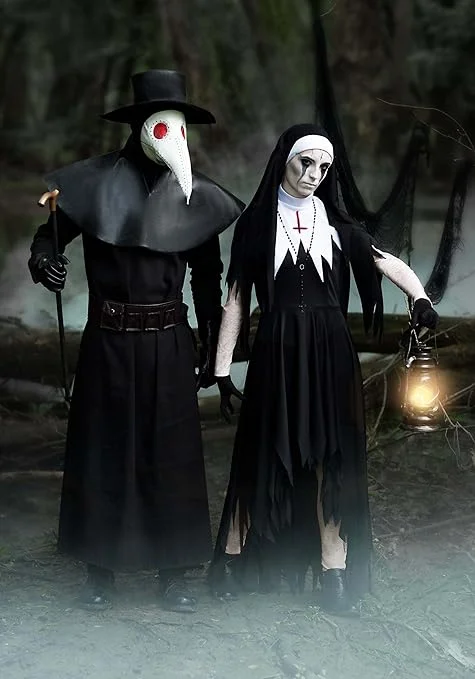 Black Scary Exorcist Halloween Outfit
When it comes to scary womens Halloween costumes, nun costumes are like the bee's knees! And these two are best for a scary and spooky Halloween look.
Demon Possessed Nun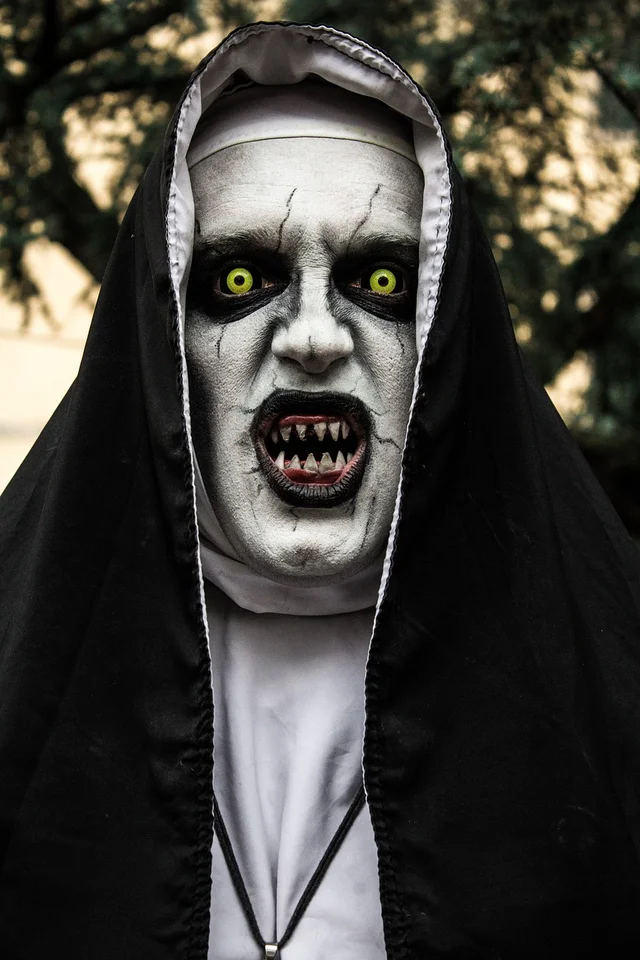 To achieve a spine-chilling nun look, start with a traditional habit: a black robe and white coif headpiece. Apply eerie makeup like pale face paint, dark sunken eyes with black shadow, and dark lipstick.
Go wild with special effects makeup for demonic scars. Accessorize with a striking cross necklace and a defaced Bible.
Bloody Nun
Again, start with the essentials – a black robe and white coif. Add pale makeup with smudges of fake blood for a gruesome effect. Splash fake blood on your costume for a sinister vibe.
Consider adding red contact lenses for menacing eyes. Don't forget a bloodstained Bible or relic prop and maybe a fake weapon for that scary finish!
2. Sexy Couple Halloween Costumes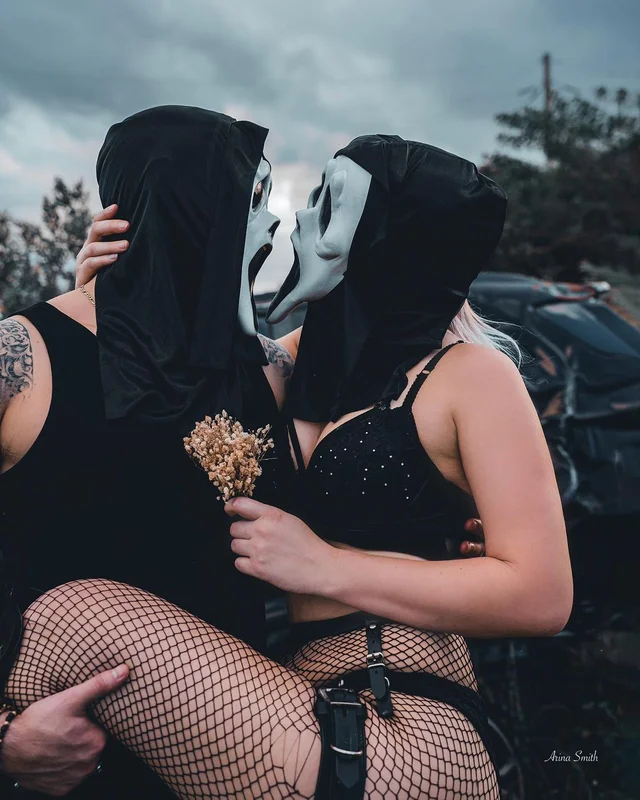 If you're looking to haunt the Halloween scene with your partner this year, why not turn your attention to these scary yet sexy couple Halloween costume ideas?
Succubus and Incubus
Creating a succubus and incubus Halloween look can be a fun way to embrace a darker, more seductive theme.
For the ladies, grab a black or red lingerie-style outfit – corset, bra, panties, garter belt, stockings. Add dramatic dark wings, pale makeup, eerie eye makeup, a devil's tail, horns, and a choker.
Gents, go for black leather pants and a fitted black shirt. Get masculine wings, and mysterious makeup, and add horns, a tail, and a cool prop.
Vampire Couple
A sultry vampire couple Halloween look is all about adding some allure to the spooky!
For the ladies, go for a seductive vampire look: low-cut dress, thigh-high stockings, killer stilettos, fangs, dark makeup, and a dramatic red cape.
Gents, aim for a dashing vampire vibe: sharp suit, cape, fangs, pale makeup, and menacing red contact lenses. You both will be the undead life of the Halloween party!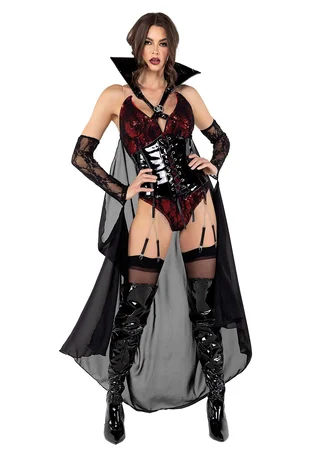 Playboy Vampire Costume for Women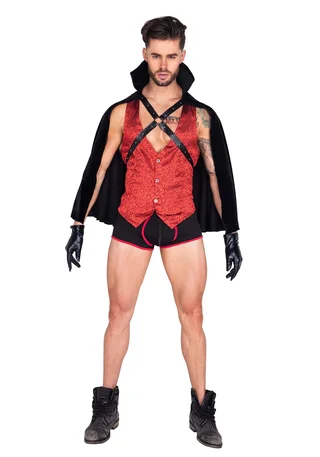 Sexy Vampire Costume for Men
3. Teacher Halloween Costumes
Women's Zombie Teacher Costume
For our third hair-raising scary women's Halloween costume idea, let's become a creepy school teacher. Here are two wickedly creative Women's scary Halloween costumes for you to consider:
Evil School Teacher
Scary  School Teacher Costume
To become the ultimate evil schoolteacher, start with the classic teacher's attire: a conservative dress or skirt paired with a buttoned-up blouse and a cozy cardigan.
Give it a sinister twist by tousling your hair wildly with hairspray or a wig. Accessorize with fake blood splatters on your outfit, hands, and teaching tools like the ruler or pointer.
Top it off with a spooky chalkboard featuring eerie messages or drawings to convey a dark and twisted transformation.
Haunted Librarian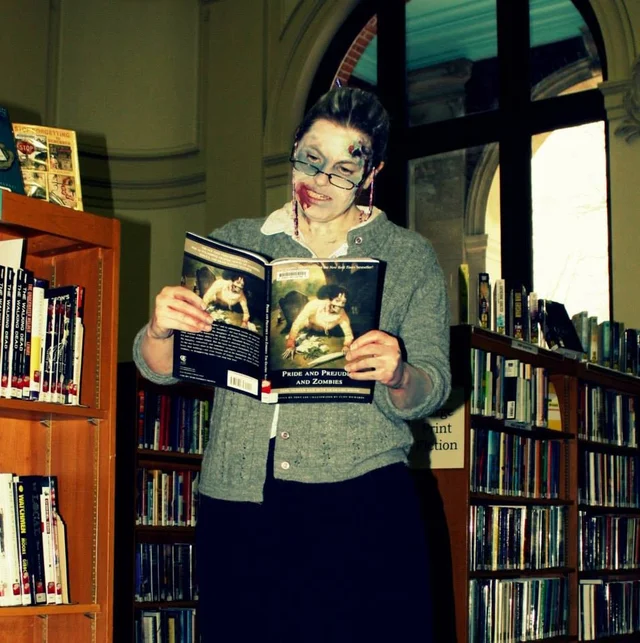 Become a haunting librarian by dressing in classic librarian attire – a conservative dress, cardigan, glasses, and sensible shoes.
Add a spooky twist with ghostly makeup, featuring pale skin and sunken eyes. Accessorize with haunted or cursed books, and carry a lantern or flashlight for an eerie ambiance. Dive into the supernatural and rock this bewitching librarian Halloween costume!
4. Vintage Halloween Costumes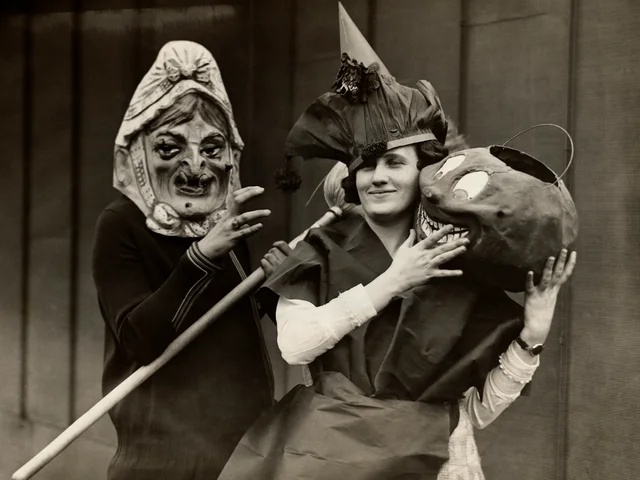 Crafting a nostalgic yet eerie vintage-inspired Halloween look for women? Check out these 1970's vintage Halloween costumes!
Victorian Ghost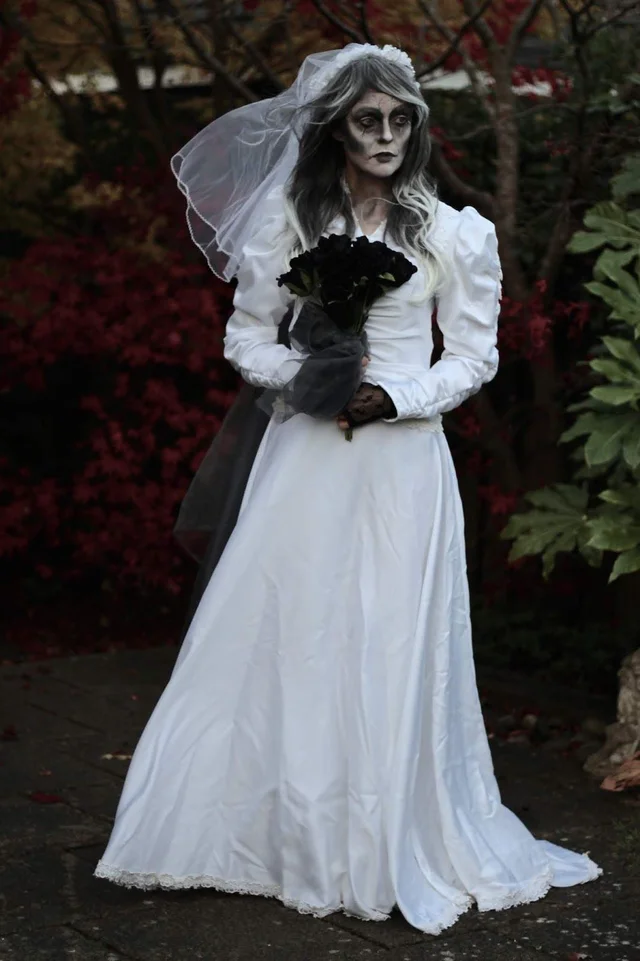 For that killer Victorian ghost Halloween look, grab a flowy white or gray gown that resembles a Victorian-era dress.
Apply white or gray makeup to give your skin a ghostly, pallid appearance. Tease and tangle your hair for a disheveled, haunting effect. Accessorize with lace gloves, a charming parasol, and a vintage cameo necklace.
And don't forget to enhance the eerie ambiance by carrying a candelabra or lantern. Now you're all set to haunt the Halloween night!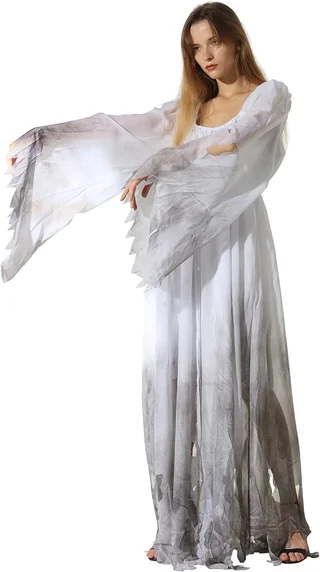 Victorian White Fancy Dress Halloween
Vintage Witch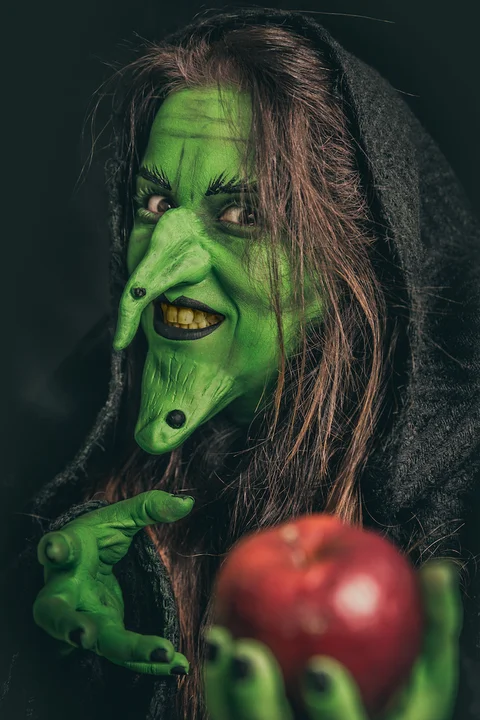 Get this vintage witch look locked in for Halloween! Slip into a dark dress, top it with a pointed hat and a flowing cape, and amp up the charm with lace or velvet accents. Nail the spooky makeup with green face paint, a hooked nose, and warts.
Accessorize with vintage-style props like a broomstick, cauldron, and an aged spell book. Finish the enchanting vibe with a pendant or choker. You'll be the ultimate vintage witch in no time!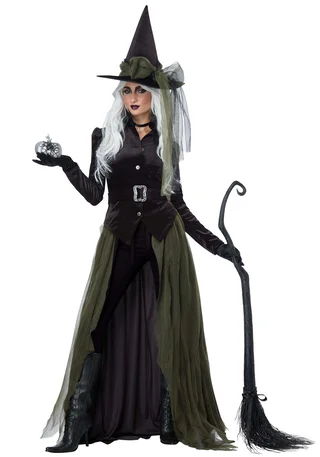 Vintage Witch Costume Dress for Women
5. Mom and Son Halloween Costumes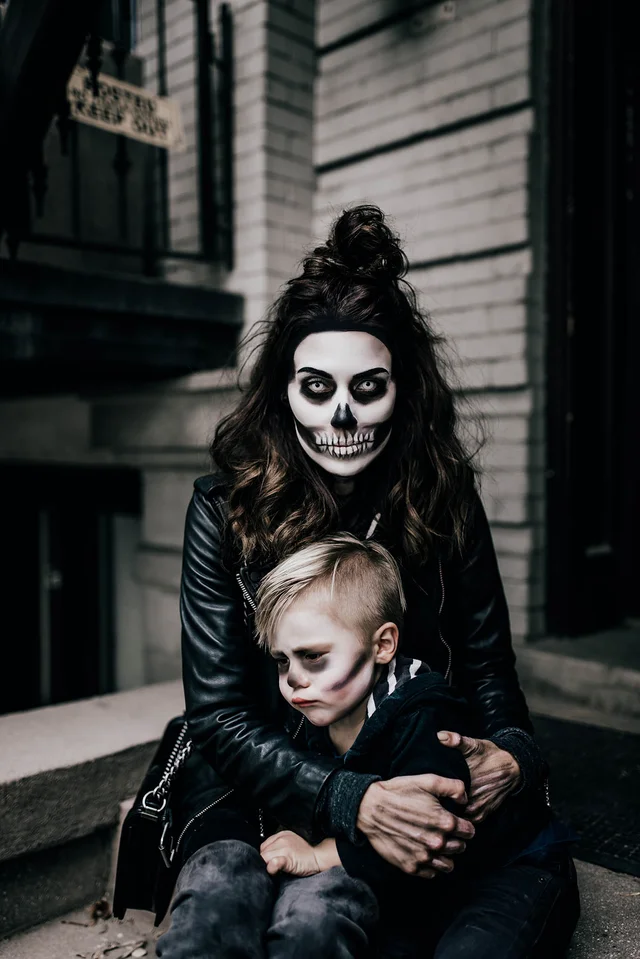 Creating coordinated mom and son Halloween costumes is a fun way to celebrate the holiday together. Here are two great scary mom and son Halloween costume ideas:
Skeletons Ghost
For a chilling mother-son Halloween duo, start with a black lace gown as your ghostly base. Toss on some white wigs for that ethereal touch, suit up your young one in black, and give yourselves ghostly white makeup with eerie black skeletal features. Don't forget to bring some glow-in-the-dark or LED candles for that extra spookiness!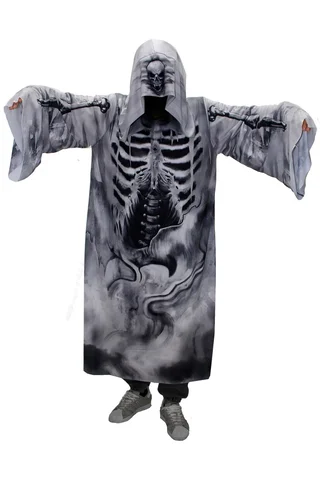 Ghost Costume Skeleton Child-Adult Halloween Costume
Sally & Jack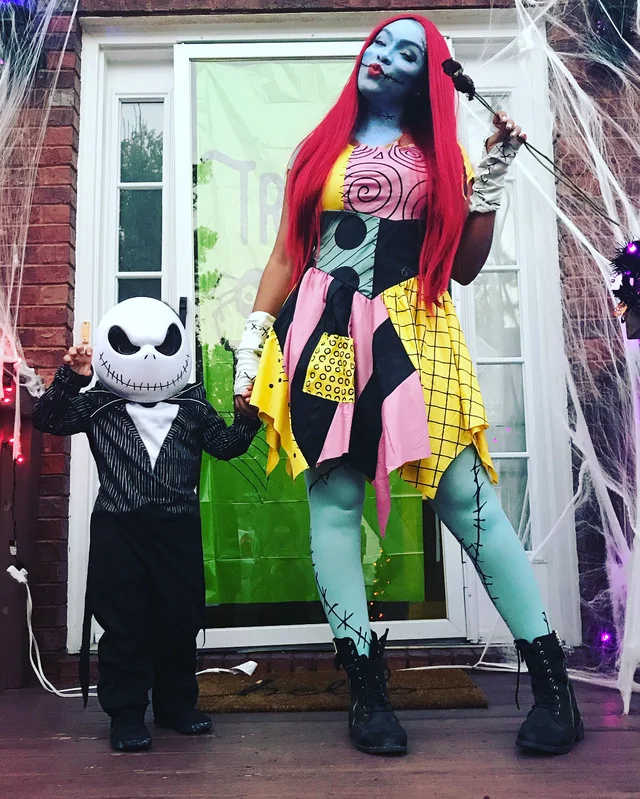 To nail that charming and spooky Halloween look inspired by "The Nightmare Before Christmas". All you have to do –
For Mom, rock a patchwork-style dress with colorful stitched details, a red wig, and cool makeup to become Sally. Add a choker and gloves for extra flair.
For your little guy, suit up in black with a bat-shaped bowtie. Transform his face with white makeup, giving him Jack Skellington's iconic Halloween look. Style his hair tall and bony, and don't forget a plush toy of Zero, Jack's pup.
6. Women's Scary Clown Halloween Costume
Who wants to see a real circus clown? Start with ghostly white face paint, darken those eyes with deep shadow and menacing liner, and add a sinister smile with bold red lips.
Get creative with eerie eye designs and don't forget fake blood.
Pair it with a tattered, blood-stained clown costume for a nightmarish Halloween vibe. Y'all set to spook 'em? Giddy up!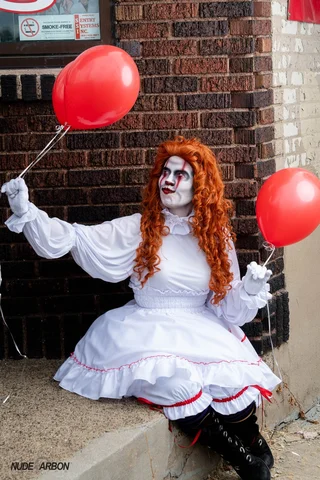 Creepy Clown Halloween Costume
7. Cardi B Halloween Costume
Wanna rock the Cardi B Haunted Halloween Icon look? Choose one of her iconic music video outfits – something bold and flashy. Add a spooky touch with a pale foundation, dark eyeshadow, and smoky eyes. Grab an old, decrepit microphone as a prop, and you're done!
8. Baddie Scary Womens Halloween Costumes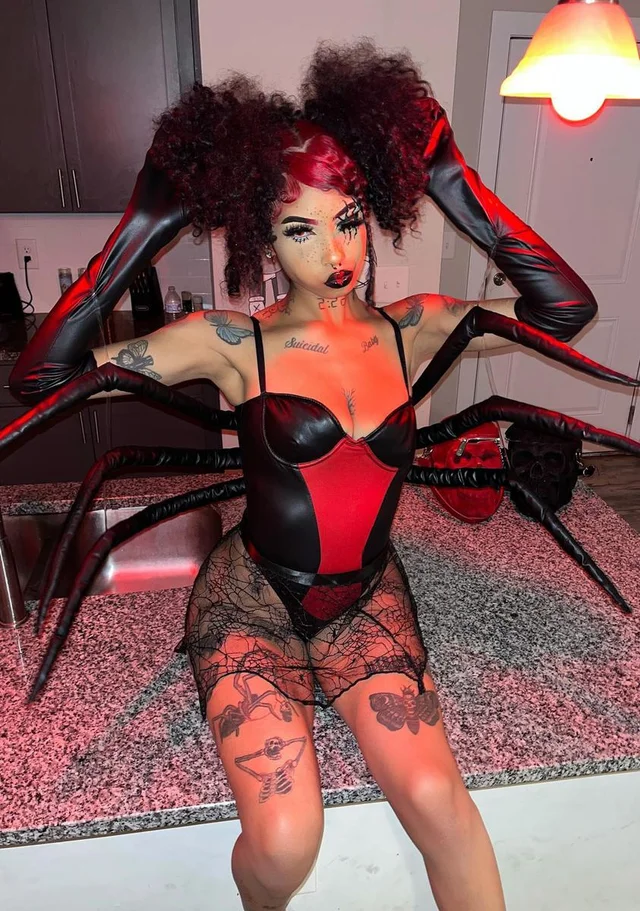 "Baddie" costumes are all about edginess, fashion-forward style, and a hint of dark allure. Here are some ideas for "Baddie" scary Halloween costumes :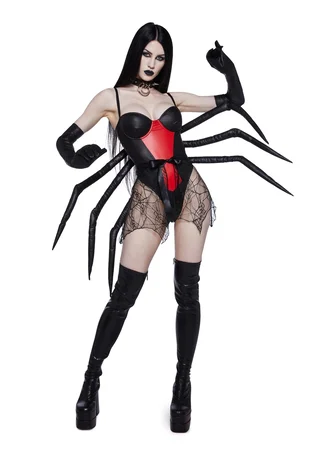 Venomous Vixen Spider Costume
Voodoo Priestess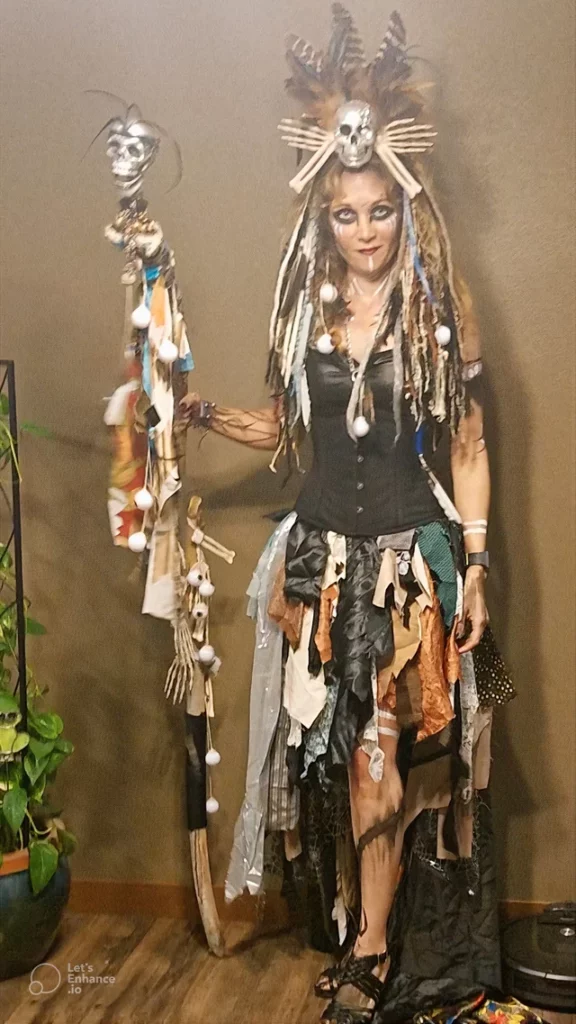 To become an exotic Voodoo priestess, don a dark, mystical outfit with a stylish top hat. Accessorize with a voodoo doll, intricately designed with symbolic pins.
Use makeup for a sinister, otherworldly look: pale complexion, smoky eyes, and mysterious symbols around your face and neck. Embrace the enigmatic aura with these details.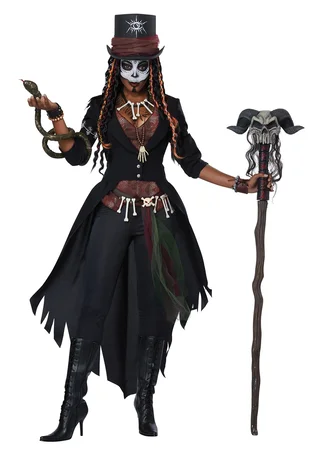 Women's Voodoo Magic Costume
Dark Fairy or Pixie
For a wickedly awesome dark fairy or pixie Halloween costume, let's kick things off with a black, deep purple, or forest green outfit with lace or chiffon details. Toss in some jewel-toned wings, a tiara with faux gems, gloves, gothic jewelry, and dark tights.
For makeup, go smoky with winged eyeliner, dark eyeshadows, and vampy lipstick, plus a touch of glitter. Style your hair in waves or braids with dark flowers or feathers and paint your nails in mystical colors.
9. Jessica Rabbit Halloween Costume
Let's give Jessica Rabbit a spooky twist by pairing her iconic red dress Halloween costume and gloves with haunting makeup – smoky eyes, ghostly complexion, and chilling fangs.
Add some devilish accessories, and you've got a wicked twist on a classic character that'll send shivers down your spine!
10. Addams Family Halloween Costumes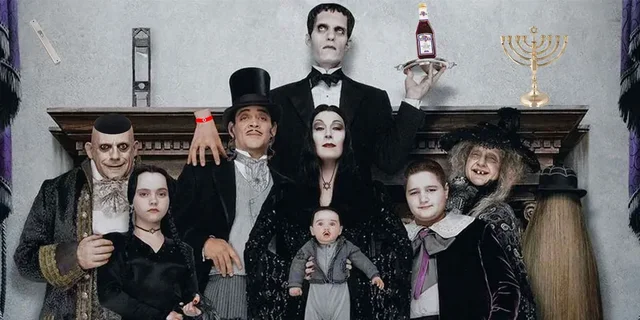 For a solo or family Halloween costume theme, dressing up as an Addams Family character can be both scary and fun. Here's how you can create Best Scary women's Halloween costumes inspired by The Addams Family:
Morticia Addams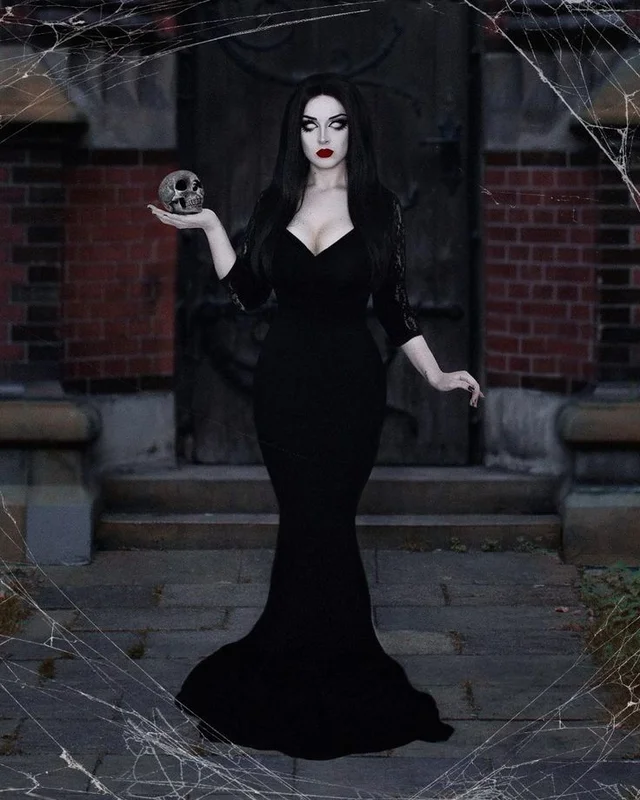 To rock a killer Morticia Addams costume, start with a flowing black gown for that dark and elegant vibe. Pair it with a sleek black wig and nail her ghostly look with pale foundation, smoky eyes, and deep red lips.
Add long black gloves, and a choker, and, for extra flair, carry a silk black rose or carnivorous plant. You'll be Morticia's doppelganger in no time!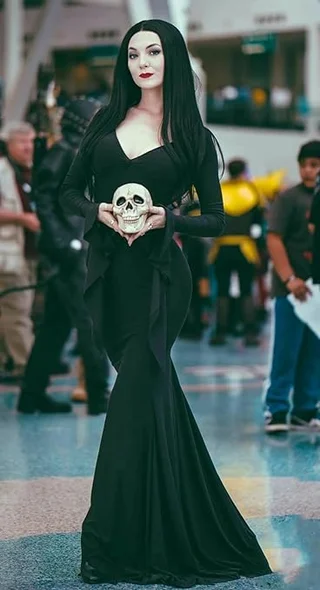 Morticia Addams Costume Dress
Wednesday Addams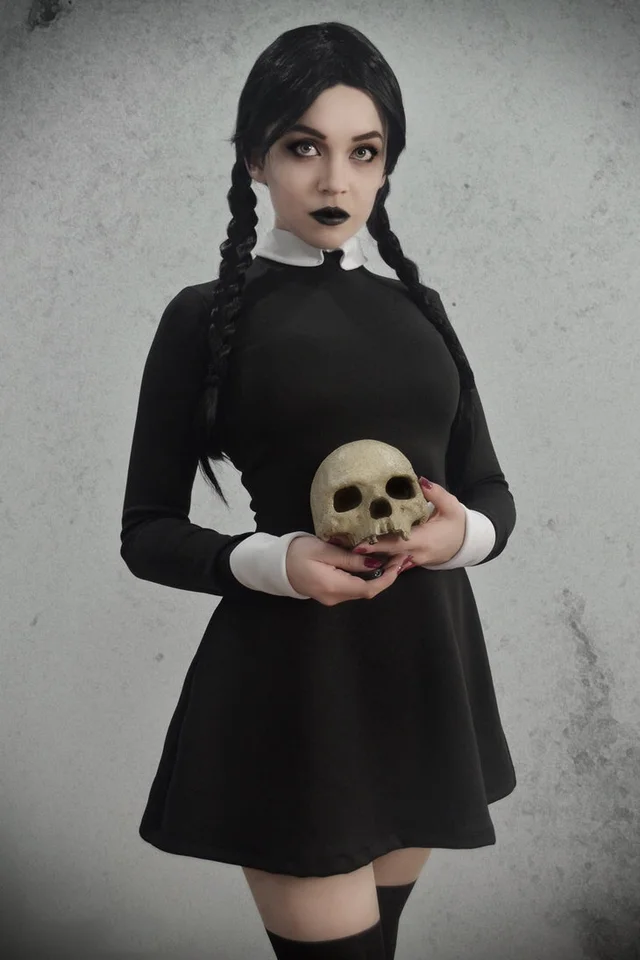 To become Wednesday Addams, grab a knee-length black dress with a white collar, black tights, and Mary Jane-style shoes.
Create side braids for her hairstyle, add pale foundation for a ghostly look, and minimal makeup for kids or go dark for adults. Lastly, nail Wednesday's signature deadpan expression.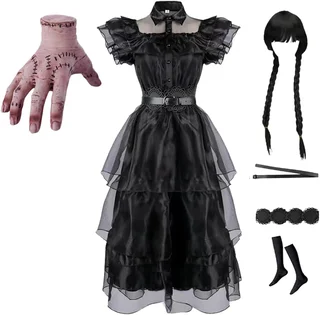 Wednesday Addams Dress Halloween Costumes
11. Samara Morgan (The Ring) Halloween Costume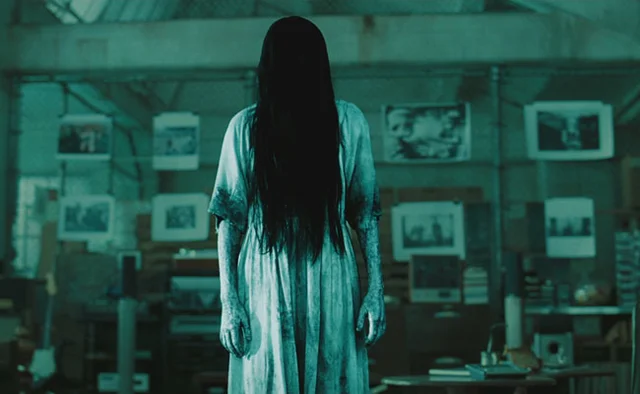 For scary women's Halloween costumes ideas that will send shivers down your spine, channel the chilling spirit of Samara from "The Ring."
Wear a long, flowing white dress, let that dark, cascading hair curtain your pretty face, and don't forget to smudge on some wicked black-eye makeup.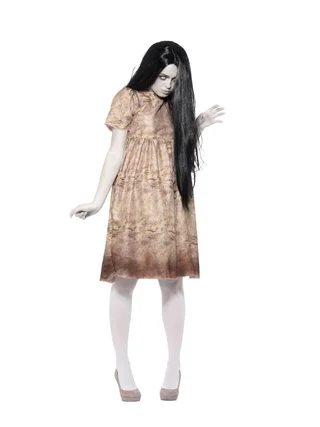 Evil Spirit Costume
12. La Llorona Halloween Costume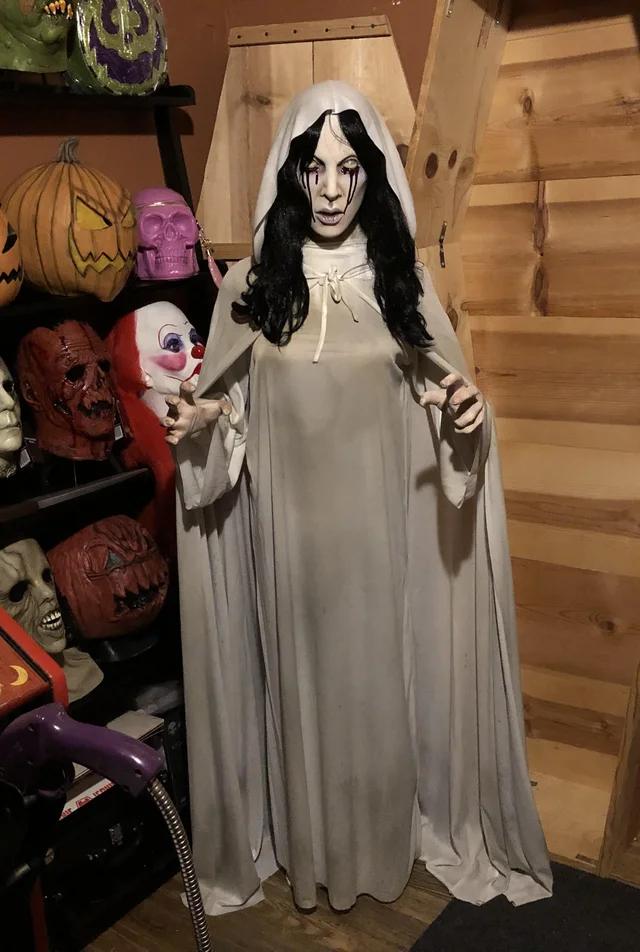 Channel the spooky Halloween vibes of the famous Latin American ghost, La Llorona, wearing a white gown, long black hair, and ghostly makeup. Don't forget to carry a baby doll or drowned children prop for that thrilling Halloween look.
La Llorona Deluxe Adult Costume
13. Silent Hill Nurse Halloween Costume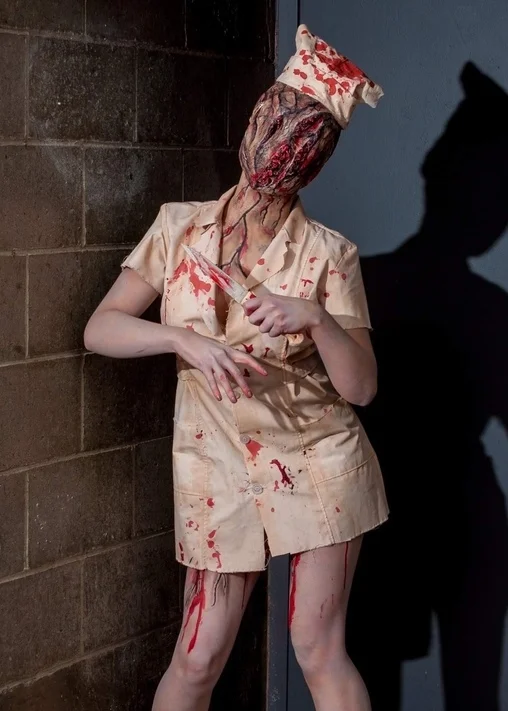 Dress as one of the terrifying nurses from the "Silent Hill" video game series! Just grab yourself a crisp white nurse uniform, toss on a creepy mask, and don't forget to add a blood-stained apron for that extra dose of fright. You'll be giving people nightmares all night long!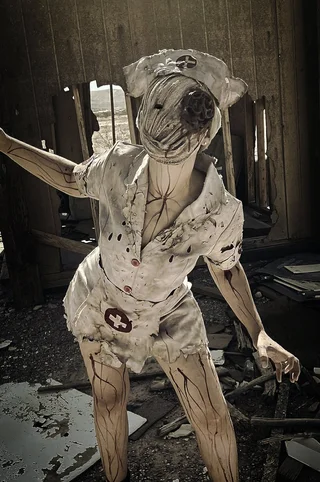 Scary Nurse costume
FAQ's
Is a nun Halloween costume offensive?
If you do choose to wear a nun costume, avoiding controversial situations like pairing it with offensive props or behaviors could reduce potential offense. An authentic representation is less likely to be seen as mocking.
Do Halloween costumes teach kids to conform to social norms?
I don't think there are definitive conclusions here. The impact likely depends on the child, costume, context, and how adults guide or discuss costume choice. As with many child development issues, moderation and balance are important. Allowing some costume conformity, while also encouraging creativity and self-expression, is probably a healthy approach.
How to make vintage Halloween costumes?
The key is to thrift/repurpose modern clothes and accessories to get a vintage look. Study old photos and movies for more inspiration on hairstyles, makeup, and costume details. Have fun channeling different decades! Let us know if you need any other tips.
What makes a Halloween costume vintage?
Using designs, fabrics, or silhouettes that were popular decades ago – Think 1950s poodle skirts, 1960s go-go boots, 1970s disco styles, etc. Vintage-inspired costumes tap into nostalgia.
Why are vintage Halloween costumes so scary?
So in short, the eerie simplicity, surreal designs, and lack of familiarity make those vintage Halloween costumes disturbingly spooky in a way modern costumes just can't match!