It's essential to wear sunscreen regularly, for naturally healthy skin. But have you thought about how it protects you and how to choose the right sunscreen?
Sunscreen can work one of two ways-
It can use chemical filters to absorb harmful UV rays so that your skin doesn't
Or it can block the light from getting to your skin
The second one is Physical sunscreen, which sits on top of your skin, almost like a layer of armor—and your skin loves it. While most sunscreens tend to burn or cause allergies, physical sunscreens can be a blessing. They are relatively non-irritating and safe when used in the proper formulation.
Here you'll find the best physical sunscreen for your face and body to keep your skin protected, healthy, and youthful all year long.
1. La Roche Posay Anthelios Mineral Ultra-Light Fluid Broad Spectrum SPF 50
Best Physical Sunscreen For Face
This liquid mineral sunscreen with high SPF is highly recommended by many dermatologists. It's a weightless, oil-free, fast-absorbing sunscreen that sinks right into the skin, blending seamlessly. It's also non-comedogenic and fragrance-free, so it won't clog pores or cause unnecessary irritation.
Pros
No white cast
Lightweight
Water-resistant for 40 minutes
Cons
The bottle needs to be shaken before use for correct mixing
2. Blue Lizard Australian Sunscreen, SPF 30+
Best For Sensitive Skin
This mineral sunscreen feels too thick to penetrate the skin so it won't cause irritation, and the smart bottle changes color in the presence of harmful UV rays so you have a reminder when you need to apply.
Pros
Dermatologist recommended
Paraben and fragrance-free
Water-resistant for 80 minutes
Cons
Must be reapplied more often 
3. Drunk Elephant Umbra Sheer Physical Daily Defense SPF 30
Best Splurge Sunscreen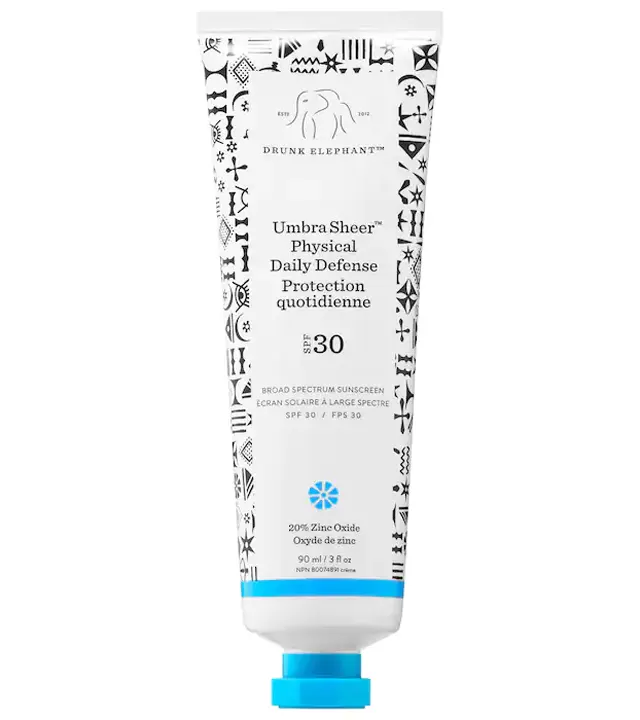 With an impressive 20% concentration of zinc oxide, it never leaves your complexion dry or chalky. While there is a slight white cast, taking your time to blend this one in helps it to melt into the skin. It's rich in antioxidants which help protect against free radical damage and also free from fragrance, and silicones.
Pros
Moisturizes skin with botanical extracts
Non-comedogenic
Gives the skin a healthy glow
Cons
May leave a white cast on darker skin tones
Take enough time to rub in
Not for very oily skin
4. Elta MD UV Physical Broad-Spectrum SPF 41
Best Tinted Sunscreen
EltaMD UV Physical Sunscreen provides sun protection and lightly tints your complexion to enhance skin radiance. Lightweight and fragrance-free, this mineral sunscreen won't clog pores and is gentle on sensitive skin conditions.
Pros
UVA/UVB sun protection
Prevent signs of premature aging
Water-resistant (40 minutes)
Cons
Light tint does absolutely nothing for darker complexion people
5. Sun Bum Mineral SPF 50 Sunscreen Lotion 
Best Sunscreen SPF 50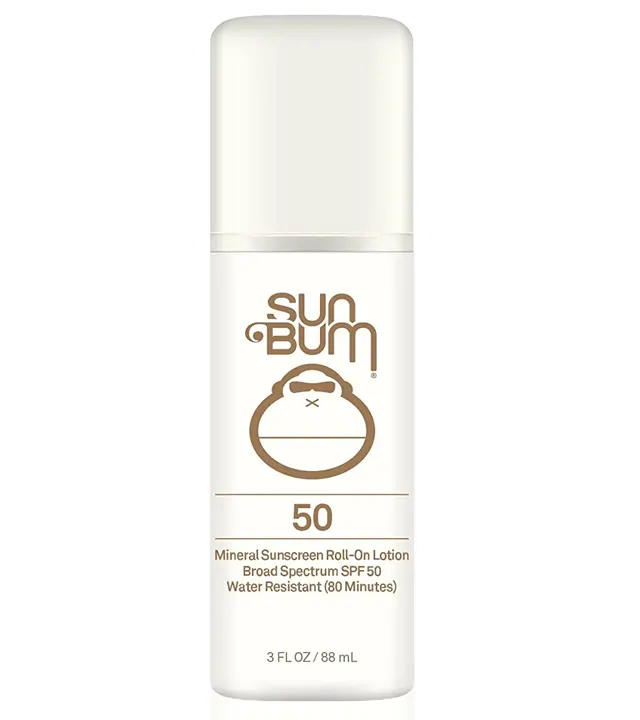 For a reliable, everyday SPF, reach for Sun Bum's mineral sunscreen lotion, which is so moisturizing, has the classic coconut scent a water-resistant for up to 80 minutes.
Pros
Lightweight formula
Hypoallergenic and paraben free
Water-resistant (80 minutes)
Cons
The scented formula may not be suitable for everyone
6. Colorescience Sunforgettable Total Protection Brush-On Shield SPF 50
Best Powder Formula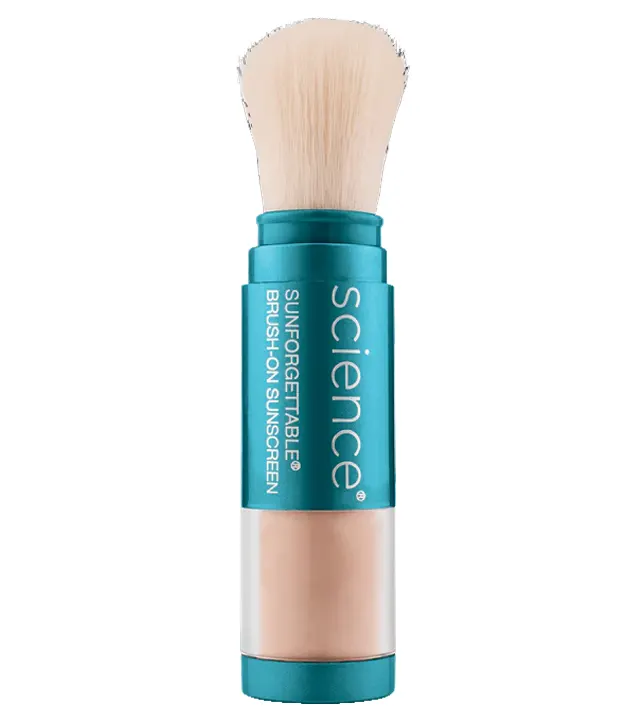 Colorescience powder sunscreen is a life saver for makeup wearers. With the on-the-go applicator, you can simply brush on the powder formula throughout the day for a makeup-SPF touchup. And it's water-resistant and comes in four shades, so you can find the one that best suits your skin tone.
Pros
Pigment formula helps with even complexion
Contains vitamins, minerals, and amino acids for healthy skin
Water-resistant (80 minutes)
Cons
Not apt for the primary form of sun protection
7. Supergoop Mineral Mattescreen SPF 40
Best Matte Sunscreen
Supergoop sunscreen with a non-greasy formula blurs pores and keeps oily skin shine-free. It also has a neutral tint. Plus, it's water-resistant for up to 40 minutes.
Pros
Pigment formula helps with even complexion
Contains vitamins, minerals, and amino acids for healthy skin
Water-resistant (80 minutes)
Cons
It is not apt for the dry skin type
8. Dr. Denniss Gross Lightweight Wrinkle Defense Broad Spectrum SPF 30
Best For Antiaging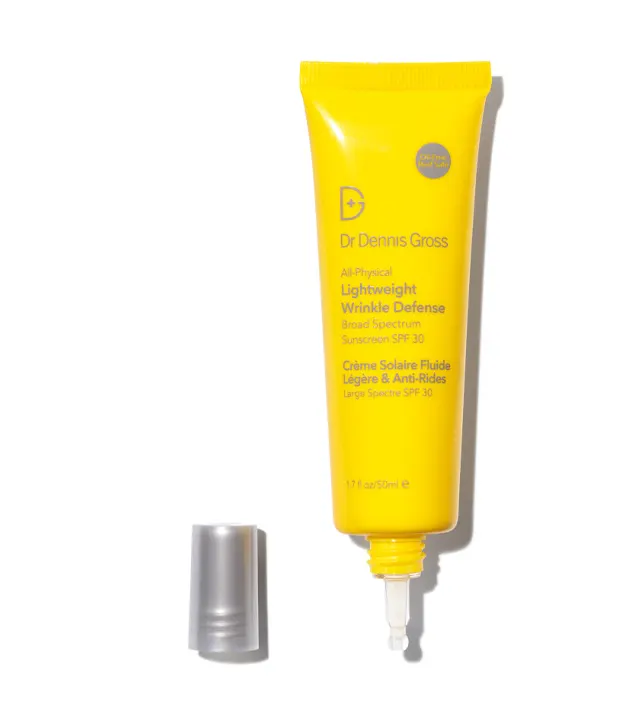 This weightless sunscreen helps stave off the signs of aging along with preventing future sun damage. Plus it contains lingonberries and sea buckthorn which are rich in antioxidants, and vitamins C and E to heal the signs of aging while preventing environmental damage.
Pros
Oil-free, non-greasy formula
Reduces fine lines and wrinkles
Cons
9. Neutrogena Sheer Zinc Oxide Dry-Touch Face SPF 50
Best For Oily Skin
Neutrogena's SheerZinc sunscreen features the brand's Dry-Touch technology, which is great for oily and acne-prone skin. It prevents your face from looking and feeling greasy. It's non-comedogenic, water-resistant, fragrance-free, and also has a lightweight finish.
Pros
Budget-friendly
Oil-free, non-greasy formula
Water-resistant (80 minutes)
Hypoallergenic
Cons
May leave a white film on darker skin tones
10. Isdin Eryfotona Actinica Ultralight Emulsion Sunscreen SPF 50+
Best For Darker Skin Tone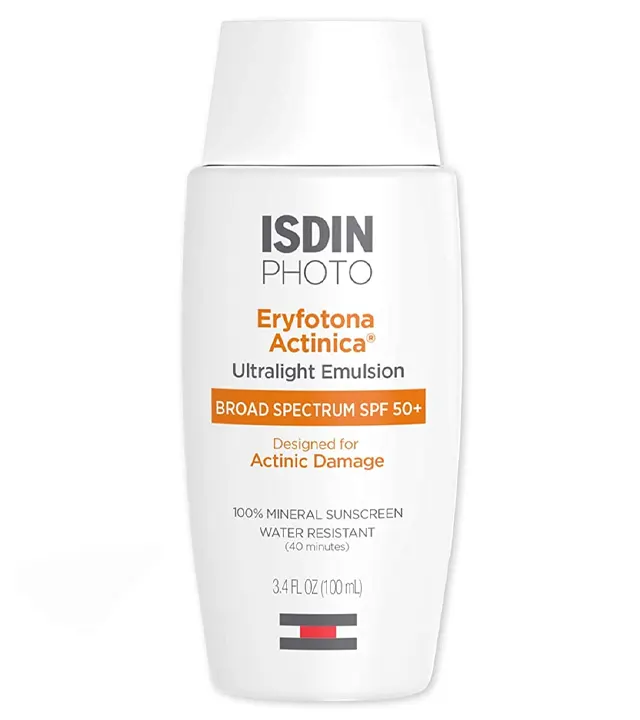 This fast-absorbing, lightweight sunscreen lotion with SPF rubs in easily and won't leave any white cast behind. It contains Vitamin E and DNA repair ingredients to reduce hyperpigmentation and wrinkles for naturally healthy skin.
Pros
Does not leave a white cast even on darker skin tones
Hydrating formula with vitamin E
Cons