Today, we bring professional nail art products with a complete set of fantastic things like manicure tape, 3D nail decorations, color rhinestones, painting brushes, stickers, dotting tools, striping tapes, glitter nails, stamping, etc. These will make your nails more attractive.
1. Teenitor Stamp Nail Art Tool Kit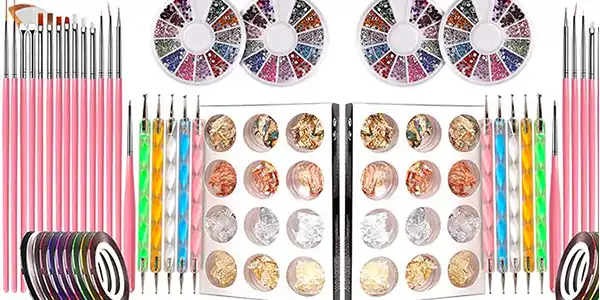 The brushes were the biggest hit; sparkly jewels are small but lovely, nail striping tapes are adhesive and multi-color, and the paillette foil sticker is creative Works decent.
What this manicure tool contain-
15pcs design brush set
5pcs of 2-ways drawing dotting painting pens
2 boxes of rhinestones
10pcs assorted colors nail striping tapes
12 pots paillette foil sticker in 4 colors
2. 3D Painting Polish Design Kit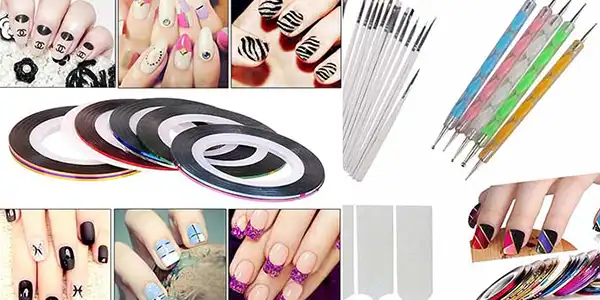 It is a perfect kit for women who love nail makeovers. This kit gives you what's needed to create beautiful designs for a professional look.
What this kit contain-
15 brushes
5 double-sided dotting tool
10 striping roll tape
1pc tip guide sticker
3. JOYJULY Nail Design Tools
This fantastic professional nail art set is straightforward to use at home. It is the perfect setting because it has a brush for everything.
You can create your Diy style as you like and make your nails look more attractive and graceful.
What this kit contain-
15pcs painting brush set
5pcs 2-way drawing dotting painting pen
4. SGM manicure tool kit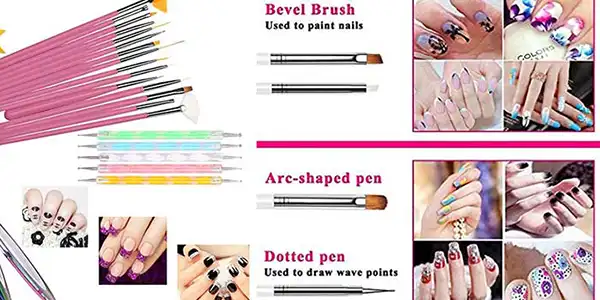 This professional manicure kit contains almost all the manicure tools you need for a manicure. It is your perfect choice to DIY your designs at home with high quality, like a salon. And it also can save you money and time.
What this kit contain-
15pcs design brush set
5pcs of 2-way drawing dotting painting pen
10 pcs assorted colors nail striping tape
5. 48 Glass Bottles 3D Nail Art Set
Have more options for nail art than you know what to do. You get 48 individual bottles of assorted gel nails and decorations with this set.
Each bottle contains a different kind, shape, and color of the nail, ranging from glitter nails to sequins to rhinestones and more.
The colors also run the gamut, with iridescent, glittery, and neon colors. Using these decorations is super easy, no matter your level of experience.
What this kit contain-
Set of 48 Mini Glass Bottles
Pearls, glitter nail, neon colors, matte colors, 3D shapes, assorted styles, and colors
6. Acrylic Nail Kit
The Acrylic Powder and Professional Liquid Monomer provide excellent control to self-level and create a protective layer in this kit.
This manicure tool includes forms extension, acrylic brush glass cup, gel nail tips, and acrylic nails to get a salon look.
What this manicure kit contain-
Acrylic Nail Brush * 3 sizes: Size 4, Size 8 and Size 12.
Acrylic Powders in 3 Colors (Clear, White and Pink), 15g
Acrylic Monomer Liquid (40ml)
Nail Forms (20pcs)
Nail File
Glass Cup
7. Beauté Secrets Nail Art Kit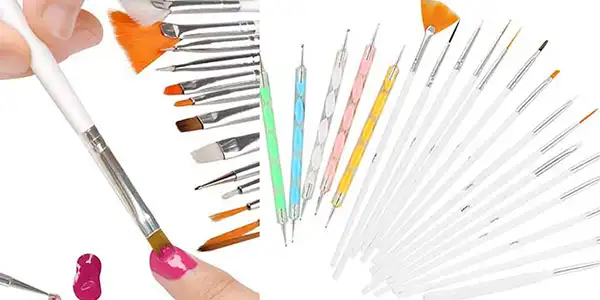 Create a variety of designs with this great all-in-one set of brushes and beautiful dotting pens, making your nails look more dazzling and attractive.
What this kit contain-
15pcs brush set
5pcs 2-way drawing dotting painting pen
8. Waterproof Self Adhesive Stencil Stickers
These vinyl decals with cute and fun patterns are available for fingers and toes; thus, you can design holo patterns on your nails in a few seconds for extra flash.
It can stick well on your nails, so the nail polish will not seep in from underneath.
What this kit contain-
24 sheets, each sheet contains 6 small pieces with 3 different patterns, 144 pieces vinyl in total.
9. Dotting Marbleizing Tool Pen
If you don't like stickers or 3d nail arts, these dotting pens are best for you. The two-way dotting pen has one end with a giant ball and another with a smaller one to create different kinds of nail art.
What this kit contain-
5 two-way dotting pen marbleising tool
10. AIFAIFA DIY manicure Kit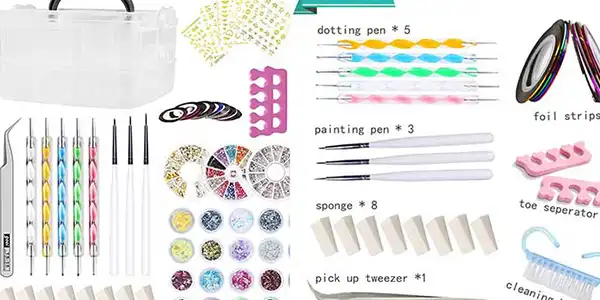 The dotting tools, brushes, and nail art set come intact, beautifully packaged, and let you get your creativity on.
This set is perfect for beginners to a pro who wants to get their nails to look more attractive.
What this kit contain-
5pcs sticker decal
5 sheets french tip stickers
10pcs nail striping tape
4 wheels rhinestones decoration
3d nail art decoration
12 boxes sequins
12 boxes chameleon powder flakes
2pcs toe separator
8pcs sponge
1pc cleaning brush
5pcs dotting pen
3pcs liner brush
1pc pickup tweezers
A Clear Detachable Organizer