Looking for that perfect dress to wear to your next fall wedding or formal event? We've compiled a stunning assortment of fall wedding guest dresses with sleeves guaranteed to wow. From romantic floral prints to sleek satin styles, there is a gorgeous dress for every taste and occasion.
The collection includes flattering details like shoulder pads, side slits, back cutouts, and more for head-turning style. Whether seeking chic sophistication or bold allure, these wedding-ready dresses offer elegance, intrigue, comfort, and confidence for being the best-dressed guest. Keep reading for the full scoop on these stunning looks!
1. Suzy Floral Satin Front Cutout Midi Dress
Can you just imagine this gorgeous floral print midi dress? Made from silky smooth fabric with a tasteful front cutout, dreamy midi length, and a touch of drama with an asymmetrical side slit. Whether it's a fancy-schmancy wedding or a sizzlin' cocktail soirée, this dress will have 'em all swoonin'. Pair it with strappy heels and an updo for a chic day-to-night look.
2. Gilly Maxi Dress
Step up your fall wedding guest game with this stunning taupe maxi dress! It's about timeless elegance, with side ruching to flatter your curves, a unique one-shoulder style, and a playful side slit for dancing the night away. This dress is the ultimate choice for a chic and memorable look.
3. Red Rooster Leaves Long Sleeve Maxi Dress
Well, y'all, if you want to turn every single moment of your season into a real special occasion, I have just the thing for you – the Red Rooster Leaves Long Sleeve Maxi Dress. It's cozy with bold flower detailing, a tropical print, a high neckline, fitted shoulders, and long sleeves for breezy elegance. This dress is the real deal!
4. Burnt Orange Long Sleeve Bridesmaid Dress
Y'all, peep this Amazon find: a stunning long-sleeve V-neck formal dress. It's the real deal, ladies, a perfect mix of class and sass, with a sexy high split and a sultry V-neck to boot. And the best part? This dress can work its magic in so many ways. Just toss on your fanciest high heels, add some sparkly jewelry, and grab yourself a chic bag to complete the look. You'll be turnin' heads, no doubt about it!
5. Cindy Floral Long Sleeve Mini Dress
Get ready to be wowed by this gorgeous floral mini dress. This piece boasts the most delicate floral print, hugging your curves just right with its defined waist and some side ruching magic. And guess what? It's got long sleeves that ain't just stylish, but comfy too. Whether it's a garden party or a night out, this dress guarantees effortless chic and confidence.
6. Black long sleeve wedding guest dress
I'm absolutely thrilled to introduce this Satin Maxi Dress – a total showstopper! The surplice bodice offers a classy, flattering neckline, and the elasticized waist ensures a perfect fit. Now, let's talk about the A-line skirt with a flounce – it's like adding a dash of whimsy and pure magic to your every step. But what really stands out? Those dramatic shoulder pads! They'll give you that confident, empowered look you've been dreaming of. And if all that wasn't enough, the self-waist ties provide the finishing touch of refinement and definition you need. It's a knockout, no doubt!
7. Anora Floral Tiered Maxi Dress
This stunner rocks a plunging V-neckline for a dash of allure, a tiered skirt that's pure romance, and a chic side slit for elegance and easy movement. With long sleeves to keep you snug on cooler autumn evenings, this dress effortlessly blends sophistication and femininity. You'll be a standout guest, no doubt!
8. Floral Print Satin Wrap Maxi Dress
Level up your outdoor wedding guest look with the Lulus Floral Print Satin Wrap Maxi Dress! Crafted in a stunning satin fabric featuring a lively floral print in burgundy, beige, brown, and fuchsia, this dress offers a sultry surplice neckline and long sleeves with chic button cuffs. So, don't miss out on this stunner – it's a must-have for your fall wardrobe!
9. Zimmermann Silk Drape Dress in Chocolate
For those looking for a more high-end option, the Zimmermann Silk Drape Dress in Chocolate is the bee's knees. This dress combines the finest silk, a rich brown color, and a drape design to create a look that's posh and cozy all at once. It's the crème de la crème for those seeking a dash of luxury at that ritzy fall wedding affair!
10. Sadyra Drop Shoulder Wrap Dress
The Oh-La-La Midnight Blue Drop Shoulder Wrap Dress is for those who love a bit of drama! With a sassy front slit, a tempting V-neckline, a surprise back cutout, and a dynamic asymmetrical hem, this dress ensures you make an unforgettable entrance. This dress is the ultimate in timeless chic, and it's as comfy as it is gorgeous.
11. Maddison fall wedding guest dresses with sleeves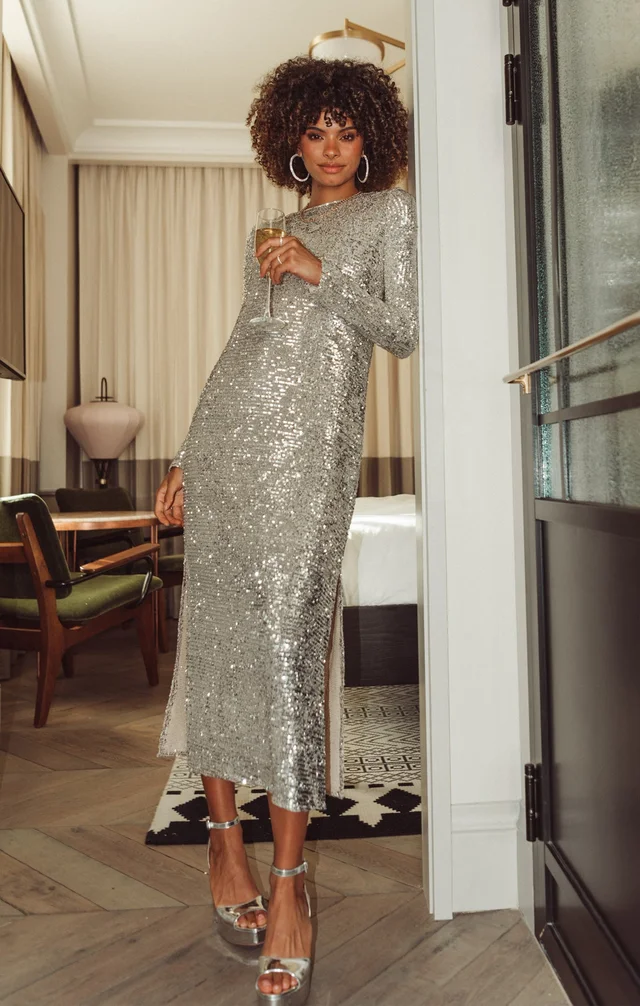 Ladies, you need the Maddison Dress! This fabulous, flowy wedding dress is everything you need for those glamorous evenings. With not one but two sassy side slits and a relaxed fit, it's all about comfort without compromising style. You'll be feeling like a total fashion icon, strutting your stuff in this killer midi dress.
12. Crystal-embellished fishnet party wedding dress
Get ready to dive into the ultra-glam vibes of Self-Portrait with this shiny black off-the-shoulder maxi dress Crafted in ruched tulle and jazzed up with a fishnet overlay absolutely dripping in sparkling crystal bling. It's a total showstopper, folks!
13. Mockneck fall wedding guest dress with sleeves plus size
This stunning Mockneck Knit Dress features long fitted sleeves and a permanently attached wrap-over skirt, creating a stylish and flattering silhouette. This fall formal dress with long sleeves is perfect for wedding guests. It is a sophisticated and on-trend fall wedding ensemble.
14. Reformation Winslow Dress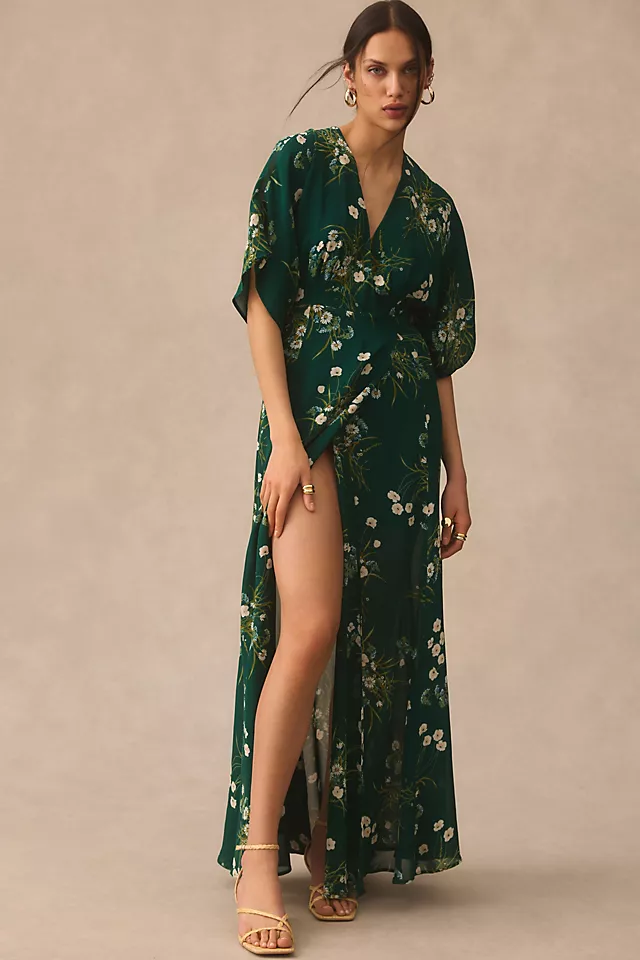 For a chic choice that suits both bridesmaids and guests, the Reformation Winslow Dress is a total stunner. It's all about that flowy wrap style with a leg-flaunting front slit, a v-neckline, and airy half-length sleeves for an effortlessly elegant look
15. Black Burnout Velvet Babydoll Mini Dress
Meet your new closet favorite – the Black Burnout Velvet Babydoll Mini Dress! This dress is pure magic, with a floral burnout design on sheer mesh, a sweetheart neckline, and ruffled cuffs. It's got that high empire waist, a twirl-worthy skater skirt, and delicate crochet lace accents. It's an absolute must-have staple, trust me!
16. Gracie Long Sleeve Cutout Satin Midi Dress
Get ready to turn heads in this show-stopping green satin midi dress! With its silky satin finish, chic cowl neck, a sexy high front slit, and a daring cutout back, this dress is all about glam and intrigue. Perfect for that special evening out where you want to make an unforgettable entrance.