The qipao, also known as the cheongsam, is a traditional Chinese dress that has become a beloved style over the decades. It features a sleek silhouette, a high collar, and a fitted bodice that elongates the body.
Qipao dresses have become increasingly popular for prom events, as they exude a unique and elegant look that differs from typical ball gowns and cocktail dresses.
Here we showcase 10 beautiful qipao dresses for prom, whether you are looking for a bold and modern qipao dress or a more traditional and classic style, this blog will help you find the perfect dress for your prom night.
Red Embroidered Qipao Prom Dress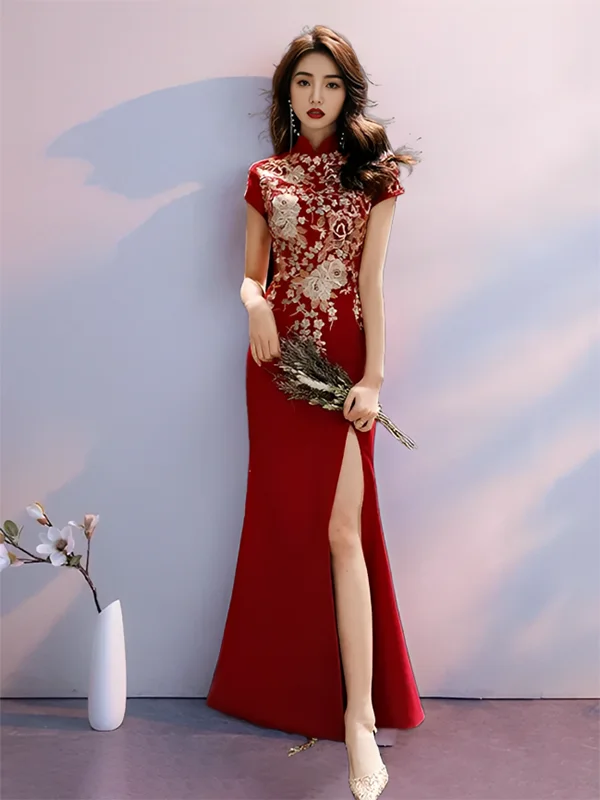 Look and feel like a showstopper in this beautiful qipao dress. This dress is an excellent choice for a prom dress with its beautiful floral embroidery and traditional red color. Complete your look with rhinestone earrings and strappy stilettos.
mandarin collar Black Lace Qipao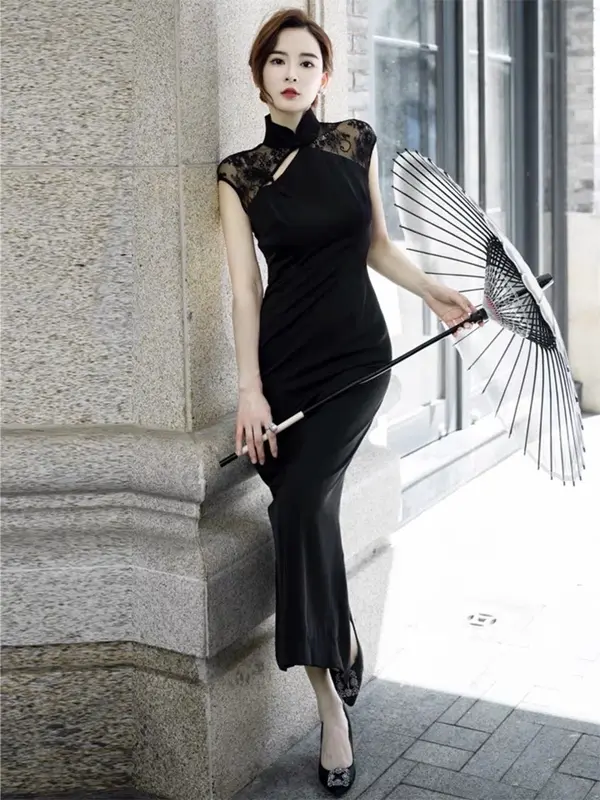 You can never go wrong with a beautiful black dress. This qipao gown features delicate black lace detailing and a flowy silhouette, making it ideal for prom. Nail the style with strappy heels, a mini top handle bag, and sleek earrings!
Halter neck midi qipao dress
Get your glam game on in this timeless piece. This qipao dress is a great combination of modern and traditional styles.
The halterneck design of this dress adds a touch of glitz, and its midi length gives it a trendy twist.
Jazz it up with some hoop earrings and finish off with statement heels and a chic mini bag for a sophisticated look on your prom night!
Blue jacquard Cheongsam
For a classic and elegant look, consider a blue satin qipao prom dress. The rich, lustrous fabric and elegant high collar create a sophisticated and timeless effect while the floral pattern adds a soft feminine touch. Style it with drop earrings, a clutch, and high heels to bring the look together!
Above Knee China Cheongsam
This 'so cute' yellow Qipao Prom Dress combines classic elements with a modern style. The floral patterns add femininity and elegance to the dress, while the yellow color adds a splash of color. Style it with a fuchsia bag and shoes to really make those heads turn!
Floral Embroidery Short Qipao Dress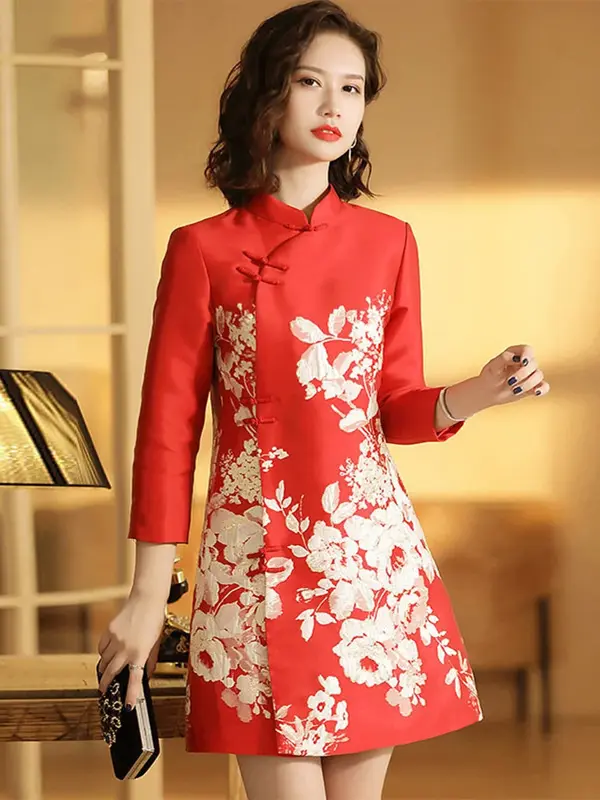 Highly Recommend! This elegant little red qipao prom dress is adorned with delicate floral embroidery.
This traditional Chinese dress in its modern version is ideal for dancing and festive nights because it exudes charm and grace. Complete the look with red pumps and hoop earrings.
Mermaid Tail Dress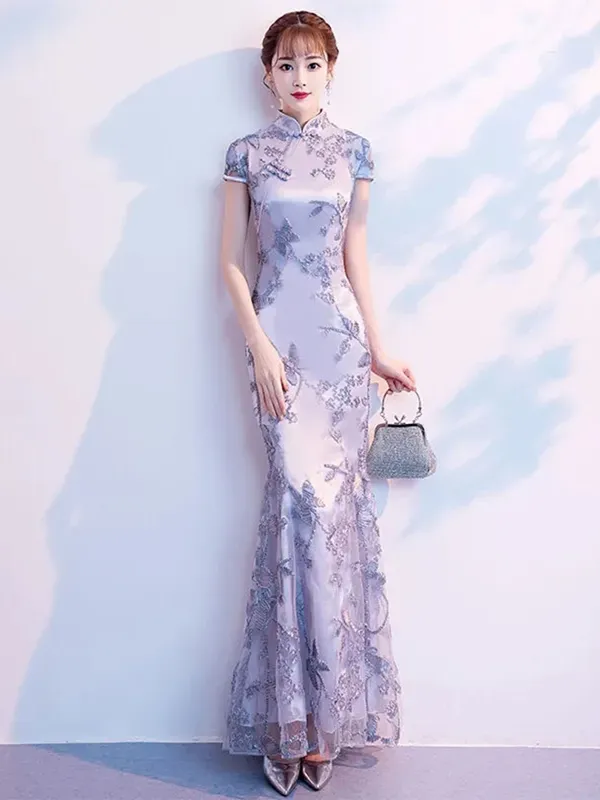 This gorgeous silver qipao dress has a mermaid design that hugs the body's curves and flares out at the bottom for a dramatic and sophisticated look.
This dress's material is incredibly comfortable and soft, and the style is exquisite. Complete the look with pointed heels, a silver handbag, and large earrings!
Grey Chinese Cheongsam Ball Gown
This contemporary vintage princess dress has both French elegance and Chinese classics. This gorgeous gown is ideal for weddings and proms, with exquisite lace combined with bubble sleeves and delicate pearls adorning the long skirt with a train. Add heels, dangling earrings, and a clutch to complete the look!
Green floral Ball Gown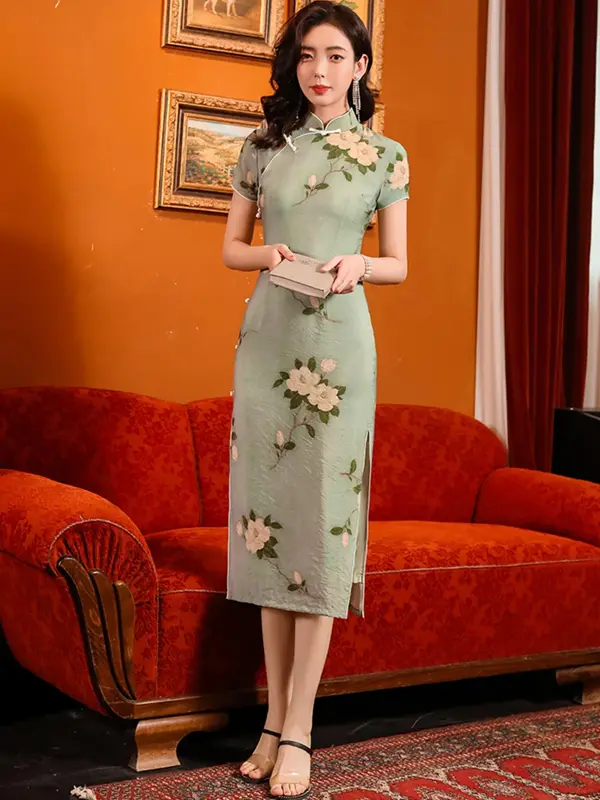 Express your feminine and elegant temperament with this timeless green qipao dress. This gorgeous midi dress is made of a soft fabric and has a beautiful jacquard flower pattern all over that really stands out. Pair it with high heels, and statement jewelry, and add a mini handbag to complete the look!
Black & White qipao dress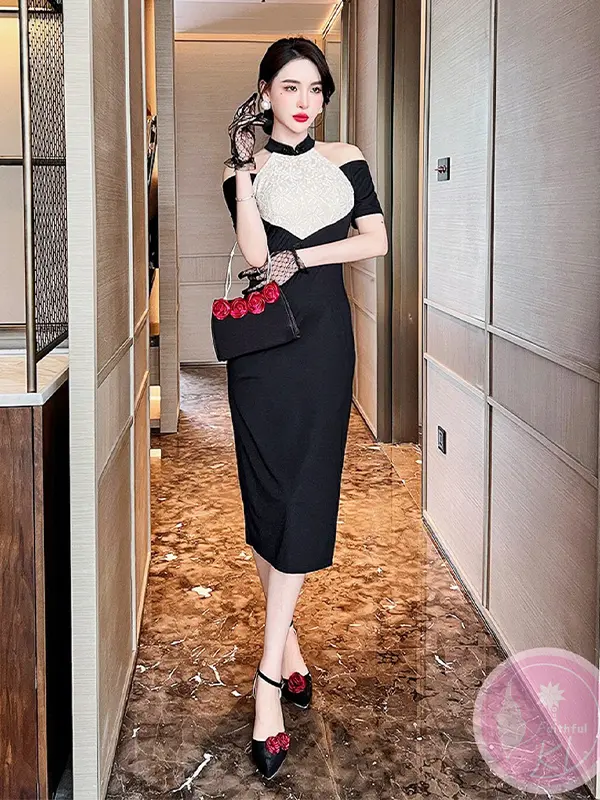 This prom, spice things up with this black & white mermaid qipao dress! This stunning qipao dress is both unique and elegant thanks to its mermaid hemline, half trumpet sleeves, sexy hollow neck, and floral lace design on the neckline. Match it with pointed heels, and fine jewelry, and add a bag.