Get ready to slay in style with this roundup of the hottest homecoming dress trends for 2024! From feather embellishments to retro 1980s vibes, find your perfect look with our style guide. Learn how to shop for a dress that flatters your body type and reflects your unique personality.
What Are Homecoming Dresses?
Homecoming dresses are typically worn for the homecoming dance, a festive occasion usually held at high schools and colleges at the beginning of the school year. It typically includes various events, including football games, parades, and dances, which are a major attraction.
Homecoming Dress Codes and Restrictions
The formality of dress code may vary from school to school (so it's always a good idea to check any guidelines your school may have), homecoming dresses are typically more semi-formal or cocktail-style than the more formal attire often worn for prom.
Styles and Fabrics of Homecoming Dresses
Homecoming dresses are typically shorter or knee-length, and the style tends to be more fun, youthful, and comfy. They can come in various types, including fit and flare, bodycon, A-line, etc. These dresses might be made from satin, tulle, lace, or chiffon.
Popular Colors and Details for Homecoming Dresses
Homecoming dress trends often feature sequins, tassels, floral prints, or cutouts in a range of colors from bold hues to pastels or classic black and white.
Reasons Behind the Emergence of Homecoming Dresses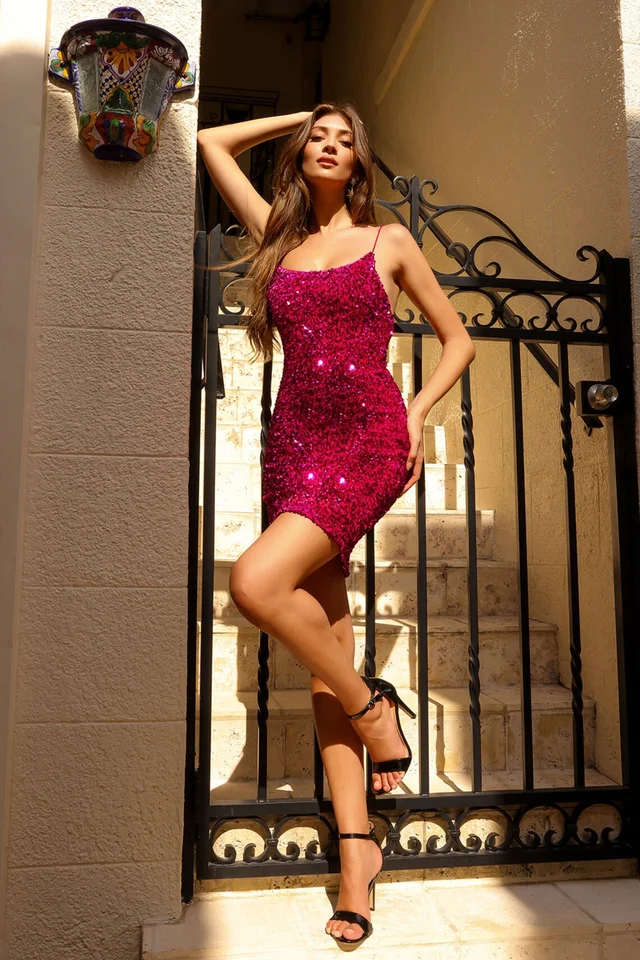 Infusing a pop of color to your style
Homecoming dresses are a great way to express your personality and add some color to your wardrobe. They offer the perfect opportunity to play around with vibrant shades and prints, especially after a summer of casual clothing.
Budget-friendly and reusable
Unlike the often expensive prom dresses, homecoming dresses are generally more affordable. Moreover, their versatile design means they can be worn on other semi-formal occasions, making them a reusable and practical option.
Just the right amount of glam
Homecoming dresses strike the perfect balance between glam and simplicity. They add sparkle and style to your outfit with unique cutouts, sequins, or tassels. The key is to look fabulous without being excessive, making them perfect for different occasions.
How To Choose Your Homecoming Dress Trends
1. Know your style
Every girl is different and has her own style. You might like a specific color, cut, fit, or detail you admire in a dress. There's something that represents your unique personality. There are lots of dress styles to choose from.
2. Have a budget
Don't forget! The dress isn't the only thing you'll spend your money on. We're talking about shoes, accessories, the works for your hair and makeup, not to mention those killer nails! So, remember these things when you shop for your homecoming dress.
3. Consider your body type
If your dress isn't showing off your unique body, you won't feel like the queen you are. So, whether you're blessed with a pear-shaped figure or rockin' the hourglass body shape, find a dress that loves your body as much as you do. If you are not sure about your body shape, you can use any Body Type Calculator.
4. Dare to be different
Your style is great, but don't be afraid to mix it up when looking for a homecoming dress. It doesn't need to be too flashy, just something that's still you but with a twist. Perhaps a bright color or a fun design can add some spice.
12 Viral Homecoming Dress Trends 2024
1. Essense of Barbiecore
Dive into a world of sparkle, elegance, and all things fabulous with the latest homecoming trend that's the buzz of the town: Barbiecore! Yep, you got that right. So, what's the Barbiecore trend?
2. Daring cutouts
Alright, babes! Get set to snatch those Insta likes with 2024's hottest trend – 'cutouts.' They're flirty, fun, and the perfect blend of sassy and classy.
Whether it's a sly cut on the waist, a bold opening in the back, or even a playful slash on the shoulder, these dresses are total game-changers.
3. 80s retro vibe
As homecoming hits all those nostalgic vibes, busting out the '80s vintage trend is the way to make a killer entrance, no joke. I mean, come on, who can resist?
Think big ruffles, puffy sleeves, eye-poping neon colors, shiny metallics, and sequins that scream "dance floor diva" under those disco balls and flashing lights. Awesome to the max, don't you think?
4. Exquisite floral detailing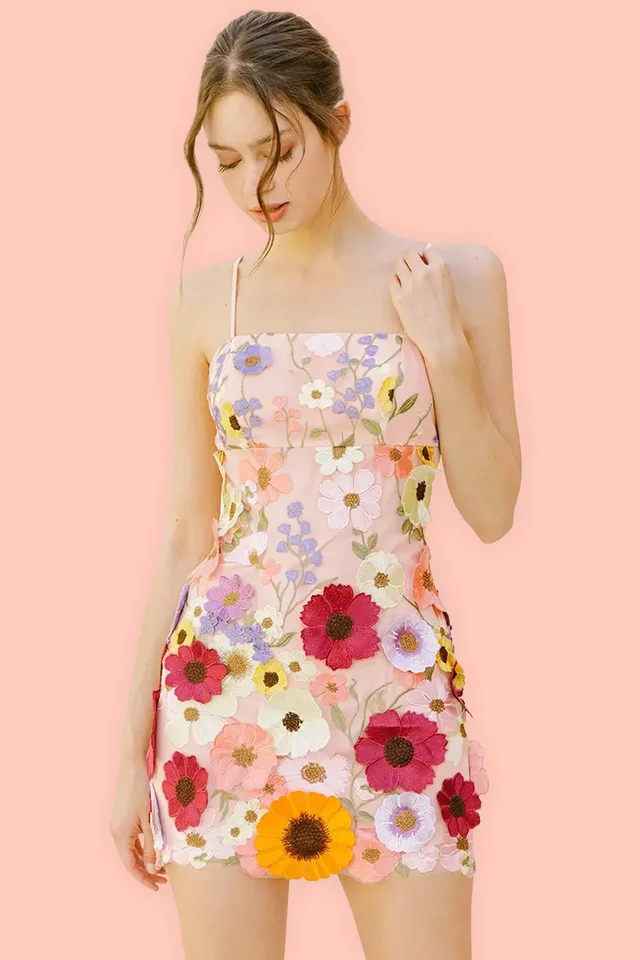 Floral detailing? Oh, that's where all the magic unfolds! It's like a never-ending romance, seriously. Whether you're strutting it this year or giving it a whirl next year – trust me, you'll be the ultimate style sensation.
5. Feather Embellishments
This season, it's all about vibing with texture and movement. Designers are seriously upping their game, taking our classic homecoming styles to next-level fab, and can we talk about those dreamy feather dresses?
Whether rocking subtle feathered hems or going full-on drama with cascades down the back, feathers are your ticket to shine in 2024. Alright, queens, it's time to bring that slay game on!
6. Statement bows
If you're looking for a homecoming dress with a unique twist, top off your look with a perfectly tied bow. Trust me, it's chic, trendy, and oh-so-perfect for that unique vibe you're going for.
Statement bows are in vogue. Larger bows accentuate collars and back, while smaller bows in the front give Ariana vibes.
7. Vibrant colors and pattern
Homecoming is all about making a statement, and what better way to do that than with vibrant colors and jaw-dropping patterns?
But wait, there's more. If you're like me and solid colors just won't cut it, then go all out with dresses adorned in dynamic patterns – I'm talking florals, stripes, or some groovy abstract floral sequin dresses.
8. Iridescent sparkles
If you're yearning to grab the limelight and leave an unforgettable mark, then let me tell you, iridescent sparkles will never let you down! Sequins, glitter, and metallic fabrics make a glamorous comeback in fashion.
If you're feeling classic and timeless, silver or gold is your go-to choice. But if you're up for a bit of adventure and want to embrace the future, why not experiment with holographic materials?
9. Rosettes everywhere
Did your eyes catch those little (or sometimes large) 3D flower dresses from the early 2000s popping up on your Pinterest feed? That's right, this trend is back and bigger than ever.
And if you're feeling a little less bold but still want a taste of this trend, why not rock a simple dress and pair it with a rosette ribbon choker necklace? It's a fabulous way to channel the trend without going all out.
10. Chic puff dress
Puffy dresses are super romantic and eye-catching and are just perfect for homecoming. Seriously, they're a game-changer. And guess what? You can jazz them up with fancy heels or keep it chill with sneakers – they're an all-around winner.
Now, check this out – these dresses have fitted bodice that hugs your curves and snatches that waist, giving you that super cute hourglass shape. And that's not all; the skirt part is about that puff and volume, adding a sprinkle of playfulness and a hint of flirtiness.
11. Bold snakeskin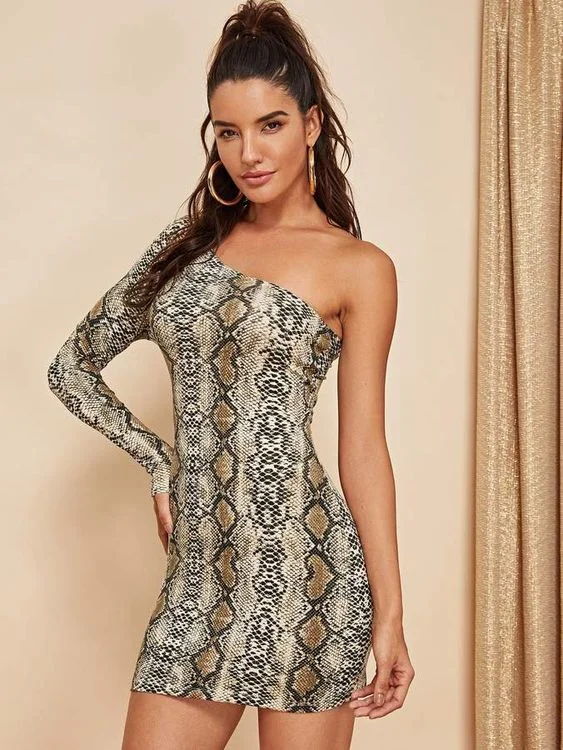 For those who crave an edgy and sophisticated look, bold snakeskin patterns are the way to go. I mean, seriously, snakeskin dresses, accessories, or even a pair of killer boots can inject some serious fierceness and daring into your homecoming outfit, right?
The natural textures and earthy tones of snakeskin create a unique contrast against the glitz and glam of homecoming, making it a trend that's sure to turn heads.
Pair a snakeskin clutch with a classic black dress or go all out with a snakeskin dress – show off your fearless style.
12. Edgy motorcycle boots
Well, y'all, who says homecoming fashion gotta be all about the high heels, huh? This year, edgy motorcycle boots are making a statement.
Just imagine yourself in a chic dress, rockin' those chunky black combat boots. It's a look that combines sophistication with a touch of rebellion.
Not only are these boots comfortable for dancing the night away, but they also give your outfit an unexpected twist.